Why The Gambit Movie Is Being Changed, According To Channing Tatum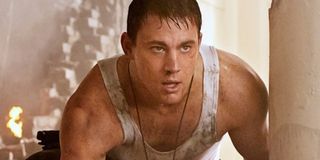 A Gambit movie starring Channing Tatum has been in the works for so long that it has hired and lost two different directors. Now, nearly a year after the X-Men spinoff was initially slated to hit theaters, plans seem more amorphous than ever. For Tatum, however, the delays have actually been beneficial, and the success of recent R-rated Marvel films means that Gambit is changing for the better. From Tatum's perspective:
While Channing Tatum's comments to HeyUGuys don't really lay out any sort of timeline for getting his Gambit movie to the big screen, it is at least reassuring to know that the success of Logan and Deadpool are leading to expanded creative freedoms at the studio. It's quite possible that Gambit could also wind up being planned as an R-rated film.
If Gambit is just now going back to a page one rewrite, it could be some time before another director signs on. Then again, it's even theoretically possible that the formerly-attached Rupert Wyatt could find a way to put Gambit back on his schedule. Scheduling conflicts with his upcoming sci-fi thriller Captive State is mainly what led Wyatt to depart from Gambit in the first place. He was subsequently replaced at the helm by Doug Liman, but Liman soon exited himself to sign on for Justice League Dark over at the Distinguished Competition (which also didn't end up working out for him). Liman's comments about his involvement with Gambit following his exit made it sound like he never quite gelled with the source material, but if Wyatt and Tatum really did have a great vision together for what Gambit could be on the big screen, and the only thing standing in their way was the calendar, maybe a final script could emerge sooner rather than later.
Even without a firm release date for Gambit, the future of 20th Century Fox's corner of the Marvel universe is looking bright. New Mutants, Deadpool 2 and X-Men: Dark Phoenix are all set to hit theaters next year. If Gambit is ready to go in front of cameras before the end of next year, it could easily wind up being part of the studio's 2019 Marvel slate.
Your Daily Blend of Entertainment News
Your Daily Blend of Entertainment News
Thank you for signing up to CinemaBlend. You will receive a verification email shortly.
There was a problem. Please refresh the page and try again.