Bumblebee: What We Know About The Transformers Spinoff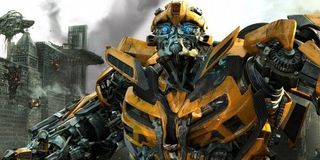 After five films and several boatloads full of money, the Transformers franchise has rightfully earned its place as one of Hollywood's most influential franchises. The series has maintained a consistent fan base since its earliest days back in 2007, and the modern update of the classic 1980s cartoon continues to branch out and evolve with each passing installment. However, things are about to change in ways that we couldn't have even anticipated just a few years ago. As the series moves into the future, it's about to jump into the past with the upcoming Bumblebee spinoff movie.
With Bumblebee currently in the midst of production, we have taken it upon ourselves to put together a handy guide to everything that we now know about the first Transformers spinoff. Click through our guide to get yourself up to speed, and let us know how excited you are for Bumblebee in the comments section below! On that note, let's dive and take a closer look at this highly anticipated spinoff/sequel/prequel!
Is The Bumblebee Solo Movie Happening?
Let's get the simplest question out of the way right off the bat. Is a Bumblebee solo movie happening? The answer is a resounding yes. There have been rumors for years that Bumblebee may finally get a solo movie of his very own, but it took until Transformers: The Last Knight to finally make some real progress on it in a substantial way.
In many ways, the Bumblebee solo movie actually feels like a litmus test for the elasticity of the Transformers universe -- which is often the case when a franchise dives into its first standalone. If successful, Bumblebee could potentially usher in an entirely new generation of Transformers movies that don't necessarily require an ensemble to work. With cinematic universes becoming the new big thing for every major (and even some minor) franchise, this seems like a promising new start for the world of Autobots and Decepticons.
When Is The Bumblebee Release Date?
Although every Michael Bay-directed Transformers movie debuted in theaters during the summer, the solo Bumblebee movie will buck that tradition. Instead of debuting during the warmer part of the year, Bumblebee will adhere to the growing trend of winter releases (which has also been embraced by the Star Wars films) and deliver itself to audiences on December 21, 2018. Just in time for the holiday audiences.
This means that we have only slightly more than a year until the movie finally debuts in theaters, but it is also worth taking a look at the competition that it will go up against. As of right now, Bumblebee is slated to go head to head with James Wan's Aquaman solo movie. Blockbusters typically try to avoid each other at the box office, so smart money would bet on one of those films vacating its spot to find greener pastures. Between the two options, if one of them eventually has to move, our money is on Bumblebee to make the switch for a better weekend. Until then, keep your calendars marked for December 21.
What Is The Bumblebee Movie Rating?
No official rating has been announced for the Bumblebee solo movie yet, but going off of the history of the franchise, we would be willing to bet that it will once again opt for a PG-13 rating. The films are packed to the brim with action and relatively juvenile humor that wouldn't work within a PG rating, but it doesn't seem likely that a Transformer movie is going to aim for a full-blown R-rating anytime soon -- particularly when we consider the fact that the film focuses on a coming of age story for a teenage girl. If you're inclined to gamble, then bet on the Bumblebee film getting a PG-13 when it finally goes in front of the MPAA.
With that said, we are not ruling out the possibility that the Transformers franchise may one day dive into R-rated territory. The X-Men franchise has seen great success with that particular angle, and there have been consistent rumors that the DCEU may one day produce an R-rated film. With Paramount reportedly taking a thriftier approach to its solo Transformers movies, we could potentially see a riskier R-rated entry in this universe at some point down the line.
Who Is Involved With The Bumblebee Movie?
The Bumblebee spinoff movie represents a significant departure from the rest of the Transformers films for numerous reasons, but one of the biggest examples of that is the fact that longtime Transformers director Michael Bay has finally stepped down as the central fixture of the franchise. In his place, the film has enlisted the directing chops of Travis Knight -- who recently proved himself with his critically acclaimed work on Laika's latest animated film Kubo and the Two Strings. It is hard to know exactly what to make of Knight as a director just yet (as Bumblebee is only his second outing as a director), but his work in the animation realm has delivered consistently emotional and intimate stories. If he can bring that sense of pathos to a smaller scale Transformers story (off of a screenplay written by Christina Hodson), then there's definitely a lot to get excited about.
Having said that, although Michael Bay has officially stepped down as the lone director of the Transformers movies, he will remain a focal point of the franchise behind the scenes as a producer and the level of creative influence that he will have on the project remains to be seen. As we have seen time and time again with franchises like the Marvel Cinematic Universe and The Conjuring, there's a certain degree of continuity and cohesion that producers often like to keep maintained. If Paramount still wants this to feel like a film in the Michael Bay universe, then fans might not get to feel the full force of Steven Knight's work.
What Is The Setting Of The Bumblebee Movie?
One of the most interesting distinctions between the Bumblebee solo movie and the other Transformers films is the setting in which the film will take place. Unlike all of the other installments in this franchise, Bumblebee will set its story in California circa 1987 -- making it the first full-fledged period piece in the entire Transformers series. Early glimpses at the film have already shown that the cast and crew are aiming for a quintessentially 1980s hard rock aesthetic, which means (not unlike the recent X-Men movies) Bumblebee will likely use its setting to its full potential to create its soundtrack and overall atmosphere.
However, another interesting thing to note about the 1980s is the fact that this particular decade holds some significant implications for the Transformers universe as a whole. The original Transformers cartoon debuted during this era, and it became a cultural touchstone for young members of Generation X who grew up during that decade. With that in mind, it looks like the Bumblebee movie may actually try to craft a Transformers movie that feels like a live-action adaptation of the classic cartoon -- rather than a modern update that takes place within our own universe.
What Is The Bumblebee Movie's Story?
The release of Transformers: The Last Knight did some amazing things for the overarching mythology of the Transformers universe. However, arguably the biggest advantage that it created was the invention of an enormous backstory of Autobot adventures on Earth. In this newly revised history, the Bumblebee solo movie will meet up with a heavily damaged Bumblebee in California circa 1987 as he hides out in a junk yard under the guise of a beat-up VW Bug. From there, he will be found by a young girl named Charlie Watson who nurses him back to health and develops a bond with him. As their relationship evolves, they learn about each other and grow in ways that they never anticipated.
Quite a fuss has already been made about how different of a story this is from a traditional Transformers movie. With a considerably smaller scale driving its story, the film will apparently focus more on character moments and less on enormous, city-destroying action scenes. This has led many to draw comparisons between the upcoming Bumblebee solo movie and The Iron Giant, and that's a comparison that folks associated with the film appear to be embracing with open arms. Get your tissues ready, because this could be the saddest Transformers yet.
Hailee Steinfeld As Charlie Watson
If the Transformers has a mold for lead characters, then Hailee Steinfeld definitely breaks it. As Charlie Watson, Steinfeld does not appear to have the same off-the-wall kookiness of Shia LaBeouf or the action star machismo of Mark Wahlberg. Her character is reportedly an outsider in her California beach town who will find her life turned upside down when she meets a battered and battle-damaged Bumblebee. Steinfeld has become one of Hollywood's most impressive up-and-comers in recent years, with roles in The Edge of Seventeen and the Pitch Perfect series hurtling her to stardom -- in addition to her burgeoning music career.
It is also worth mentioning that Hailee Steinfeld brings quite a bit of prestige to the Transformers universe that wasn't necessarily there before. Despite her relatively young age, the 21-year-old actress has 27 IMDb screen credits to her name, and she received an Oscar nomination in 2011 for her work on The Coen Brothers' 2010 remake of True Grit. She clearly has the talent, so we will have to wait and see what she can do in her first proper blockbuster series.
Pamela Adlon
If you're going to have a movie centering on the exploits of a teenage girl, then it only seems logical to introduce some parental figures as well. That's where Pamela Adlon comes in. Not much is known about the specifics of her involvement in the Bumblebee solo movie, but we can confirm that she will star as the mother of Charlie Watson in the upcoming film.
Casting Pamela Adlon in anything tends to promise a very distinct tone and style. The former Californication actress and current Better Things star (not to mention the voice of Bobby Hill on King of the Hill), Pamela Adlon has made a name for herself as a foul-mouthed, tough talking, and generally badass comedic actress with a penchant for raunch. If she is taking part in a Transformers movie, then we can likely guess that she will bring the laughs along with her.
John Cena
Rounding out the principal cast of the Bumblebee spinoff movie is none other than professional wrestler-turned-movie star John Cena. As one of the most recent additions to the film's cast, not much is currently known about his involvement in the project as a whole. Cena has proven himself as a dramatic actor, an action star, and a comedic performer within the span of just a few years with roles in films like The Wall and Trainwreck, so he has the range to do pretty much anything necessary within the confines of a Transformers movie.
Will The Bumblebee Movie Feature Other Transformers?
As of right now, we have no way of knowing what other Transformers will appear in the solo Bumblebee movie. Although Bumblebee will indeed headline the show (he is, after all, the titular Transformer), it stands to reason that other members of his species could turn up at some point to help create and establish a credible threat that matches his own power levels. It could be Autobots like Optimus Prime, or it could be Decepticons like Megatron, but something tells us that at least one other Transformer will make an appearance in this movie.
We definitely cannot expect to see an army of shape-shifting robots on-par with anything seen in the other Transformers movies. Bumblebee's production budget is reportedly going to be considerably smaller than that of other entries in this series, which means there simply won't be enough money to do sprawling battlefields. Having said that, self-contained movies like Deadpool, Logan, and even Wonder Woman have shown that movies with relatively smaller budgets (when compared to other installments in their respective franchises) can make bolder choices because the studio has less money invested in the final product.
Your Daily Blend of Entertainment News
Originally from Connecticut, Conner grew up in San Diego and graduated from Chapman University in 2014. He now lives in Los Angeles working in and around the entertainment industry and can mostly be found binging horror movies and chugging coffee.