5 Recent DC Announcements That Will Have Huge Ramifications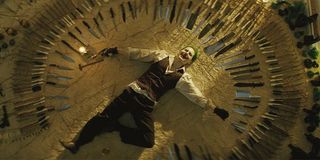 Wow, what a week right? This past week, comic-book movie fans went through a gauntlet of DC news, each day providing rumors and updates more surprising than the last. Warner Bros. and DC Films have a number of projects in the works, from Justice League, to Flashpoint, to Wonder Woman 2, but this week revealed that the studio had far more hiding up its sleeve. Not only are multiple films about the Joker in the works, but the studio is also working on a new banner for films not connected to its DCEU. Frankly, there were a fair amount of bombshells, each one causing their own ripple effect throughout the DCEU.
The majority of these developments have thus far come from leaks and rumors, with Warner Bros. making no official announcement about most of the following movies. However, we need to work with the information we have, and it's clear that something is brewing over on the Warner Bros. lot regarding movies about DC Comics superheroes. Big things seem to be in store for DC's superhero movies, and these are the biggest announcements from just this week alone.
Warner Is Making DC Films Not Connected To The DCEU
Probably the biggest news to drop this week was the reveal that Warner Bros. was interested in getting creative with its DC properties. Reportedly, the studio is working on a new banner of films that will stand alone from the DCEU and feature unique storylines with different actors playing the iconic characters. So, this means that Warner Bros. could cast a new actor to play Superman and put him in, say, a Red Son movie and not affect Henry Cavill's DCEU Superman at all. It's a bold decision that embraces the DC Multiverse and could result in a lot of creative movies from varied filmmakers, though, the specific details are still unknown.
We're Getting A Joker Origin Film From Martin Scorsese
The first of this proposed new banner of standalone films is supposedly a movie starring none other than the Joker. Featuring an entirely new interpretation of the famous DC villain, Todd Phillips and Scott Silver are reportedly set to write, with Philips directing. Martin Scorsese is also apparently being tapped to be a producer. Martin. Scorsese. Starring a new actor in the role, the film will be an origin story set in 1980's Gotham City and the intention is to make it a gritty and grounded hard-boiled crime thriller in the vein of Scorsese films like Taxi Driver and Raging Bull. It's a wild idea that should paint a decent picture of what kind of DC movies Warner Bros. is interested in making and the level of creative talent they are pursuing. I mean, Martin Scorsese? Dream big, kids.
Warner Is Developing A Joker-Harley Quinn Movie
The news that DC Films was developing a second movie about the Joker came almost exactly 24 hours after the Joker origin movie bomb dropped. This second Joker project IS a part of the DCEU and will be a "criminal love story" starring the Joker and Harley Quinn. Crazy, Stupid, Love directors Glenn Ficarra and John Requa are supposedly in final negotiations to write and direct the movie, with Jared Leto and Margot Robbie reprising their roles. The film will evidently take place after the Suicide Squad sequel (which the Joker is supposed to be in) and sources say the Joker-Harley project is moving fast to contend with actors' holding agreements. The movie has not been officially announced, but it does seem like something the studio would do.
Gotham City Sirens Is Still Being Developed
Originally, some speculated that Gotham City Sirens, the Harley Quinn team-up spinoff with Catwoman and Poison Ivy, was being replaced by the Joker-Harley movie. That is apparently not the case, as new reports emerged claiming that Gotham City Sirens was still in-development. However, it likely won't arrive until after the Joker-Harley movie. This makes sense from a story perspective, assuming that Harley Quinn finally breaks off her relationship with the Joker and then has her all-female team-up movie. The two projects do differ in concept and demographic, but it feels like DC should be prioritizing Gotham City Sirens over the Joker-Harley idea. Oh, and the Joker is also apparently in Gotham City Sirens, too.
Don't Worry, The Batman Is In The DCEU
When the news about Warner Bros. plans to make a separate banner of DC Films broke, some were worried what this meant for the future of the DCEU. Then a quote from Matt Reeves, future director of The Batman, surfaced saying that his Batman movie was standalone and not connected to the DCEU. This caused people to believe that The Batman wasn't going to be connected to the DCEU and would feature an entirely new actor in the role. Unfortunately, rumors about page one rewrites and Ben Affleck's wariness of the role caused the quote to be more believable than it should have been. The out-of-context quote came from an interview that took place before Comic Con and Reeves letter set the record straight that his film was in the DCEU, but was not in service to it. We don't know if the Joker is in it at this time.
Matt has lived in New Jersey his entire life, but commutes every day to New York City. He graduated from Rowan University and loves Marvel, Nintendo, and going on long hikes and then greatly wishing he was back indoors. Matt has been covering the entertainment industry for over two years and will fight to his dying breath that Hulk and Black Widow make a good couple.
Your Daily Blend of Entertainment News
Thank you for signing up to CinemaBlend. You will receive a verification email shortly.
There was a problem. Please refresh the page and try again.