7 Kevin Smith Characters Who Should Return For Jay And Silent Bob Reboot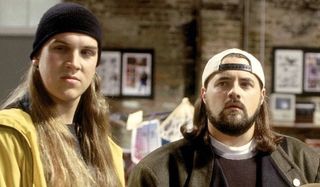 Kevin Smith's View Askewniverse is returning to theaters, folks. Originally intending to end this shared world with 2001's Jay and Silent Bob Strike Back, the director changed his mind and added Clerks II to the series five years later. Now after more than a decade and Clerks III falling through, Smith is once again returning to his cinematic playground with Jay and Silent Bob Reboot, which will see the duo once again heading back to Hollywood to cause trouble after they learn that the Bluntman and Chronic movie being rebooted.
Aside from Jason Mewes and Kevin Smith obviously reprising Jay and Silent Bob, respectively, so far the only other actor who's been confirmed for this "reboot" is Brian O'Halloran, who will reprise his Clerks character, Dante Hicks, as well as other members of the Hicks extended family. Since Smith promised that Jay and Silent Bob Reboot will feature "an all-star cast of cameos and familiar faces," we've gathered some other View Asknewniverse characters (and in one case, someone playing a fictional version of themselves) who are also worth bringing back.
Banky Edwards
Of all the characters Jason Lee played in the View Askewniverse, Banky Edwards is the one who would fit most seamlessly into Jay and Silent Bob Reboot's story. As Chasing Amy fans will remember, Banky co-created Bluntman and Chronic with Holden McNeil (we'll get back to him later), and at the end of that movie, Holden had sold all his publishing and creative rights to the comic book series to Banky, making him the primary creative consultant on the Bluntman and Chronic movie. Jay and Silent Bob were able to squeeze their share of the royalties out of Banky in Jay and Silent Bob Strike Back, but with a reboot now in the works more than 15 years later, the duo would no doubt target him again to vent their frustrations and convince him to shut down this new production. We'd also be cool with Lee reprising Brodie Bruce from Mallrats (who presumably still has his comic book shop), but Banky should be the priority.
Becky Scott
Since Jeff Anderson wasn't willing to reprise Randal Graves for Clerks III, it's doubtful that he'll want to return for Jay and Silent Bob Reboot. But we can't leave Brian O'Halloran's Dante Hicks all by himself at the Quick Stop, so why not bring back Rosario Dawson to play Becky Scott. Dante finally admitted towards the end of Clerks II that he was in love with Becky and proposed to her. If those two married and still live a happy life with one another, then it would be great if Becky could hang out behind the counter with Dante during his Jay and Silent Bob Reboot moment(s) so he can have someone to chat with, even if she's likely not as knowledgeable about movie minutiae as Randal is. Including Becky also increases the chance we could see her and Dante's child, who would will likely be in middle school by the time Jay and Silent Bob Reboot happens.
Justice
Originally posing as an animal liberation group, it was soon revealed in Jay and Silent Bob Strike Back that Justice and her gal pals were actually a gang of jewel thieves. But unlike her partners, Justice eventually turned her back on that life of crime thanks to the foul-mouthed Jay's surprisingly positive influence. Justice still went to jail like Sissy, Missy and Chrissy, but she managed to score a shorter sentence, so it is plausible that by the time of Jay and Silent Bob Reboot, she's finally out of prison. But that doesn't necessarily mean that she and Jay immediately reunited upon her release. In fact, it might be more interesting if Jay and Silent Bob randomly crossed paths with Justice on their journey back to Hollywood, thus rekindling the romance that brewed between Jay and Justice more than a decade ago.
Gordon
When Jay and Silent Bob eventually snuck onto the Miramax shooting lot in their movie, they had to contend with Gordon, the chief security guard. Chasing down those stoners was his surely his hardest objective, second only to dealing with Ben Affleck's repeated infractions with hookers. A lot can change in 15 years, but whenever Jay and Silent Bob make it back to back to Hollywood to shut down their reboot, it would be hilarious if Gordon was still employed at one of the Hollywood lots (given Miramax's change of fortune, I imagine he would now be employed by The Weinstein Company) and his mission was still the same: stop anyone trying to interfere with the movies filming in his jurisdiction.
Pumpkin Escobar
When Tracy Morgan cameoed as fellow weed dealer Pumpkin Escobar in Jay and Silent Bob Strike Back, he was primarily known as a Saturday Night Live performer. His fame has soared since then thanks to 30 Rock and more, but if Jay and Silent Bob are still up to their illicit antics, there's no reason Pumpkin couldn't be either, be it with Scott or a different silent partner. However, given that marijuana is now legalized in California, it might be amusing if instead of Jay and Silent Bob running into Pumpkin on the street again, they reunite with him at a dispensary he's now running.
Mark Hamill
Most of you know Mark Hamill as Luke Skywalker or the voice of The Joker, but we can't forget his greatest role of all: Cock Knocker, arch-nemesis to Bluntman and Chronic. Ok, so maybe the giant-handed nemesis won't go down in the Super Villain Hall of Fame, but Hamill's appearance was among the funnier moments in Jay and Silent Bob Strike Back, so the reboot could always draft him in for a new role. Actually, scratch that. If Hamill can play The Trickster in both the '90s Flash series and the current Flash series, who's to say he couldn't play Cock Knocker again? And if Jay and Silent Bob Reboot is looking to subtly poke fun at Hamill's Star Wars prestige again, this time have him not being able to deliver one of his lines, parodying how he didn't say a word in The Force Awakens.
Holden McNeil
He may not hold any claim to Bluntman and Chronic anymore, but thanks to writer Holden McNeil, the world was gifted (is that the right word?) with the pot-themed superheroes. More importantly, it's because of Holden that Jay and Silent Bob learned about the internet and everyone badmouthing them. Now imagine if all these years later, Holden introduces the duo to social media, where the negativity over the Bluntman and Chronic reboot is sure to be even higher than it was with the original movie. Obviously given Ben Affleck's career, we wouldn't expect him to do anything more than cameo, but given that his and Kevin Smith's friendship has also fizzled out over the last 10 years, the chances of Holden returning to the View Askewniverse are slim. But our fingers are still crossed!
Your Daily Blend of Entertainment News
Connoisseur of Marvel, DC, Star Wars, John Wick, MonsterVerse and Doctor Who lore. He's aware he looks like Harry Potter and Clark Kent.