How Much Money Star-Lord's Helmet Brought In An Auction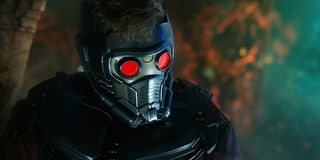 Even with his Celestial DNA, Peter Quill, like normal humans, needs a proper breathing apparatus when venturing into space, as well as head protection for when he finds himself in violent situations. To that end, the infamous Star-Lord frequently relies on his size-altering helmet, which he keeps on him at all times as an earpiece and can quickly activate. Sadly, such technology doesn't exist in real life (yet), but one Guardians of the Galaxy fan recently walked away with the main Star-Lord helmet that Chris Pratt wore during the movie, and they dropped $160,000 for the prize.
Star-Lord's helmet was the biggest money maker at the Prop Store's live auction in the United Kingdom on Tuesday. It was among the 600 movie and television props for sale, with other notable items including an Alien creature costume from the first Alien movie, which sold for for $80,000, and Merlin's robe and helmet from Excalibur, which sold for $120,000. According to TMZ, the auction collected approximately $4 million.
Buying movie memorabilia is rarely cheap, but Chris Pratt's Star-Lord helmet selling for six figures is especially impressive. Even more so when you consider that at the beginning of the decade, the Guardians of the Galaxy were obscure characters even to some longtime comic book fans. We have director/writer James Gunn to thank for successfully adapting these cosmic characters for the Marvel Cinematic Universe and pushing them into the pop culture zeitgeist. Throw in Chris Pratt's star power from not just the Guardians movies, but Jurassic World, Parks & Recreation, The LEGO Movie and more, and his helmet reaching $160,000 makes more sense. For the person who bought the helmet, on the off chance you don't care to keep it in pristine condition, you're welcome to see how efficiently it protects your head, but don't depend on it keeping you safe from the vacuum of space.
Moviegoers reunited with Chris Pratt's Star-Lord earlier this year in Guardians of the Galaxy Vol. 2, where he finally met his father, Ego. However, upon learning about Ego's many atrocities (including killing his mother, Meredith Quill), Star-Lord left the Living Planet's side and worked with his Guardians buddies, Yondu, Mantis and Nebula to stop the powerful Celestial from completing the Expansion. By helping kill Ego, Peter willingly gave up his Celestial powers, but we can still look forward to him donning his special helmet and firing his quad blasters for more MCU installments. When he's not lecturing Groot about cleaning his room, that is.
Star-Lord and his Guardians pals will return next year for Avengers: Infinity War, which arrives in theaters on May 4, 2018. As for the team's next standalone movie, Guardians of the Galaxy Vol. 3 is expected to be released sometime in 2020.
Your Daily Blend of Entertainment News
Connoisseur of Marvel, DC, Star Wars, John Wick, MonsterVerse and Doctor Who lore. He's aware he looks like Harry Potter and Clark Kent.