Jerry Bruckheimer Understands Top Gun 2 Needs To Be Good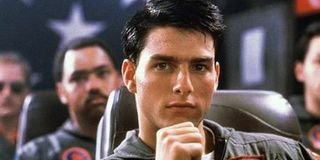 We've known for a few months now that Top Gun 2, the sequel to the popular 1986 movie, is getting made and soon. It's one in a wave of sequels, prequels, reboots and remakes in the works right now, and it is precisely because of that glut of additional movie material that producer Jerry Bruckheimer believes Top Gun 2, also known as Top Gun: Maverick, needs to be special. In fact, he recently revealed that he and the team behind Top Gun 2 know that the sequel can't just phone it in. It needs to be good, and the famed producer understands the bar is higher for the sequel than other projects simply because the first movie is so iconic. Bruckheimer said,
It's actually a pretty common comment from directors and producers that Tom Cruise is an actor who really has a good grasp of the character he is playing and the material he is working with. (In fact recent rumors even stated that Cruise may have had a hand in trying to fix The Mummy after the flick's director wasn't up to snuff.) From what Jerry Bruckheimer told Metro about Top Gun 2, Tom Cruise has a lot of stake in the movie, including as a producer. If he were going to come back for a sequel more than 30 years later, it needed to be done right. Otherwise, why do it at all?
Bruckheimer also elaborated a bit more, explaining why Top Gun 2 needs to work to make money. Namely, movies have to compete with so many more mediums for attention these days. He said,
Even back in 1986, TV was a viable alternative to movies, but it has only been over the last few years that there has been a creative swell in the TV medium, with cable, subscription cable and streaming options creating their own intriguing originals. Video games have also gotten a lot more intensive and exciting since the time when Top Gun originally came out and, as I noted prior, more and more reboots and sequels are being made for the big screen these days. In order to stand out, Top Gun: Maverick is hoping to create a movie that will cater to the fans, but also to be a fun and exciting experience.
We hope that he's right and that the upcoming sequel does fit the bill (and hopefully doesn't include Ghost Goose). Top Gun: Maverick is expected to film in 2018, for a summer of 2019 premiere. In the meantime, you can take a look at what else is heading to theaters next year.
Reality TV fan with a pinch of Disney fairy dust thrown in. Theme park junkie. If you've created a rom-com I've probably watched it.
Your Daily Blend of Entertainment News
Thank you for signing up to CinemaBlend. You will receive a verification email shortly.
There was a problem. Please refresh the page and try again.