2017 Holiday Gift Guide: The Best DVD Sets Include DC, Firefly And More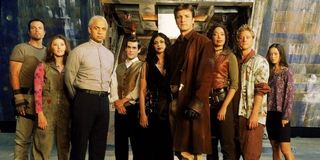 It's that time of year when we are all busy visiting family, attending holiday functions and, of course, shelling out an exceptional amount of money to show our friends and family just how much we love them. Here at CinemaBlend, we won't tell you what sweater to buy your uncle, what watch would best suit your partner, or what heartwarming gift will bring tears to your mother's eyes. However, we're pretty confident that when it comes to recommending home entertainment sets, we've seen all the good stuff this year, and as such, we're happy to share our (super-opinionated and kind of nerdy) knowledge.
This year there were some big new entries and some rereleases in the home entertainment department. These aren't the type of Blu-ray, DVD and Digital releases that make your average stocking stuffer, but they please those movie and TV lovers who are collector's at heart. In addition, if you'd like to take a look at what we recommended last year, head here.
Firefly: 15th Anniversary Collector's Edition
There are a lot of products out there for avid Firefly fans, including book sets, key chains and tons of similar memorabilia. While it's difficult to believe it, Firefly turned 15 this year (or alternatively got cancelled 15 years ago, depending on how you want to look at it). To commemorate the release, Twentieth Century Fox Home Entertainment has given the show the due it really deserves with the Firefly: 15th Anniversary Collector's Edition, which come with a slew of fun extras, collectible packaging and even a quote on the back that reads, 'Find a Crew. Find a job. Keep flying. Fans of the previous 2008 Blu-ray won't have new extras on the disks, but there is a map of the United Alliance of Planets and some fun trading cards. It's the perfect starter set for anyone looking to meet Captain Mal and the rest of the gang. Order your own copy of the set.
Who This Set Is Perfect For: Browncoats, Browncoats, Browncoats. Oh, and maybe the occasional Castle fan.
Transformers: 5-Movie Collection
Paramount's Transformer movies have certainly gone through a lot of changes over time. We've seen casting changes with the humans in the movies and new characters introduced. There have been some intriguing storylines dangled in front of us, as well. If you've ever wanted to see the movies in continuity or watch the flicks over and over again, you can do so with the 5-movie collection, which includes Transformers, Transformers: Revenge of the Fallen, Transformers: Age of Extinction and the most recent entry Transformers: The Last Knight. The movie is basically a repacking of the flicks, and The Last Knight comes with its own bonus disc, but it's certainly a handy way to keep the Transformers movies on-hand. Order your own copy of the set; this one's a stocking stuffer!
Who This Set Is Perfect For: People who are pumped for the Bumblebee spinoff, all your kids, those who want to relive some of the top big budget Michael Bay moments.
Dirty Dancing 30th Anniversary Collector's Edition
One of the truest gift sets this year, the Lionsgate Dirty Dancing 30th Anniversary Collector's Edition is a beautiful set. The packaging is sturdy and opens up to a shot of Baby dancing with Johnny. If you open the set even further you'll find your very own room key for Kellerman's, a slew of dance cards that will teach you the salsa, etc., and even a script for the movie. The Blu-ray is hidden underneath all that fun stuff. Once you "unlock" the key so to speak, there are even more hidden gems, including a satchel, a Do Not Disturb sign and some faux postcards. None of this is practical, of course, but it's still very enchanting. Quotes even adorn the back of the box. If the set has a con, it's going to take up a lot of space on the shelf, but given no restrictions, this set for superfans is a must-buy. Order your own copy of this beaut.
Who This Set Is Perfect For: Anyone who has ever attempted this dance lift, anyone who can quote at least one Dirty Dancing line--and if you don't know "Nobody puts Baby in a corner," we'd be shocked. Anyone in love with this era of eighties movies and Jennifer Grey.
The Strain: The Complete Series
The Strain was always seen as a limited event series, and executive producer Carlton Cuse once stated the FX show was designed to play out across five seasons. It didn't quite get that far, and FX ultimately decided to wrap up the show at the end of Season 4, after being given shortened episode counts that "supercharged" the series. This new collection is coming along with The Strain: The Complete Fourth Season DVD and Blu-ray releases on December 12 (opens in new tab). So, if you've always been a fan of this well-liked series, this set is certainly time to buy. New bonus features with the fourth season include traditional stuff like a gag reel and deleted scenes. However, 11 featurettes are also included that will give you a look at "The Baby Factor" (their words, not ours) and will even delve into the finale and how the show chose to wrap things up. Don't strain yourself too hard looking for this set; you can find it right here.
Who This Set is Perfect For: Here at CinemaBlend, we have a lot of The Strain superfans. This set is for you, Strain superfans. May the show with one of the grossest promotional posters ever live on through this boxed set.
DC Universe Original Movies: 10th Anniversary Collection
This limited edition set is individually numbered and first hit shelves just a few weeks ago. It's sort of like the comprehensive Bond 50 set that came out a few years ago, although with very different subject matter, and includes 30 animated films and an additional 5 animated shorts. It also has a slew of Comic-Con footage from years past (including a 2017 panel), a full documentary, Mark Hamill footage and plenty of other bonus features on an extra disc. That's just the base facts of this set, though. The fact is, it features well over 30 hours of movies, and is arguably a better box set than anything DC has released in years. If you've been keeping tabs on DC's animation at all, the track record for quality is insane, and the set consolidated a lot of meaty material in one package. I could even gush on and on about the book-like packaging for each of the Blu-rays and the 3-collector coins hidden underneath. (I won't be I definitely could) Oh, and there are coloring pages, because people who like DC also like coloring, OK? The 10th Anniversary Collection doesn't come cheap, but it's also comprehensive. Check it out.
Who This Set Is Perfect For: DC Fans, of course. Specifically, those already up on the R and PG-13 animated projects DC has been putting out. This set is topnotch. It's a pretty damn good holiday gift.
Samurai Jack: The Complete Series
One of the few big box office sets this holiday season that also comes with a Digital copy of the series, Adult Swim and Cartoon Network's comprehensive Samurai Jack: The Complete Series set comes with all five seasons of the series, a feat made possible despite the fact the show took a hiatus of nearly 15 years and switched to Adult Swim upon its return. Previous releases of the early seasons of Samurai Jack have also been DVD offerings, making this High Definition release more enticing. If that's not enough, there's new cover art for each season, and the set comes with cool original metal plate artwork. Here's how you can nab a copy.
Who This Set Is Perfect For: Avid Adult Swim watchers, anyone excited for Samurai Jack's big return earlier this year, anyone who gets suckered in by some cool artwork, etc.
The Godfather Trilogy: Omerta Edition
Another limited edition set with a shiny gold number on the front, Paramount's latest release of The Godfather Trilogy. The trilogy of movies have been previously released with the same in-depth special features, but similar to some of the other gift sets in this holiday gift guide, it's some of the exclusive fun new collectibles that make this set so shiny. Well, that and the beautiful gold typeface that will make this set look good on any shelf. As for the collectibles, there's new magnetic poetry, an "Anatomy of a Scene foldout," and even fun new trivia cards that should make a holiday get-together a bit more amusing. Character cards with quotes are also included.
Who This Set is Perfect For: Anyone who has ever quoted The Godfather to you and doesn't yet own The Godfather trilogy, anyone who is enticed by gifts with shiny gold font.
The Vampire Diaries: The Complete Series
Warner Bros.' The Vampire Diaries: The Complete Series has been a long time coming. The long-running CW series made it through eight seasons of a changing cast, which later included a spinoff in The Originals and characters who grew and changed a lot through the show's run. Julie Plec built a fanbase through characters like Stefan, Elena, Damon, Klaus and more. Although the set in question is basically a repacking of all eight seasons of the popular supernatural series, the complete series set makes for an incredible fun re-watch, illuminating exactly how much changed as time went on in the show. It might make you feel a little old, but in a good way. Conjure up your own copy of the full series on Blu-ray and DVD.
Who This Set Is Perfect For: Those who love to binge-watch, anyone who capably knows what Stelena, Delena, Steroline, and Janna means.
The Amazing Spider-Man Limited Edition Collection
Sony Pictures Home Entertainment is all about the famous wall crawler this season. Earlier this fall, the studio released the 4K edition of the Andrew Garfield and Emma Stone-led series. If 4K isn't enough to entice you to buy in, the set also comes with Blu-ray and Digital copies, 15 featurettes Sony describes as "rare," nearly 10 hours of special features, and a full color, image-filled booklet that really goes into the behind-the-scenes of the making of the two films. It's a nice set, even without the 4K. And if that's not your cup of tea, Sam Raimi's trilogy of movies is also available in 4K with the similar Spider-Man Limited Edition Collection. It's not too pricey to own, either.
Who This Set Is Perfect For: Spidey completists, anyone still 'shipping Emma Stone and Andrew Garfield, and 4K fanatics who love a pristine picture on your TV screen.
Your Daily Blend of Entertainment News
Reality TV fan with a pinch of Disney fairy dust thrown in. Theme park junkie. If you've created a rom-com I've probably watched it.
Your Daily Blend of Entertainment News
Thank you for signing up to CinemaBlend. You will receive a verification email shortly.
There was a problem. Please refresh the page and try again.