2016 Holiday Gift Guide: The Best Big DVD Sets That Money Can Buy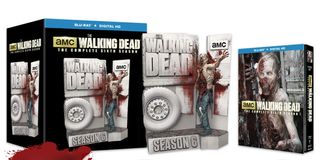 I'm a sucker for something different when it comes to Blu-ray and DVD sets, especially if they come with a fun cover or collectible figurines. Luckily, if you are a lover of sets like these, the major studios often release some really enticing movie and TV releases around the holidays. This year, we've culled through the outstanding sets that the various companies have released and have put together a list of awesome Blu-ray, DVD and even 4K sets that would look good in any home. Check out our 2016 Holiday Gift Guide, below, and let us know if you've already bought any one of these expensive beauties for someone you really, really like.
In addition, if you'd like to take a look at a few of the cool sets that might be available from last year, head here.
The Walking Dead Season 6 Limited Edition Blu-ray
Through the duration of The Walking Dead's run, Anchor Bay Home Entertainment has released special sets for each of the seasons that come with grotesque yet awesome packaging that focuses on some of the most horrific aspects of zombie decay. The Season 6 Limited Edition set is among our favorites, as it features a zombie with its entrails hanging out clinging to a chain on the back of a large vehicle. It's super creative, really and it is based on an original walker design by executive producer Greg Nicotero. The disc itself is the regular Season 6 Blu-ray set, which pops out from underneath the fun plastic packaging; it should be noted this set has a special cover created just for this release. Bonus features include deleted scenes, in memorium segments, a feature on Negan, an extended version of "Last Day on Earth" and more. The set runs on the expensive side, but it's truly delightful. If you'd like to get your own hands on a copy of the Limited Edition release, head here.
Who It's Perfect For: People who relish artwork featuring faux rotten flesh, those who need to relive the "Glenncident" a.k.a the dumpster incident, those who love Negan and anyone who wants to check out some extra special bonus features.
Star Wars: The Force Awakens 3D Collector's Edition
Over the past few years, Blu-ray sets have gotten a little bit away from the use of holographic covers, but I still love it when a Home Entertainment set uses one of these excellent covers. Luckily, that's not the only extra that Walt Disney Home Entertainment's Collector's Edition has to offer. Not everyone has 3D TV in their homes but that doesn't really matter. If you are a superfan of Star Wars: The Force Awakens, this is honestly a great set filled with a slew of bonus features, including commentaries with J.J. Abrams, new deleted scenes, a feature looking at the inside of the armory that talks about how weapons were created for the movie, and segments on artistry, the costumes and even the sound in the film. They sound more generic than they are, as they are actually chock full of information, which we've discussed here and here and here. Whether or not you own a copy of Star Wars: The Force Awakens, this one is more spectacular in every way. The 3D disc is just a bonus, as A Blu-ray, DVD, Digital and Bonus disc are also a part of the set. Order your own copy of the collectible release here.
Who It's Perfect For: Avid Star Wars Fans, casual Star Wars fans, fans of J.J. Abrams' work, anyone who thought The Force Awakens was alright but is pumped for the future of the franchise, fans of Star Wars newcomer Daisy Ridley.
Person of Interest: The Complete Original Series DVD Set
While many would agree that Person of Interest ended too soon---indeed the disc for the fifth and final season is even slimmer than the others---Warner Bros. Home Entertainment is giving fans the gift of the season: a fun 5-DVD set featuring every single moment from the entire series, plus some bonus features. One of them, "Finale For The Fans," features some of the crew and Michael Emerson meeting up around the show's 100th episode (which came just before the end of the show) to talk about what they are proud of with the series and what they regret. This includes wishing they had had time to explore "Dark Finch" and more. John Reese and Harold Finch will be missed, but maybe there will be more Person of Interest down the line, if we should be so lucky. For now, we can relive our favorite memories with this set. You can order Warner Bros. Home Entertainment's set here.
Who It's Perfect For: Hardcore fans of Person of Interest, plus anyone who likes to listen to Jim Caviezel sounding like Batman. Tech lovers, Bad Robot lovers, Jonathan Nolan lovers and more should all love this comprehensive set, as well.
Game of Thrones: The Complete Seasons 1-6
Now that we know Game of Thrones will be wrapping up after Season 8, the end seems nigh. However, there's an easy way to relive all of your favorite episodes, and to also buy in to some collectible packaging that will look great on any shelf. The new Game of Thrones set features six Blu-ray discs in tidy packaging with a Digital HD copy and exciting dragon cover art. If you know anything about HBO Home Entertainment's sets, you should know they are pretty much the gold standard in terms of bonus features. There are too many across multiple seasons to name, but there are episode guides, there are deleted scenes and there are segments walking us through some of the show's most iconic episodes, as well. There are hours and hours of bonus features to peruse on each of these discs. You can order the full Game of Thrones: The Complete Seasons 1-6 here. If you're only looking for a particular season of the HBO drama, we also highly suggest checking out the Steelbook editions of Game of Thrones, which are solid buys, as well.
Who It's Perfect For: Game of Thrones fans, Game of Thrones fans who want the convenience of a full set of seasons, fans of the show who enjoy slimmer packaging as some of HBO's sets take up more space per season.
Sony Pictures Animation Collection DVD Lunchbox Set
What's cuter than giving your kids a slew of fun, animated movies for Christmas? Giving them a bunch of Sony animated classics packaged in an adorable lunchbox would be the correct answer. The Sony Picture Animation Collection comes with 10 movies: Arthur Christmas, Cloudy With A Chance Of Meatballs, Cloudy With A Chance Of Meatballs 2, Hotel Transylvania, Hotel Transylvania 2, Open Season, The Pirates! Band Of Misfits, The Smurfs, The Smurfs 2 and Surf's Up. While a lot of sequels are involved, this set comprises most of Sony Animation's recent releases for kids of all ages, and incorporates them into packaging most people can smile over. Give the lunchbox a looksy, here.
Who It's Perfect For: Animation lovers, kids who need lunchboxes, kids who don't need lunchboxes, anyone who enjoys hearing Adam Sandler say "blah blah blah, and fans who like to spice up their DVD shelves.
Star Trek Beyond: 4K Ultra HD Gift Set
Paramount Home Media Distribution made it really easy to enjoy Star Trek Beyond when it hit Blu-ray and DVD earlier this year. One of the most enticing sets was its 4K Ultra HD release, which included more than an hour of bonus features and came with a Blu-ray 3D, Blu-ray and Digital copy of the film for all of your viewing needs. If you're the type of person who only has one of the 3D or 4K formats, that's OK. It never hurts to have a back-up format, and this set also comes with the added benefit of a USS Franklin Collective. The little ship looks adorable on any work desk, and we can verify that it's equally fun to play with.
Who It's Perfect For: Trekkies, People who enjoy Justin Lin's take on the franchise, people with 4K technology, people with 3D Blu-ray technology, people who generally enjoy playing with toys---err we mean, collectibles.
Independence Day: 20th Anniversary Attacker Edition
Want a Blu-ray copy of Independence Day? Check. Want a large version of an attacker from the film to show off to your friends? Check. Twentieth Century Fox's set revisits the classic film starring Will Smith with some exciting extras, including a large version of the famous alien ship at the heart of Roland Emmerich's film. Two versions of the movie are also available on the Blu-ray: The Theatrical and Extended cuts, not to mention brand new bonus features. If you don't need the collectible, the home entertainment company also released a cheaper version for homes. But again, it's the gift set that really makes this one fun. Order your own copy here.
Who It's Perfect For: Independence Day superfans---especially those who love to quote, "We will not go quietly into the night! We will not vanish without a fight. We're going to live on! We're going to survive! Today we celebrate our Independence Day." Yeah, for those people, this set is perfect.
Dexter: The Complete Series Blu-ray Set
It's been a couple of years now since Dexter finished its eighth and final season on Showtime. The long-running series ended on a polarizing note for some fans, but we've had some time to take a step back from the drama and the new complete series set really helps us to appreciate the series as a whole. CBS Home Entertainment essentially took all eight seasons worth of discs and repackaged them into a concise Blu-ray set. There are more expensive Dexter series sets out there, but this one is exciting because it comes at a more reasonable price. You can order your own copy of Dexter: The Complete Series here.
Who It's Perfect For: Anyone interested in binge-watching Dexter, fans who haven't caught the series in a while and anyone who just needs a giant picture of Dexter Morgan staring at them from their shelf.
Amazing Race & Top Chef superfan with a pinch of Disney fairy dust thrown in. If you've created a rom-com I've probably watched it.
Your Daily Blend of Entertainment News
Thank you for signing up to CinemaBlend. You will receive a verification email shortly.
There was a problem. Please refresh the page and try again.