Ryan Reynolds Has The Best Answer For Which Marvel Chris Is Hottest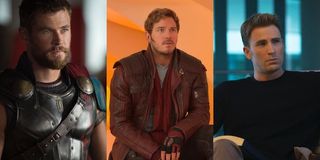 The Marvel Cinematic Universe has posed many questions over the years, and although we'll never be entirely free of mysteries in this fictional world, at least we've received plenty of answers with each passing movie. However, one question that will never be definitively answered in this franchise is which of its leading Chris men is the hottest. It's all a matter of personal taste whether Evans, Hemsworth or Pratt is more to your liking, but for Ryan Reynolds, another handsome Hollywood man, picking just one isn't an option. So when asked online if he could settle the argument of which Marvel Chris is hotter, Reynolds responded:
As you can see, Ryan Reynolds approaches the Marvel Chris dilemma the same way he does with picking his ice cream. Rather than choose between vanilla, chocolate and strawberry, why not go all in and buy all three, or better yet, the neapolitan combo? For the man portraying Deadpool on the big screen, the same thought process can be applied to Chris Hemsworth, Chris Pratt and Chris Evans. If he had his way, Reynolds would be snacking on a trifecta made up of all the best parts of Thor, Star-Lord and Captain America. Some might consider this a cop-out answer, but I suspect there are many others who prescribe to Reynolds' approach.
Of course, although Marvel has three leading Chrises, we can't forget about the fourth major Chis in Hollywood: Chris Pine, who has left his own mark on the superhero movie genre by playing Steve Trevor in Wonder Woman. So even though Pine can't technically be part of the "ice cream," Reynolds has still found a way to make him part of the "sundae."
I see what Ryan Reynolds did there, and such a comment is very much in character for him in real life and when he's playing Wade Wilson. It's also worth mentioning that due to Disney purchasing 20th Century Fox last month, it's now plausible that one day we could see Reynolds alongside one or all of the Marvel Chrises in a superhero world setting. Granted, Disney CEO Bob Iger said that the current Deadpool franchise would likely continue under a specific R-brand, but even if the Merc with the Mouth didn't get to pal around with Thor, Star-Lord or Captain America, at the very least he could make a fourth wall-breaking comment about the actors in Deadpool 3 or another appearance.
Chris Evans, Chris Hemsworth and Chris Pratt will all be back next year as their respective MCU characters for Avengers: Infinity War. But in case you'd like to see any of them in a non-Marvel setting, Hemsworth can next be seen in 12 Strong starting January 19, Pratt will reprise Owen Grady in Jurassic World: Fallen Kingdom on June 22, and Evans will star in The Red Sea Diving Resort, which hasn't been scheduled yet.
Your Daily Blend of Entertainment News
Connoisseur of Marvel, DC, Star Wars, John Wick, MonsterVerse and Doctor Who lore. He's aware he looks like Harry Potter and Clark Kent.