Get Out's Honest Trailer Pokes Fun At The Film's Budget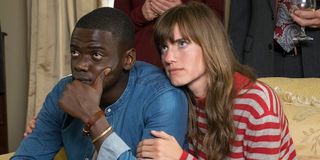 Nearly a year after its release, Get Out is still the talk of the proverbial town. While it ultimately didn't win any of the Golden Globes earlier this month, yesterday Get Out was awarded with four Oscar nominations this year, including Best Picture, Best Director, Best Actor and Best Original Screenplay. But even looking past all the accolades it's earned, Get Out cemented itself not just as one of 2017's most successful movies, but also the most profitable of them all with a 630% return on investment. Well, as the latest Honest Trailer pokes fun at, the reason the Jordan Peele-helmed movie was so profitable is because the budget was so ridiculously small.
With great popularity comes great mocking, so it's not surprising to see that the folks over at Screen Junkies targeted Get Out for an Honest Trailer. Made off only $4.5 million, Get Out went on to collect over $254 million worldwide. Excellent reception, both in reviews and through word of mouth, propelled the movie's ticket sales, but if Jordan Peele and his team hadn't gone extremely low budget, it wouldn't have walked away being 2017's most profitable movie. As our trusty Honest Trailers Narrator points out, this movie is so low budget that they gave Daniel Kaluuya's character, Chris Washington, the Windows Phone to use, doubling as "subtle" product placement. A phone, by the way, was officially discontinued more than half a year after Get Out was released. So that technological venture didn't pay off for Microsoft, but at least Get Out benefitted from it. Plus, thanks to Get Out, at least we'll all remember that once upon a time there was a Windows Phone, just like the DeLorean has been immortalized in the Back to the Future movies.
If there's one thing that Get Out also proved, it's that diversity, quality and "making buttloads of money" aren't mutually exclusive. Take heed of this when green-lighting projects, Hollywood. Nevertheless, even with Get Out's critical and commercial success, that was plenty of mockery to be had at the movie's expense in this Honest Trailer, from Chris' ability to deflect uncomfortable conversations to all the little details peppered early into the movie that foreshadow the twists coming to Allison Williams' Rose Armitage eating Froot Loops separate from the milk. That last one may have worked thematically, but I'm fairly certain that's not a thing people actually do. Oh, and it's good to know that I'm not the only one who deeply appreciated Rod. Jordan Peele, please use him as the primary connective thread in your shared cinematic universe... assuming you want to build that.
We'll find out if Get Out wins any Oscars when the 90th Academy Awards air Sunday, March 4 at 5 p.m. PST on ABC. You're also welcome to learn what movies are coming out this year by scanning through our 2018 premiere schedule.
Connoisseur of Marvel, DC, Star Wars, John Wick, MonsterVerse and Doctor Who lore. He's aware he looks like Harry Potter and Clark Kent.
Your Daily Blend of Entertainment News
Thank you for signing up to CinemaBlend. You will receive a verification email shortly.
There was a problem. Please refresh the page and try again.