Check Out This Mission: Impossible Picture Of Tom Cruise Performing The Stunt That Led To His Injury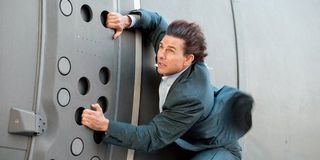 If we know one thing about Tom Cruise's reputation as an action movie hero, it's the fact that the man commits to his own stunts. That mentality backfired last year when Cruise injured himself on the set of Mission: Impossible - Fallout, but it now looks like everything's back on track and good to go. In fact, Cruise has just teased his fanbase with a behind-the-scenes image from Fallout, and it looks like a shot of the very stunt that caused a movie-delaying injury to his leg just months ago. Check it out below.
Some of the Mission: Impossible stunts that have wowed us over the years have relied on complicated machinery and intricate set pieces. On the other hand, this one is merely a feat of raw athleticism. Tom Cruise is known for running in his movies, and to jump between these two buildings in Mission: Impossible - Fallout, he needed a running start, not to mention a couple of extra takes, considering his injury last year.
One thing not explicitly explained by this picture on Tom Cruise's Twitter page is when it was taken. It could be from the initial shoot when the actor injured himself, but it could also be a more recent photo from a successful take. All we know for sure is that it's the same stunt, because his wardrobe looks the same and it looks like the same buildings seen in his failed jump.
Then Mission: Impossible franchise is already known for insane stunts, and this roof jump from Mission: Impossible - Fallout looks like it's going to live up to the legacy of the Burj Khalifa climb in Ghost Protocol or the airplane stunt in Rogue Nation. That said, it doesn't even look like the most intense stunt in Fallout (even though it's the one that he got injured doing), because another recently-revealed stunt shows Cruise dangling from the side of a helicopter.
Mission: Impossible - Fallout is already shaping up to be one of the most intense and personal entries in the Mission: Impossible franchise to date. The title alone says it all. In fact, when asked about the deeper meaning of Fallout as the film's subtitle, director Chris McQuarrie spoke out and explained that while Fallout undoubtedly refers to the threat of nuclear annihilation, it also implies a more profound meaning related to decisions made in Ethan Hunt's past. This seems to indicate that the intensity won't just stem from the craziness of the stunts; there's a more personal angle here that we haven't seen before.
Make sure to stay tuned for more updates related to Mission: Impossible - Fallout as more details associated with the sixth installment in the action series become available to us. Fallout will blast its way into theaters this summer on July 27.
Originally from Connecticut, Conner grew up in San Diego and graduated from Chapman University in 2014. He now lives in Los Angeles working in and around the entertainment industry and can mostly be found binging horror movies and chugging coffee.
Your Daily Blend of Entertainment News
Thank you for signing up to CinemaBlend. You will receive a verification email shortly.
There was a problem. Please refresh the page and try again.