Justice League's Honest Trailer Tears Into The Movie's Weird CGI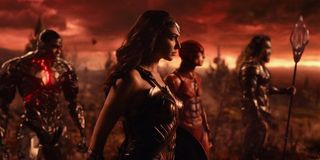 DC Comics fans have been waiting for years to see a Justice League movie, and last November, that finally happened, with Batman, Wonder Woman, Superman, Aquaman, Flash and Cyborg coming together to battle Steppenwolf in the fifth DC Extended Universe tale. However, while it didn't earn quite the critical thrashing that Batman v Superman: Dawn of Justice and Suicide Squad did, Justice League underwhelmed both critically and commercially in theaters. With Justice League now available on Digital HD, the folks at Honest Trailers have selected it as their next target, and one of the main critiques is the weird CGI peppered throughout the movie.
If you compare the early Justice League trailers with the ones released in the immediate months before the movie hit theaters, you can tell that there were major changes made during post-production, particularly with the climactic battle, which changed the original dark lighting to orange everywhere. But that wasn't the only way Justice League learned hard into CGI. From Steppenwolf to the Mother Boxes to Cyborg, this was a movie that took full advantage of digital effects, and sometimes that didn't pay off. Case in point, the work done on removing Henry Cavill's mustache, which the actor was unable to shave off due to his work on Mission: Impossible - Fallout. Even if you think that this was Cavill's best performance as Superman yet, it's hard not to focus on that digitally-manipulated face. Uncanny valley, anyone?
CGI was just one of the issues that the latest Honest Trailer from Screen Junkies highlights. From behind-the-scenes troubles to inconsistent connectivity with Batman v Superman: Dawn of Justice (we never did follow up on that warning future Flash delivered to Bruce Wayne) to so many advertised scenes not making the final cut, it's clear that Justice League didn't turn out to be one of the more cherished contributions to the superhero movie genre. However, that's not to say that Justice League didn't have some positive elements, and if Justice League 2 still ends up happening, hopefully the people working on the sequel can learn from the mistakes made on the first movie and give audiences an even better story starring DC's most famous superhero team.
Justice League is now available for digital purchase, and the Blu-ray/DVD will hit shelves on March 6. There's no word on if an extended version of the movie, Zack Snyder cut or otherwise, will ever be released. The next DCEU installment, Aquaman, hits theaters on December 21, and don't forget to look through our DC movies guide to find out what else the franchise has coming up.
Connoisseur of Marvel, DC, Star Wars, John Wick, MonsterVerse and Doctor Who lore. He's aware he looks like Harry Potter and Clark Kent.
Your Daily Blend of Entertainment News
Thank you for signing up to CinemaBlend. You will receive a verification email shortly.
There was a problem. Please refresh the page and try again.