12 Great Movies Coming To Netflix In March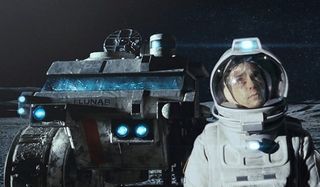 March is here, and with promises of spring weather, ever lighter days and Easter eggs around the corner, we get our usual batch of new films and TV shows that are debuting on Netflix's streaming platform. Out of the multitude of choices heading our way in the next calendar month, there's a select handful that really look to brighten our day. If you want to see the best and the brightest of this past month's incoming class, you can find them in our previous rundown. But today we cast our eyes to the future and are taking a look at the best movies coming to Netflix throughout March.
300
Back in the days of Zack Snyder's then-up-and-coming career, 300 was handed to him as his first graphic novel adaptation set up at Warner Bros. His second major motion picture, the Frank Miller comic was brought to full color life by Snyder, while introducing us to a lot of the tools and tropes the director would use over his entire career. Enjoy this one as a throwback to a simpler era of standalone comic films, with the shine on Zack Snyder's star still intact.
Adventureland
While both Kristen Stewart and Jesse Eisenberg are pretty big deals right now, Adventureland is a shared project of theirs that landed at a rather interesting time. It was the dawning of a new age of tentpoles and indies alike, with the MCU just revving up the year before and Miramax on the decline as an indie stalwart. Due to both of those factors, this one seemed to be pigeonholed and overlooked in its initial release. You wouldn't be blamed if you haven't discovered writer/director Greg Mattola's ode to summer jobs and the romance that sometimes blossoms from them, so now's your chance to correct that.
Beerfest
With Super Troopers 2 is finally becoming a reality in just a couple of months, there's a lot of excitement in the air for the return of Broken Lizard to the big screen. Which raises the all-important question, are we finally going to get Weedfest within the near future? Of course, to be asking that question, you need to be familiar with the joy-inducing comedy that the troupe's film Beerfest managed to generate. And what do you know? It's on Netflix for all to enjoy as a sort of pre-game for Super Troopers 2! So if you're holding out hope for another long overdue sequel seeing the light, or if you just like Broken Lizard's damned funny faces, throw in Beerfest one or five times throughout March!
Casino
Here's a fun party game: mention the name Martin Scorsese and see what movies get mentioned first. Almost always, it's going to be Goodfellas, Raging Bull, The Departed and even The Wolf of Wall Street. Yet below the strata of intensely well known Scorsese, there are gems that need some more love from the public - flicks like The King of Comedy, or even Casino. Everyone loves to compare it to Goodfellas, as it's obviously a very mafia-centric story, but that comparison is unfair. While Goodfellas focuses on a guy who always wanted to be a gangster, the Robert De Niro lead in Casino just wants to run a square joint and take care of those that he loves. Though, in true Martin Scorsese form, it's not an easy bet.
Cruel Intentions
Out of all of the '90s nostalgia driven trips we've been subjected to, how has Cruel Intentions not managed to land a solid revival? Sure, there was that TV pilot a couple years back, and a new musical is heading to the stage this year in New York, but surely there would have been a remake/sequel by now, right? Then again, if you revisit this '90s classic for yourself, you'll probably see why it's so damned hard to bring Kathryn, Sebastian and Annette back into the modern day. For as everyone could tell with the two subpar, direct-to-DVD sequels (which have also found a home on Netflix this month), that first movie was truly lighting in a bottle.
Forgetting Sarah Marshall
Break-ups suck, and if Valentine's Day didn't go the way you'd hoped this year, you're probably still sorting through the wreckage. Netflix understands this, and as such, it's bringing Forgetting Sarah Marshall to your weary eyes in the name of laughing at heartache. Allegedly inspired by his failed relationship with a former co-star, this kinda rom/definitely com flick sees writer/star Jason Segel's Peter trying to escape his heartache by vacationing to Hawaii. Unfortunately for him, his ex-girlfriend and her new boyfriend are both in the same state. We won't spoil how it turns out in case you're new to this one, but we will say that it's well worth watching for the Dracula musical numbers alone.
Ghostbusters
Comedy is a fickle genre, as blazing successes of today don't always age the way they should. Just ask anyone with a copy of Superbad who they haven't even spoken to in a good decade. And yet, the films that stick do so for the best reasons. Ghostbusters, in the wrong hands, might have wound up a relic that people talked about with fondness that was freeze dried from the moment of their first and only viewing as a kid. And yet, it's a fresh and vibrant movie that's definitely a product of its time, but one that doesn't completely anchor itself to its '80s origins. Yes, it's true, this film is immortal.
Moon
If it wasn't for Duncan Jones failing to cast Sam Rockwell in Mute, but really wanting to work with him anyway, Moon would have never happened. And while we've just received that other film in our Netflix queues as of today, it's that first film that still sticks in our minds. Rockwell's performance as Sam Bell, the lone employee of a lunar mining corporation with a big secret, is still a revelation after all this time. While there's a good chance he will win the Best Supporting Actor Oscar this year, we can't help but feel that there should have been more love for his role as Sam back in the day.
The Brothers Grimm
Terry Gilliam is the king of underrated successes. Just ask any of his fans. With The Man Who Killed Don Quixote finally being completed, there's no better time to tear through the director's back catalog and pick out some favorites. As such, it's recommended that you check out The Brothers Grimm, a fantasy comedy that operates on such a fantastically efficient level, it feels like a tentpole with weight to it. With Heath Ledger and Matt Damon playing the titular brothers, who turn out to be con artists with fantastic storytelling abilities, seeing this pair fight off more than they can chew is a true delight.
Up In The Air
While it certainly looked like the "topical choice" for the Academy Awards in its year of nomination, Jason Reitman's Up in the Air actually serves a deeper purpose. The George Clooney/Anna Kendrick road dramedy certainly gives a voice to the woes of the economic recession that hit Americans hard, as it actually cast real people that lost their jobs at the time to play some of the folks being let go by Clooney's corporate soldier. But underneath that plotline are tales of love, ambition and where you're actually going in life versus where you're hoping to land. At times tender, with some gut punches that help highlight its humanity, it's a movie that should be enjoyed on a day where you're really ready to parse it out.
Wet Hot American Summer
Much like film audiences the world over, Netflix is in love with Paul Rudd. With six of his ten best performances (in our opinion) being run in their streaming platform, you could very easily find yourself stuck in a Rut of Rudd. And if you choose to do so, we suggest throwing in Wet Hot American Summer in there somewhere, as it's a fun and jerky balance to some of the sweeter, more stoic work he's done in recent years. That, and it's Wet Hot American Summer. How do you not watch Wet Hot American Summer when it's staring you right in the face?!
Let Me In
Remakes get a pretty bad name for the most part, as simply adapting something that's been done before feels like a waste of time, money and attention span. But if you can recapture what makes the original that damned brilliant, while at the same time spinning it in a slightly different way to make it its own thing, then you have a case for just how the concept works on its best day. Let Me In is one of those best days in remake history, as director Matt Reeves takes Let The Right One In and turns it into a film that still strikes the notes Tomas Alfredson's Swedish original did, but in a different and darker chord.