10 Great Movies Coming To Netflix In February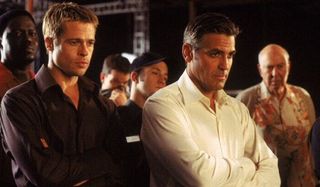 Previously, we broke the list of the titles coming to the Netflix streaming library in February; but after getting a good look at what was coming down the line, we found some really neat stuff that was headed our way. While it may not ease the pain of the titles we're about to lose in that very same month, it does have us excited that this past month's additions are being followed up by some similarly solid acts.
Submitted for your approval, the following 10 picks of awesome movies headed to Netflix in February 2018!
American Pie
While the teen sex comedy was something that originated and thrived in the 1980's, American Pie was the film it needed to survive into the new millennium. The then fresh-faced cast of newcomers like Seann William Scott, Jason Biggs, Mena Suvari, Chris Klein, and Shannon Elizabeth would combine with seasoned contemporaries like Thomas Ian Griffith, Alyson Hannigan, and Natasha Lyonne, to create a super group of talent that'd wade through the raunchiest, and funniest, waters that audiences could handle. Looking back on it now, it's still a pretty funny movie, but thinking back to when the film debuted, you can see how it made the waves it did.
Goodfellas
Next year, we'll be getting the next Martin Scorsese film, The Irishman, in theaters (and on streaming), thanks to the generous nature of Netflix. Now some folks may not understand just how big a deal this is, and it's to those folks this pick is dedicated to. Goodfellas is Martin Scorsese's magnum opus when it comes to the Mob, and it's not hard to see why. This film has a reputation for its intricate editing, perfect story flow, and as always, Scorsese's choice music picks. Whether you've seen it before, or have yet to be initiated, there's never a bad time to sit down and partake in this modern classic.
Kill Bill: Vol. 1 / Kill Bill: Vol. 2
Face it folks... unless Quentin Tarantino says otherwise, this is the closest we're getting to "The Whole Bloody Affair" that is Kill Bill. Both halves of Tarantino's kung-fu revenge epic will be available at the same time, though you'll still have to jump from movie to movie to get the whole story. Which is perfectly fine, considering Uma Thurman's revenge monologue at the beginning of Vol. 2 is well worth the virtual disc change. Though we can't help but wonder if maybe, one day, Netflix will convince QT to go the whole hog on his combined vision, exclusively on their platform.
Lara Croft: Tomb Raider
With the new Tomb Raider headed to theaters this March, Lara Croft has been on quite a few cinematic minds as of late. And with each thought back to the rogue archaeologist's previous adventures, Angelina Jolie's initial incarnation of Lara's adventures always comes to mind. While Lara Croft: Tomb Raider is more tongue-in-cheek and showy than the newer film looks, this first film is still a pretty exciting ride to behold. Not to mention, you get to see Game of Thrones' Iain Glen and James Bond himself, Daniel Craig, in two early performances, courtesy of this film.
Meet the Parents
Here's a scary thought: Meet The Parents is old enough to vote this year. That's right, Ben Stiller and Robert De Niro's epic battle of wits and insults is going to be 18 in October, and that first film still holds up pretty tightly. The sequels, sadly, do not, and a big reason is that Meet The Parents really was lightning in a bottle that first time around. The jokes were fresh, De Niro was starting to segue into a different phase of his career and was game for anything, and Stiller was still on top of his game. Do yourself a favor and forget Meet The Fockers (also coming to Netflix) or Little Fockers don't exist, and just enjoy this one for what it is.
Men in Black
Much like its run on cable in the old days, Men in Black always seems to be cropping up at random times on Netflix's library. Frankly, there's nothing wrong with that, as this is another one of those movies that seems to defy the test of time. And that's despite the very 90's blockbuster mentality that brought the film to life, complete with that Will Smith single you used to expect with every film he was attached to. Maybe Suicide Squad could have been better, if it'd taken some lessons from Men in Black.
Ocean's Eleven
Another refresher course is open over at Netflix University. This time, fans of the Ocean's Eleven trilogy will be able to watch all three films, so as to remind themselves of why we're getting an Ocean's Eight. Steven Soderbergh's stylish origin of the remake trilogy is still where it's at though, as the effortless cool and criminal caper came back to living, breathing clarity with his take on the Frank Sinatra classic. Though come to think of it, Sandra Bullock's new film looks to very much take after this first film, so a walk down memory lane is all the more welcome in the context that it may help us discover something just as good in the future.
Walk Hard: The Dewey Cox Story
John C. Reilly is an underrated treasure, full stop. Sure, he's well remembered and regarded because of films like Chicago and Step Brothers, but the man himself hardly gets a chance to shine on his own. Walk Hard: The Dewey Cox Story is the sort of project that not only proves he should be given that chance more often, but also that the genre of parody isn't totally dead. Sending up musician bio-pics like Ray and Walk The Line, the story of Dewey's long, hard walk is something that never fails to crack a smile, or gain a pretty uproarious laugh.
Lincoln
In a parallel universe, we've got a version of Lincoln that stars Liam Neeson as the titular president in a story based off of Doris Kearns Goodwin's Team of Rivals. But fearing he was too old for the part, Neeson bowed out and left room for one hell of a replacement: Daniel Day-Lewis. The man disappears into the central role of Steven Spielberg's biopic of Abraham Lincoln's quest to work with allies and rivals to secure the Emancipation Proclamation. With some comedic bits scattered throughout, and an all-star cast including Sally Field, Joseph Gordon-Levitt, and James Spader, Lincoln is a gold standard for historical dramas, and a film worthy of the Spielberg pedigree.
Mute
Just give us a moment before we start in on our last selection. It's been a while since Duncan Jones promised himself that Mute would happen, and it's only been slightly shorter that he'd told the world he'd follow up Moon with another film in that universe. Now, after a good long wait, Alexander Skarsgard, Justin Theroux, and Paul Rudd will be on our home screens, unfolding a tale of futuristic noir in Berlin, just as Jones had intended. This is a big payoff for sci-fi fans, and for Duncan Jones fans in general, and it looks like a doozy.
Your Daily Blend of Entertainment News
Senior Movies Contributor
CinemaBlend's James Bond (expert). Also versed in Large Scale Aggressors, time travel, and Guillermo del Toro. He fights for The User.