10 Visually Stunning Movies That Aren't On Blu-ray But Need To Be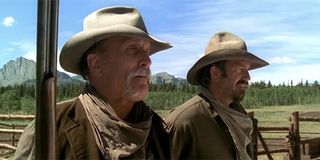 The Blu-ray format has been around since 2006 and in the decade plus since, countless films have been released in glorious high definition. New favorites, old classics and niche films have all found their way to Blu-ray. However, there are still some films that, for whatever reason, remain stuck in 480p mediocrity on DVD. Now this isn't a big deal for something like A Night at the Roxbury or Beverly Hills Ninja, movies I'd like to see get the high-def treatment but do not need it. But there are films that are visually stunning, full of beauty and color and craft that demand to be seen in the best way possible, that still aren't on Blu-ray.
Now I know many people are signaling the death knell of physical media as streaming takes over but there is still merit in tangible formats. High definition on Blu-ray still looks better than high-def streaming and that's before we even get into the better audio. And as evidenced by the various articles telling us what's coming and going from the streaming services every month, you can't always access the movies you want when you want them on streaming. Physical media circumvents those problems. There is also now the new UltraHD Blu-ray format that benefits those with 4K TVs, offering even higher resolution and incredible high dynamic range color. But there are some films that still haven't even made the jump to regular old HD that need to do so. Blu-ray, UltraHD, either, both, I'll take whatever I can get.
The following films are feasts for the eyes but they are currently being starved for resolution. Although you may be able to find some of these films to watch digitally, many of them aren't available on free streaming, and even then you can tell you are not watching a high-definition transfer. Some have been released overseas but due to region coding of Blu-ray discs, importing one that will work on your player is a dicey prospect. So with that in mind here are 10 films that are not yet available on Blu-ray in the U.S. but need to be.
The Beach
While promoting Annihilation, director Alex Garland revealed that another possible adaptation of his novel, The Beach, might be in the works. It remains to be seen if Garland himself will be tackling it now that he's made the jump to filmmaker or if someone else will do it. But as it stands now the only film version of Garland's novel is the 2000 Danny Boyle adaptation starring Leonardo DiCaprio. The actor was coming off the success of Titanic when he did this film and it is remarkable that it still isn't available on Blu-ray. The film was shot on location in Thailand and this paradise would really translate well to the high-def format with its lush, bright colors. It is kind of shocking that a film starring such a name actor and from an Academy Award-winning director is still only available in such an old format but that's where we are. Perhaps if the novel is adapted again, that will spur a Blu-ray release of the original to create some name recognition.
The Prince of Egypt
This was Dreamwork's first traditional animated film and it is basically an adaptation of the Book of Exodus from the Bible. It features the Oscar-nominated music of Hans Zimmer and positively lush animation. The Prince of Egypt featured traditional animation by artists who had worked for Disney, as well as computer-generated imagery. The combination makes for a stunning film that really captures the scope and power of the story. Everything from the building of Egyptian temples to the plagues to the parting of the Red Sea is conveyed with fluid and majestic animation. Interestingly, The Prince of Egypt is one of several Dreamworks Animation films that are still awaiting the Blu-ray treatment, including Chicken Run, The Road to El Dorado and Over the Hedge. Dreamworks Animation seems to have neglected its earlier films in making the jump to high-def, but hopefully that gets remedied soon and this jaw-dropping film gets the release it deserves.
Open Range
The Western genre naturally lends itself to beautiful visuals, with wide shots conveying the vastness of the American west, when the land was still wild and untamed. Kevin Costner directed this underrated Western that he stars in alongside Robert Duvall and Annette Bening. In the film, Duvall is an open range cattleman, driving his herd cross country with Costner's former soldier and their cattle crew. They are threatened by a corrupt lawman and forced to defend what's theirs. The film conveys the wide-open spaces of the West in a way that would really benefit from being shown on Blu-ray. The contrast of the dustiness of the people and the land with the big blue sky would really look great and hopefully introduce Kevin Costner's last directorial effort to a wider audience. Oh, and it has an awesome final gun battle, as is befitting for a great Western.
Solaris (2002)
George Clooney and Natascha McElhone star in Steven Soderbergh's remake of Andrei Tarkovsky's 1972 film. Soderbergh also serves as the cinematographer for the trippy and emotional science fiction film. The director uses super low lighting with deep blacks in some of the scenes that would really disappear into the screen on a quality high-def transfer. Even the drab grays of the space station are beautifully photographed. The space station orbits the planet Solaris, which pulsates hypnotically with cool, electric colors. The visual effects looked great for the time and I imagine they would still hold up to modern scrutiny in an HD presentation. Solaris is a contemplative sci-fi flick from an auteurist director that, while not for everyone, would be a welcome addition to most film fan's collections.
Far From Heaven
This 2002 film from writer/director Todd Haynes stars Julianne Moore, Dennis Quaid and Dennis Haysbert. It follows a housewife in 1950's Connecticut who is facing a marital crisis and mounting racial tensions in the outside world. The film is an homage to the romantic dramas of 1950's director Douglas Sirk. The film netted Julianne Moore a Best Actress nomination, a director nomination for Haynes and a Best Cinematography nomination for Edward Lachman. The film attempts to evoke a 1950's style and makes very deliberate use of color, setting specific color palettes for each scene. The use of color is a recurring motif throughout the film with different colors coming to symbolize different things for the characters. This film was released in Canada on Blu-ray but is seemingly out of print. A stateside Blu-ray release would allow audiences to enjoy the color and beauty of this award-nominated film that deals with issues that are still relevant today.
The Ghost and the Darkness
I am always shocked that more people haven't seen this film since it has been one of those films I watch whenever it's on since its release. The Ghost and The Darkness is a fictionalized telling of the true story of John Henry Patterson and the Tsavo Man-Eaters, two African lions who were killing the workers building a railroad bridge in 1898 Kenya. The film has some flaws, like Val Kilmer's questionable accent, but it is truly a blast, with scares and thrills throughout. The brutality of nature in a film that was described as Jaws on land is contrasted with the awe and appreciation for wild places and humanity's native continent. The film was shot in South Africa and the sweeping African vistas would really benefit from a Blu-ray release. This film has a high rewatchability factor and it's really a shame that it isn't available in a better format at the moment.
The Abyss
This is one that really baffles me to be honest. If ever there was a director who was a champion of new technology and pushing the bounds of image quality and presentation, it's James Cameron. But his 1989 underwater, sci-fi adventure film starring Ed Harris and Mary Elizabeth Mastrantonio is still languishing in the muddy waters of standard definition. This film was nominated for Best Cinematography and won an Oscar for Best Visual Effects. Like Close Encounters of the Third Kind, the special effects still hold up to this day and would really benefit from a high or ultra-high definition presentation. Back in 2016, James Cameron said that they had done a wet-gate 4K scan of the original negative for the film and it would look insanely good. The Abyss and True Lies (another Cameron film still waiting on HD treatment) were supposedly going to be released on Blu-ray in 2017, but that year came and went and we are still waiting. Maybe this year will prove more fruitful. Given James Cameron's perfectionism, I have a feeling the Blu-ray of this film will be magnificent and well worth the wait.
Everything is Illuminated
This 2005 film based on the book of the same name, was the directorial debut for actor Liev Schreiber. The film follows Elijah Wood as young Jewish man Jonathan Foer, who sets out to find the woman who saved his grandfather during World War II. Despite this being his first film, Schreiber crafts a visually interesting film with bright colors that really pop against the backdrop of rural Ukraine. The film also has these super desaturated, high-exposure scenes for the flashbacks. While Everything is Illuminated received mixed reviews upon its release and lost money at the box office, it is a unique little road movie from Schreiber, who has only directed episodes of Ray Donovan since.
Titan A.E.
Titan A.E. was the last feature film from director and legendary animator Don Bluth. Don Bluth was among a group of animators who walked out of Disney in the '70s to form their own animation studio. He went on to direct classics like The Secret of NIMH, An American Tail and The Land Before Time. His last major directorial effort was this 2000 space adventure that combined hand-drawn animation with computer-generated imagery. I'm probably in the minority as someone who loves this film, but you can't take anything away from it visually. It is a beautiful adventure that spans the cosmos from nebulas to ice planets as an electric blue enemy pursues the heroes who are looking for a planet to call home. These awesome environments would look really awesome if given a proper transfer. Sadly, the Blu-rays of Don Bluth's other films have been lacking and were seemingly not treated with the care that the work of such a craftsman deserves. But even a mediocre transfer would still likely improve upon the DVD so here's hoping we eventually get one.
A Little Princess
Alfonso Cuarón's 1995 adaptation of Frances Hodgson Burnett's children's novel is a beautiful and fantastical film that was nominated for an Academy Award for Best Cinematography. Who was the cinematographer on this film you ask? Well, none other than Emmanuel Lubezki, heard of him? He's the three time Oscar-winning cinematographer behind the lens for Gravity, Birdman and The Revenant. So yeah, this movie is beautiful. It was also nominated for Best Art Direction. Every frame, from the majesty of India to the dreariness of an English boarding school is immaculately crafted and makes brilliant use of color and light. It is a true crime that this is not available on Blu-ray or Ultra HD, the photography would really come to life with on these formats. Oh, and it also stars Liam Cunningham, that's Sir Davos Seaworth for all you Game of Thrones fans out there.
Your Daily Blend of Entertainment News
Nick grew up in Maryland has degrees in Film Studies and Communications. His life goal is to walk the earth, meet people and get into adventures. He's also still looking for The Adventures of Pete and Pete season 3 on DVD if anyone has a lead.