7 Characters We Hope Cameo In Deadpool 2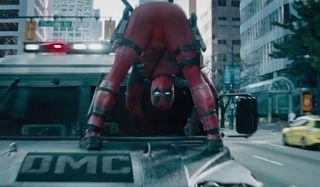 When Deadpool was released in 2016, it caused a serious stir within the X-Men franchise community. Very quickly it seemed like every actor associated with the Marvel movies was coming out and saying how much they wanted to see their character team up with the Merc With The Mouth in a future big screen adventure. We admittedly haven't heard about a ton of follow-ups since then, but now that Deadpool 2 is just a few weeks away from release, we find ourselves wondering which of them may have potentially gotten their wish.
In addition to franchise actors who have expressed their desire to be a part of the Deadpool world, there are many heroes and villains from the comics who fans would love to see team-up with DP in live-action. It's with those two ideas in mind that I've put together this list of established characters I'd love to see cameo in Deadpool 2. There is a bit of informed speculation going on here, but mostly I'm being led by my heart... and with that in mind let's dig in with Pick #1:
Hugh Jackman
I'm bending the self-imposed rules on this one, because while I know many would love to see a Wolverine cameo in Deadpool 2, that's not really what I'm personally interested in. Hugh Jackman has retired the role, and Logan was a wonderful send-off for the character. Any kind of future appearance would only serve to undercut its power, so he should really stay gone. That said, Jackman has never said anything about not appearing as himself in a future X-Men franchise movie, and that could be the perfect avenue to take in the Deadpool sequel.
The most recent trailer for Deadpool 2 suggests that the titular anti-hero will be doing a bit of recruiting to assemble his X-Force lineup -- and that sequence would be a fantastic opportunity to involve Hugh Jackman for a quick moment (perhaps with DP begging him that he join the team, and Jackman refusing). It's a silly idea to be sure, but it would also totally fit the tone, and would be a great treat for fans.
X-23
Dafne Keen made an impression like few first-time actors do starring as young Laura Kinney a.k.a. X-23 in James Mangold's Logan. Being the cloned daughter of Wolverine, the character required a serious amount of ferocity, and Keen was truly remarkable in that respect -- and while she didn't exactly have a ton of dialogue, she still delivered one of the most emotional performances in the movie. We hope to see a lot more from her very soon, and Deadpool 2 would be a great place to start.
The key to this cameo could potentially be tied up in the introduction of Josh Brolin's Cable to the X-Men universe. The rugged hero is a time traveler who famously originates from a horrific version of the future, and one has to wonder if it's possible X-23 could be from the same timeline -- possibly even being Cable's ward following the death of Wolverine. To take the idea even further, it's possible that she is the reason that Cable has a teddy bear strapped to his belt, serving as a memento of what he's fighting for.
Psylocke
If we're being 100% real, Olivia Munn's Psylocke really didn't have the best introduction to the X-Men universe. While she was positioned as a key supporting character in X-Men: Apocalypse, being one of the titular villain's Four Horsemen, the reality is that she was a last minute addition to the blockbuster, and it was very much reflected in her complete lack of character development. One of the best things that the first Deadpool did, however, was make up for franchise sins of the past, and perhaps the same can be done with Psylocke in Deadpool 2.
Before signing on to X-Men: Apocalypse, Olivia Munn had conversations with the Deadpool production about playing Vanessa (a role that went to Morena Baccarin), but more importantly she has specifically expressed interest in seeing Psylocke and Deadpool meet up on the big screen. We've seen her joking around with Ryan Reynolds on social media, and it should be noted that two characters were notably teammates in Rick Remender's Uncanny X-Force comics. There is a bit of timeline weirdness that would need to be addressed, given that Psylocke is depicted at Munn's age during the early 1980s, but let's not forget that Deadpool 2 will involve time travel.
Professor X
Along with Wolverine, Professor Charles Xavier has been the most important character established in the big screen X-Men universe. In fact, there is only one movie in the franchise where he didn't make an appearance, and that movie is Tim Miller's Deadpool. In retrospect, this kind of feels like a sad oversight, but the good news is that there is a chance to rectify things in Deadpool 2.
Given the aforementioned time travel, we can't really say which version of Professor X should appear ("McAvoy or Stewart? These timelines are so confusing."), but there will hopefully be at least one moment where the legendary character appears. We have seen some evidence of a potential cameo, as the most recent trailer features Deadpool tooling around in Xavier's wheelchair, but we'll just have to wait and see if the mutant himself makes an appearance.
Apocalypse
Tricky as it might be to pull off the first three potential cameos already mentioned, this one would admittedly be leagues harder. After all, Oscar Isaac is unquestionably one of the most in-demand actors of the moment, and probably doesn't look back on his first appearance as Apocalypse as a career highlight. That said, there is another wonderful opportunity for character redemption here, and -- if speculation proves accurate -- a cameo in Deadpool 2 could wind up tying into the central plot in a significant way.
Thanks to the most recent trailer for the film, we know that Cable is on the hunt for the character played by Julian Dennison... which has fueled a lot of speculation regarding who Dennison is playing. Given elements of the Marvel Comics source material, is it possible that he is actually a young version of Apocalypse? The god-like mutant is famously the arch-enemy of Cable on the page, and responsible for the horrific future in which he lives -- so it's entirely possible that he could be traveling back in time to kill Kid Apocalypse Terminator 2-style. This could open the door to a full-on Oscar Isaac-as-Apocalypse cameo... but admittedly I'm not holding my breath on this one.
One Of The New Mutants
At this point, it feels like we should wonder if we'll ever get to see Josh Boone's The New Mutants. Originally set to come out on April 13th, the movie first got bumped to February 2019, and now isn't coming out until August 2019. This is a serious bummer for those looking forward to the movie, but given its simultaneous development with Deadpool 2 and the important comics history shared between the two titles, one has to wonder if we may get a taste of The New Mutants in David Leitch's feature.
As any Deadpool fan will tell you, the character first appeared in an issue of New Mutants (issue #98 to be exact), and it would be great to see Deadpool 2 recognize that fact with some kind of cameo. Of the heroes in the upcoming horror film, only Cannonball and Sunspot were actually around for the Merc With The Mouth's introduction, so Charlie Heaton or Henry Zaga would probably be most appropriate, but really it would be great to see any of the young heroes debut on the big screen a bit early -- be it Maisie Williams' Wolfsbane, Blu Hunt's Danielle Moonstar, or Anya Taylor-Joy's Magik.
Spider-Man
Am I stretching the limits of plausibility with this one? Maybe. But in the current world of comic book movies it often feels like anything is possible and, dammit, I want to see Deadpool and Spider-Man together on the big screen. The two characters have one of the strangest relationships in the Marvel world -- with the former being completely obsessed with the latter, and the latter being freaked out by the former -- and it's a dynamic that deserves big screen treatment, rights be damned.
Ryan Reynolds weirdly trolled Tom Holland on social media from the set of Deadpool 2, but that's pretty much the only evidence we have beyond blind hope that a cameo might be possible. It should be noted that if Holland doesn't appear, I will be just as happy to see Tobey Maguire or Andrew Garfield back in their respective suits, as I would just love to hear Wade's fourth wall-breaking commentary about not being able to get the new guy.
Your Daily Blend of Entertainment News
Assistant Managing Editor
NJ native who calls LA home and lives in a Dreamatorium. A decade-plus CinemaBlend veteran who is endlessly enthusiastic about the career he's dreamt of since seventh grade.