Who IT's Bill Skarsgard Is Playing In Deadpool 2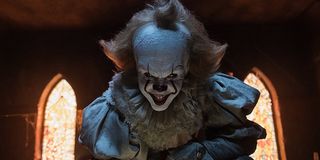 While it's important to make a superhero movie spiritually feel as close to its comic book source material as possible, as with any adaptation, creative liberties need to be taken. In the case of Deadpool 2, the X-Force being formed in the movie won't directly match specific lineups from the comics, but thankfully each individual character has been part of an iteration of that team on the printed page. Until today, the only character from Deadpool 2's X-Force who hasn't been officially identified was the one played by IT's Bill Skarsgard, but now we've learned that the Pennywise actor was cast as Zeitgeist thanks to a fun social media post.
Most of the X-Force characters in Deadpool have their own unique superpowers/special abilities, and then there's Rob Delaney's Peter, who's just a normal guy who likes sports, grilling and beekeeping. Fortunately, he brought his camera along so he could chronicle his time with the team, and in this photo, he identifies Bill Skarsgard's character as Zeitgeist, who, like his comic book counterpart, has acid breath. I fear for any people who are near him when he has food poisoning or drinks too much alcohol. In fact, the latter scenario is how Zeitgeist (real name Axel Cluney) discovered his mutant ability in the comics, and it unfortunately resulted in a girl's face being scarred. In addition to being part of the second X-Force team, he also served on X-Statik, but he was eventually killed in battle. The character hasn't appeared in any other media until now, so him appearing in Deadpool 2 is a big deal.
Along with the photo of Zeitgeist, Peter posted a few other pictures on his Twitter account of his fellow X-Force teammate. Starting off, we have the extremely lucky Domino.
Next is Bedlam, who has the same electricity powers as he does in the comics, but is also enormously ripped.
Then there's Shatterstar, and assuming that Peter isn't kidding, it appears that his extraterrestrial origins are being kept intact for Deadpool 2.
Wade Wilson will bring the X-Force together in Deadpool 2 to help him protect a young mutant named Russell from Cable, who's traveled back in time to kill the kid. Sure the name might be derivative, but because the their methods are more aggressive, the morally flexible protagonists are willing to do what the X-Men shy away from. An X-Force movie is also in development, with Drew Goddard attached to write and direct, but aside from Deadpool, Cable and Domino, we have yet to learn which other characters will return for that project.
Deadpool 2 opens in theaters on May 18. While we count down the remaining weeks until its release, check out our 2018 release schedule to learn what other movies are coming out this year.
Connoisseur of Marvel, DC, Star Wars, John Wick, MonsterVerse and Doctor Who lore. He's aware he looks like Harry Potter and Clark Kent.
Your Daily Blend of Entertainment News
Thank you for signing up to CinemaBlend. You will receive a verification email shortly.
There was a problem. Please refresh the page and try again.