Sandra Bullock Says The Reaction To Female Ghostbusters Movie Was Unfair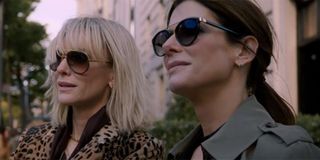 Ocean's 8 is hitting theaters this weekend, and it will mark yet another time that a formerly male-led franchise has gotten gender-swapped, following the likes of Ghostbusters and Overboard. Right now, Sandra Bullock and co. are out there doing press for the new movie, and they've already gotten some comparisons to Paul Feig's Ghostbusters, which came out back in 2016. Which is why Bullock was asked about her opinion on the fan reactions to the Ghostbusters reboot, which haven't been exceptionally kind. Regarding the remake, the Ocean's 8 actress was pretty blunt, revealing she thought the online reaction to the earlier movie was pretty unfair. Bullock said in a recent interview:
Sandra Bullock, who worked with Paul Feig and Melissa McCarthy on The Heat, doesn't seem to be declaring Ghostbusters is a great movie, as much as she is defending the fact that if it wasn't exactly what millions of people hoped it would be, that it wasn't just Melissa McCarthy, Kate McKinnon, Kristen Wiig, and Leslie Jones' fault for the outcome. (And maybe she's including Cecily Strong?) Movies are made by a lot of people who are around in the pre-production process, even more who are around during production, and a slew of staff who stick around in post to see a movie to completion. However, the cast and the director are the people most associated with a movie, and they have taken the brunt of the fan criticisms so far, although Feig has been quick to note the criticisms died down after the movie hit DVD.
Elsewhere in her interview with Variety, Sandra Bullock intoned that when movies come out that may not be exactly what the audience expects or likes, that she feels taking to the Internet to be horrible to the people involved in the project is not be the right tact. She noted,
Remakes, reboots and revivals in general have been a trendy part of both the TV and movies business in recent years. Remakes starring ladies instead of men have been pretty high-profile among these, especially because the idea of all-female casts reinventing what was previously a male-led project is still fairly novel. Ghostbusters was a particularly special case, too, as word of mouth regarding that movie was bad even before release, and even after reviews for the movie were reasonably positive, it had trouble building buzz and only made $229 million worldwide.
Ocean's 8 on the other hand, hasn't dealt with the same sort of backlash so far. Reviews right now are running at 76% on Rotten Tomatoes -- similar to how Ghostbusters did, actually. We'll have to wait and see if audiences turn out to the theaters this weekend, and we'll keep you posted either way. Ocean's 8, also starring Rihanna, Anne Hathaway, Cate Blanchett, Helena Bonham Carter, James Corden, Sarah Paulson, Mindy Kaling and Awkwafina, comes out on Friday, June 8. Here's what else is hitting the schedule this summer.
Your Daily Blend of Entertainment News
Reality TV fan with a pinch of Disney fairy dust thrown in. Theme park junkie. If you've created a rom-com I've probably watched it.
Your Daily Blend of Entertainment News
Thank you for signing up to CinemaBlend. You will receive a verification email shortly.
There was a problem. Please refresh the page and try again.