New John Wick 3 Image Shows Keanu Reeves Riding A Horse Through New York City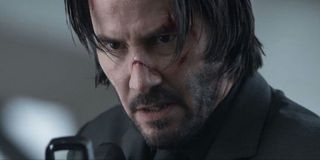 Say what you will about John Wick, his life certainly isn't lacking for excitement. Not that the Keanu Reeves-portrayed character wanted it that way. In the first two John Wick movies, the eponymous protagonist was dragged out of retirement and left a trail of bodies in his wake, and John Wick: Chapter 2 ended with him being forced to go on the run. John will still be avoiding assassins around every corner when we reunite with him next year in John Wick 3: Parabellum, and during all of the craziness, John will have to ride a horse down the streets of New York City. Seriously, see for yourself!
Normally if you're eager to make a quick getaway, you pick a motorized vehicle as your mode of transportation. Not John Wick. Somehow events in his third theatrical adventure will lead to him hopping on a horse and weaving through New York traffic to avoid the foes pursuing him on motorcycles. Judging by that gash on his head, John's been freshly injured, so he'll need to hightail it out of there before anything worse happens. And the insanity doesn't end there. Director Chad Stahelski also told Empire that the "maelstrom" around John Wick 3: Parabellum's central character will include "horses, dogs, cats, a raven, a bunch of pigeons, a motorcycle chase, car chase, Halle Berry, Laurence Fishburne, Ian McShane, Lance Reddick, shotguns and ninjas." Some of those are to expected, like Fishburne, McShane and Reddick all reprising their respective roles, but ninjas?! Even by John Wick standards, that's nuts, and now I'm wondering if these are your standard black-garbed ninjas with throwing stars, or if these ninjas will be wielding the shotguns.
As punishment for killing Santino D'Antonio on Continental grounds, John Wick was declared excommunicado by the High Table, meaning he lost access to all of his underworld privileges and resources. Making matters worse, the price that was already on John's head was doubled to $14 million and offered globally, so with only a Marker in his pocket, a one hour head start and a dog by his side, John had to make himself scarce quickly in John Wick: Chapter 2's final minutes. That's where we'll pick up with him in John Wick 3: Parabellum, as he'll be fighting and killing his way out of New York. Along with featuring an assortment of familiar faces, the threequel will introduce characters like Halle Berry's Sofia, Angelica Huston's The Director, Asia Kate Dillon's The Adjudicator, Mark Dacascos' Zero and Jason Mantzoukas' Tick Tock Man.
John Wick 3: Parabellum opens in theaters on May 17, 2019. Don't forget to look through our 2019 release schedule to learn what other big movies are coming out next year.
Connoisseur of Marvel, DC, Star Wars, John Wick, MonsterVerse and Doctor Who lore. He's aware he looks like Harry Potter and Clark Kent.
Your Daily Blend of Entertainment News
Thank you for signing up to CinemaBlend. You will receive a verification email shortly.
There was a problem. Please refresh the page and try again.