Star Wars Fans Got Asked To Add An F-Bomb To Revenge Of The Sith, And Their Responses Did Not Disappoint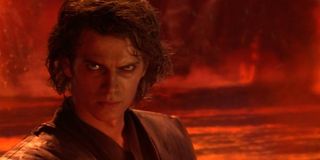 The internet is a wild and wonderful place. While it's often filled with trolls and people saying things they would never dream of saying during real-life interactions, it can also bring about a lot of joy, and community-building connection. One such time of community was had recently when someone used Twitter to remind Star Wars fans that, as a PG-13 rated film, Revenge of the Sith was allowed to include one utterance of the word "fuck," which it, unfortunately, did not take advantage of.
Those following along with Twitter user Hallowillis were then asked just where they thought that magnificent F-bomb should go, leading to an awesome string of answers that prove to all around the world that social media really is good for something. To start things off, Hallowillis gave everyone his own insight into the matter:
While it certainly would have been cool to hear one of the bad guys of Star Wars: Revenge of the Sith throw in a heavy curse word, I, and many of those on Twitter who responded, feel that the movie's lone "fuck" may have been more effective coming from the mouth of one or our protagonists. To wit:
See? I think that's basically perfect placement and usage for a good, solid "fuck" in Revenge of the Sith. Obi-Wan is so sage and stately, even during most of his younger years, that it would be nice for him to lose his cool a bit with his frequently annoying and soon to be evil mentee and just literally say "fuck" it already.
Of course, Twitter pointed out that at least one other character with a serious, deep relationship with Anakin should be allowed to lob a nice "fuck" at him as things begin to fall apart in Revenge of the Sith. And, her name rhymes with Sadme, which is really quite fitting...
Oh, the poor dear. She just never had a chance, did she? You'd think that once you meet a several-years-younger slave child and eventually fall in love with him that your destiny as a happy and healthy young woman would bet set, but, not so...apparently. Let's pour one out for Padme, shall we?
Obviously, there is one Revenge of the Sith character who stands out, far above all the rest, when it comes to a possible "fuck" being dealt in the film. If you don't already know who I'm talking about, you might just be one sad-ass motherfucker.
Come on, guys! How do we have Samuel L. Jackson, Filmic King of Fucks, in this movie and not give him the one "fuck" that will be uttered? It would be a motherfucking shame if we didn't, right?
Last, but absolutely not least, someone thinks that one very special person should get to say the magic word in Revenge of the Sith. And, if that person were here with me as I write this, he'd probably stare at me intently until he crushed my throat for calling him annoying earlier.
Ah, yes. Wouldn't this have been a perfect culmination to all the evil-turning drama of Star Wars: Revenge of the Sith? Now all we need, while we wait for Star Wars: Episode IX to open on December 20, 2019, is for some committed fan to make a version of the movie that features all these F-bombs and put it online so we can all revel in it like it's the first time we've seen the film at all.
Your Daily Blend of Entertainment News
Yennefer's apprentice, Gilmore Girl; will Vulcan nerve pinch pretty much anyone if prompted with cheese...Yes, even Jamie Fraser.