Ezra Miller Responds To Rumors Of Ben Affleck Quitting Batman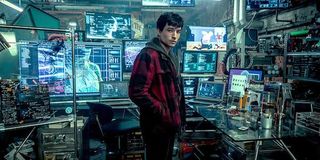 While the DC Extended Universe is continuing ahead with movies like Shazam!, Birds of Prey and Wonder Woman 1984, one mystery still looming over the franchise is the future of Ben Affleck's Batman. Though Warner Bros hasn't officially announced that Affleck is leaving the Caped Crusader behind, reports continue to come out claiming that Affleck is done as Batman, and that a new actor will don the cape and cowl for Matt Reeves' Batman movie. When asked about these rumors, Affleck's DCEU costar, Ezra Miller, the man bringing The Flash to life on the big screen, responded:
Ezra Miller's comment was also in reference to the rumors that Henry Cavill is hanging up his Superman cape, which Warner Bros denied. The DCEU is getting pieces in order for some of its other heroes, but as far as Batman and Superman are concerned, it's hard to tell where we stand with those two. Miller's cagey comment to Playboy (opens in new tab) suggests maybe we should take Bruce Wayne's advice to Clark Kent in Batman v Superman: Dawn of Justice to heart: "Don't believe everything you hear, son."
No doubt Ezra Miller can't say anything more than that, otherwise he'd get yelled at by DC and Warner Bros executives. Still, it does make one wonder if Miller actually knows something we don't, and that there are indeed plans for Ben Affleck and Henry Cavill to return to the DCEU, or if this is just a form of damage control.
Looking specifically at Ben Affleck, rumors about him retiring as Batman have been circulating about for over a year, and have gained steam following the release of Justice League. It's been reported that Matt Reeves' Batman movie will feature a younger actor playing the Gotham City vigilante, rather than pick back up with Affleck's version. When we last left off with Affleck's version of Batman, he was getting ready to turn the abandoned Wayne Manor into the Justice League's headquarters, so it seemed like he had a bright future ahead of him. Well, as bright as one can be who looms in the shadows and broods a lot.
Even ignoring the personal issues that Ben Affleck has been dealing with, purely from a scheduling standpoint, he has a lot on his plate. Affleck was shooting Triple Frontier earlier this year, and among the movies he has coming up include The Accountant 2, The-Has-Been and Torrance. So it would make sense bringing in someone else if Affleck simply doesn't have the time, but again, we remain in the dark on what's in store. Matt Reeves hasn't been much help clearing things up either.
As for Ezra Miller, his future with the DCEU is slightly more cemented. Following his cameos in Batman v Superman: Dawn of Justice and Suicide Squad, and his full debut in Justice League, Miller has been attached to lead a standalone Flash movie. However, Miller is also busy playing Credence Barebone in the Fantastic Beasts film series, and last month it was reported that in order to accommodate Miller shooting Fantastic Beasts 3, Warner Bros has pushed production on The Flash back to late 2019, which means it probably won't hit theaters until 2021 at the earliest.
Stay tuned to CinemaBlend for all the latest updates concerning the DCEU, but for now, you can find out what else the superhero franchise has in development by looking through out DC movies guide.
Connoisseur of Marvel, DC, Star Wars, John Wick, MonsterVerse and Doctor Who lore. He's aware he looks like Harry Potter and Clark Kent.
Your Daily Blend of Entertainment News
Thank you for signing up to CinemaBlend. You will receive a verification email shortly.
There was a problem. Please refresh the page and try again.