The Hitman's Wife's Bodyguard Releases First Poster With Salma Hayek And Ryan Reynolds, Along With Some Bad News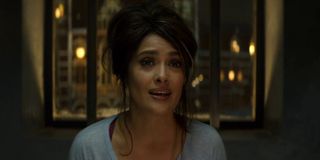 The Hitman's Wife's Bodyguard is one of the many films that fans are looking forward to seeing on the big screen once theaters open up again. We have yet to see footage from the upcoming sequel, but Salma Hayek has now released the first official poster, which features her alongside stars Ryan Reynolds and Samuel L. Jackson. Unfortunately, the one-sheet comes with a bit of disappointing news for fans.
Salma Hayek released the cool new poster for The Hitman's Wife's Bodyguard on her Instagram page but, in a caption, she also confirmed that the film has been pushed back to 2021. She also voiced her displeasure with the postponement, as she's eager to share it with moviegoers. Check it out for yourself down below:
With Salma Hayek's Sonia Kincaid poised to take on a bigger role in this follow-up to 2017's The Hitman's Bodyguard, one can see why she would be disappointed. And you can only imagine how much fun it'll be to see her, Samuel L. Jackson and Ryan Reynolds reunite.
The Hitman's Wife's Bodyguard was originally announced in 2018 and began production in Europe in the spring of 2019. The film was originally set to be released on August 28, 2020 before being shifted to its new release date, August 20, 2021.The movie will focus on the continued adventures of bodyguard Michael Bryce and assassin Darius Kincaid, as they both seek to protect Kincaid's wife from a new threat.
While the news is sure to come as a letdown for fans of this budding franchise, news of the delay isn't surprising. Most know by now that just about every major studio film set for release in 2020 has been moved back. Even another of Salma Hayek's projects, Marvel's The Eternals, was shifted from November 2020 to February 2021.
The change in release plans for Hitman's Wife's Bodyguard don't appear to have been met with much opposition thus far, but that hasn't exactly been the case for every 2020 blockbuster that's been delayed. Warner Bros.' Tenet, which is expected to draw audiences back to the theaters, has had to move its release date a few times. And believe it or not, this apparently drew some opposition from director Christopher Nolan.
Regardless of how you feel about The Hitman's Wife's Bodyguard and other movies being delayed, the moves are understandable. Because of how much money these massive films are poised to make, studios want to put them in the best positions to be successful, and Lionsgate is clearly aiming to do that with this film.
The wait to see Salma Hayek, Ryan Reynolds and Samuel L. Jackson all together again may have just gotten longer, but devoted fans of the franchise should be able to wait things out.
Keep it here at CinemaBlend for more updates on film and TV delays as they arrive.
Covering superheroes, sci-fi, comedy, and almost anything else in film and TV. I eat more pizza than the Teenage Mutant Ninja Turtles.
Your Daily Blend of Entertainment News
Thank you for signing up to CinemaBlend. You will receive a verification email shortly.
There was a problem. Please refresh the page and try again.