Into The Spider-Verse End Credits Scene: Who That Is And Why It's Important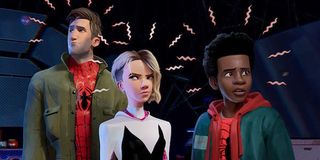 Nowadays, it feels weird when a superhero movie that doesn't have a mid/end credits scene attached, but Spider-Man: Into the Spider-Verse doesn't count itself among this bunch. Following behind Sony's collaboration with Marvel Studios to have Tom Holland's Spider-Man hang out in the MCU, as well the studio using Venom to kick off a Spider-Man-less cinematic universe, Into the Spider-Verse is a more family-friendly offering, though certainly not lacking in action and excitement. Oh, and it's also already been confirmed it won't be a standalone tale.
It's been announced that both a direct sequel to Spider-Man: Into the Spider-Verse and a female-centric spinoff are in the works. It's hard to say when we'll see either of these projects, but Into the Spider-Verse's end credits scene did subtly set the stage for the sequel through a character who's been a part of the Spider-Man mythos for several decades. Read on to find out who this individual is, what they did in the end credits scene and why they're important not just in the comics, but to the future of the Into the Spider-Verse film series.
Warning: MAJOR SPOILERS for Spider-Man: Into the Spider-Verse are ahead! Proceed at your own discretion.
Featuring six Spider-heroes is a hell of a way to kick off a new superhero franchise, seven if you count the Peter Parker Spider-Man from Miles Morales' universe (voiced by Chris Pine) who was killed by Kingpin early into the movie. But Into the Spider-Verse's final minute had one last hero to introduce after a touching tribute to both Stan Lee and Steve Ditko, the creators of Spider-Man. Enter Miguel O'Hara, a.k.a. Spider-Man 2099, voiced by Oscar Isaac.
Over in Nueva York, a female hologram clues Miguel on some of the events that went down in Spider-Man: Into the Spider-Verse, with monitors in the background showing off all the Spider-people we met in the main story. Miguel claims he was only gone for a couple hours, but he missed a lot. Fortunately, the multiverse is still intact, and as the camera pans back to fully show Spider-Man 2099, we see him putting on a wrist device that, according to the hologram, will allow him to travel through the multiverse and ideally keep him from glitching out, which is what happened to all the Spider-heroes visiting Miles' universe. When asked where he wants to go first, Miguel answers "The beginning."
Cut to Earth-67, a.k.a. the Earth where the 1960s animated Spider-Man TV series takes place. Even if you never watched that show, its theme song has been an ear worm for decades, and nowadays it's gained a new following thanks to screenshots being used as meme material. Arguably the most famous of these memes is the 'Spider-Man pointing at Spider-Man' still, and that's just the situation Miguel O'Hara finds himself in upon arriving on Earth-67. Spider-Man 2099 tries to recruit Spider-Man 67 for some kind of mission, but the two instead just get into an argumentative pointing match as a cop and J. Jonah Jameson watch nearby.
So that's our introduction to Miguel O'Hara on the big screen, but who exactly is he? Well, as his superhero moniker suggests, Miguel hails from the year 2099, and although it's labeled as Earth-928 within the Marvel multiverse, it's also considered to be a possible future for the main 616 universe. Created by Peter David and Rick Leonardi in 1992, Miguel became the head of the genetics program Alchemax, where he was tasked with creating super-soldiers for the megacorporation.
However, when Miguel decided he wanted to leave Alchemax, he was tricked by the CEO, Tyler Stone, into taking an addictive drug called Rapture that only Alchemax was allowed to distribute, so if Miguel moved on as he intended, he would be sold out to the police. Not wanting to be blackmailed, Miguel remembered that his own genetic code was saved within one of Alchemax's machines, so he could use it to free himself from Rapture's grip.
But because this machine had been sabotaged by one of Miguel's subordinates, it ended up making his genetic code 50% spider. And following the rules of comic book science, that resulted in Miguel gaining Spider-Man-like powers, albeit with some differences, like having enhanced vision and hearing instead of a spider-sense, and his hands and feet having spider-talons.
As one would expect, Miguel became Spider-Man 2099, and while he originally wanted to cure his strange condition, he soon embraced being a superhero and took the fight to all the gigantic, sinister corporations who were hurting the people, including Alchemax. Of course, since this is the future, this meant that Miguel also fought futuristic adaptations of classic Marvel villains. Eventually he met the original Spider-Man, and in the recent past, they reunited when Miguel was stranded in the present (i.e. nearly 100 years in the past for him). Outside of the comics, Miguel's most prominent media appearances have been in the Ultimate Spider-Man animated series, as well as the Spider-Man: Shattered Dimensions and Spider-Man: Edge of Time video games.
As far as why Spider-Man 2099 was included in Spider-Man: Into the Spider-Verse, producers Phil Lord and Chris Miller told CinemaBlend's own Eric Eisenberg that even though Miguel O'Hara didn't fit within the main story, he's an interesting enough character that they wanted to highlight him. Miller explained:
Co-director Peter Ramsey also clarified to Eric that the entire Spider-Man 2099 scene was a "very late addition" to Spider-Man: Into the Spider-Verse, but he and the other creative minds wanted it to look and feel different from the rest of the movie. Co-director and writer Rodney Rothman added:
So what does Spider-Man 2099's appearance in Spider-Man: Into the Spider-Verse mean for the future of this franchise? Well, aside from Miguel being another cool character to highlight whose chances of ever appearing in a live action movie were slim, it also looks like he'll be one of the principal characters in Spider-Man: Into the Spider-Verse. While the Spider-heroes in the first movie were being exposed to the multiverse for the first time, it seems like Miguel and his holographic companion (possibly a version of either Dana D'Angelo or Xina Kwan, two of Miguel's romantic interests in the comics) were already familiar with parallel realities before the Kingpin of Miles' universe activated the super collider.
To that end, if Spider-Man 2099 will indeed be one of Spider-Man: Into the Spider-Verse 2's co-leads, it stands to reason that he'll eventually find his way to Miles Morales' universe and recruit him for this mission that's underway. What exactly this mission entails is unclear (one logical guess is preventing all of the realities from fracturing), but I'm guessing that rather than the action being set on Miles' home turf again, it'll see the teen hero traveling to other universes. Maybe he'll reunite with some or all of the Spider-heroes from Into the Spider-Verse, or maybe there will be an all-new lineup accompanying Miles and Miguel, but if the filmmakers felt it was so important to feature Spider-Man 2099 in a coda scene, there's a strong chance that he'll get more time in the limelight in the coming years.
If you haven't already, be sure to read CinemaBlend's review of Spider-Man: Into the Spider-Verse, and stay tuned to any updates about the sequel or spinoff. As for movies on the way, look through our 2019 release schedule.
Your Daily Blend of Entertainment News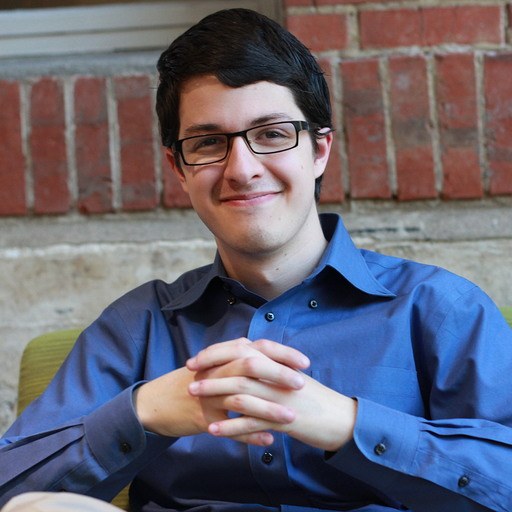 Connoisseur of Marvel, DC, Star Wars, John Wick, MonsterVerse and Doctor Who lore. He's aware he looks like Harry Potter and Clark Kent.