Blumhouse Is Considering New Scream And Hellraiser Movies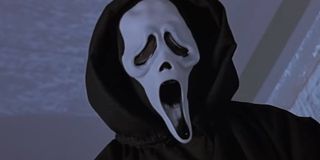 This past fall we learned of an interesting potential future for both the Scream and Hellraiser franchises. Sitting down with Miramax CEO Bill Block, I asked if there was a possibility of the two legendary horror brands returning in similar fashion to the new Halloween, and the executive responded in the affirmative – confirming that they are "part of the new program." We haven't heard any real updates about the developments since then, but apparently it's something that Blumhouse Productions is game to get in on.
Earlier this month I had the opportunity to speak with Jason Blum for the first time since the release of Halloween, and given the success of his first collaboration with Bill Block I specifically inquired about his interest in new chapters for both Scream and Hellraiser. Blum confirmed that there have been some talks about those particular franchises, and while nothing is currently in active development, it is a road that he is interested in traveling:
And after Halloween, why not? Michael Myers' franchise was in a rather bruised and battered state before director David Gordon Green's canon-altering sequel, and the 2018 movie was hailed as a wonderful revitalization and was a monster box office hit for Blumhouse, Universal Pictures, and Miramax. The film was made with only a $10 million budget, and by the time it was done playing in theaters worldwide it raked in $253.7 million.
Admittedly bringing back classic horror franchises didn't exactly work as a stellar strategy when Platinum Dunes produced a string of them between 2003 and 2010 (including Marcus Nispel's The Texas Chainsaw Massacre, Andrew Douglas' The Amityville Horror, and Samuel Bayer's A Nightmare on Elm Street), but it's also important to note that we are A) now living in a different filmmaking era, and B) not talking about simple remakes.
Cinematic horror as a whole arguably has more heat right now than ever before, and part of that stems from increased audience engagement, but also from a wider respect for the genre within the industry, and greater interest from talented filmmakers. All of that not only means more resources and energy put towards projects, but also more openness to risk and new ideas.
As they always have been, both Scream and Hellraiser are franchises loaded with potential, though they also have their own interesting complications. In the case of the former, there is the fact that the brand is still active with a television series that is developing a third season, not to mention the fact that all four of the previous Scream films were directed by one man: the late, great Wes Craven. At the same time, however, it's such a natural series to bring back, if not just because there is endless meta commentary to be made about the status and progression of the genre.
Hellraiser has also never really fully gone away, with a new direct-to-video feature released just last year, but the overall brand could definitely use the same kind of comeback that Halloween just got. The world Clive Barker created of puzzle boxes and Cenobites is a wonderful nightmare, and all the franchise needs is a filmmaker with an exciting new vision, and resources to give them.
If it isn't clear, this is a development we're very interested in following, and while there isn't much forward motion right now, we're keeping an eye out for news. Stay tuned for more updates in the coming months/years – and also do yourself a favor by seeing the latest Blumhouse creation, Happy Death Day 2U, which is now playing in theaters everywhere.
NJ native who calls LA home; lives in a Dreamatorium. A decade-plus CinemaBlend veteran; endlessly enthusiastic about the career he's dreamt of since seventh grade.
Your Daily Blend of Entertainment News
Thank you for signing up to CinemaBlend. You will receive a verification email shortly.
There was a problem. Please refresh the page and try again.