Captain Marvel Has A Cute Moment With Thor In The New Avengers: Endgame Trailer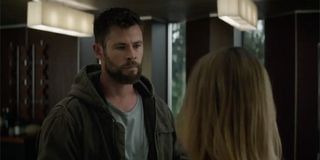 Brief spoilers for Captain Marvel can be found in this article.
In its latest trailer for Avengers: Endgame, Marvel gave us a lot of satisfying moments and ideas to chew on, including but not limited to Tony making it home or new suits for the remaining Avengers. In fact, especially if you haven't caught Captain Marvel yet, the new Avengers: Endgame trailer introduces Captain Marvel to Thor with a cute scene that even has her briefly interacting with Stormbreaker. Take a look.
After quickly grabbing his weapon from just under Captain Marvel's nose, Thor simply declares he "like[s] this one," adding a little levity into the mix. Overall, the final Avengers: Endgame trailer is pretty serious given the subject matter, but what I like most about the moment between Thor and Captain Marvel is that it is lighthearted and it ends the trailer on a fun note rather than a somber one.
It's sort of similar to how in the last trailer we got a lot of serious moments and then Ant-Man inexplicably showed up to add a little humor in and mix things up. (I say inexplicably given what happened at the end of Ant-Man and the Wasp.)
We've known for a while Captain Marvel would get her day in the sun. Her solo movie finally hit theaters this past weekend and included a post-credits tease at the upcoming Avengers: Endgame during which Carol Danvers showed up literally at the remaining Avengers' doorstep. However, if you haven't caught Captain Marvel yet, seeing Marvel casually throw Brie Larson into the mix was likely a bit of a shock and hopefully a fun one.
There's a ton of other stuff to peruse in the final Avengers: Endgame trailer as we head into the home stretch before release. If you haven't caught the full thing, please find a way to watch right meow.
We learned a few days ago that Captain Marvel almost tied in to Thor: Ragnarok back in 2017 with a scene that would have included Jude Law and a Devil's Anus. That probably would have made a moment between Captain Marvel and Thor meeting in the flesh come full circle, but it's fun either way.
Be sure to catch Avengers: Endgame when it finally hits theaters on April 26. In addition, take a look at what we know about the upcoming flick ahead of its release.
Reality TV fan with a pinch of Disney fairy dust thrown in. Theme park junkie. If you've created a rom-com I've probably watched it.
Your Daily Blend of Entertainment News
Thank you for signing up to CinemaBlend. You will receive a verification email shortly.
There was a problem. Please refresh the page and try again.