The Final Avengers: Endgame Trailer Was Watched An Insane Amount Of Times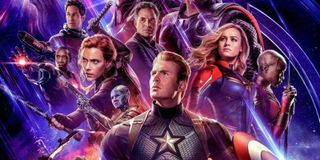 Well, this is it, folks. The long-running saga that has been the MCU for over a decade now is about to wrap up all the major threads (so far) when Avengers: Endgame finally hits theaters on April 26. So, when Disney actually saw fit, last week, to release a new (and final) trailer for the upcoming epic, you can probably imagine that it drove fans wild. It drove them so wild, in fact, that fans were obliged to watch that trailer many, many times. How many times, you ask? Why, only 268 million times in 24 hours. That's all.
When things got rolling with Iron Man in 2008, we had no idea where we'd be several years later, and we certainly had no idea how highly anticipated the film that was once (and for a long time) only known as Avengers 4 would come to be. That all changed, however, when Avengers: Infinity War was released and we realized that many of the heroes we'd spent so many years watching were either going to go into Endgame as big fat losers or as...big piles of dust. The desire to see and hear anything possible from the actual footage of Endgame has been building for almost a full year, but we've been treated to a lot of misdirects, out right lies and tons of secrecy when it comes to how the story of The Decimation will be resolved. Thus, the crazy response to the final Endgame trailer.
Here's a thank you to the fans that was posted on the official Avengers Twitter feed:
Now, it's not unusual for trailers (usually the first trailer) from big budget blockbuster extravaganzas to hit views of many several million, mostly because they tend to be based on properties that have built in audiences (like comic books) who are eager to see some of our biggest stars take on something they've loved for many years. But, even knowing that...268 million views in only 24 hours is kinda insane. That's actually 56 million more views than the number of people in the entire United States as of the 2017 census. I mean, wow.
Someone has certainly overachieved when it comes to watching the last Avengers: Endgame trailer, right? Actually, I have no doubt that hundreds of someones watched this trailer many times in an effort to parse out all the relevant information that could be found in the, mostly new, footage contained within. The trailer was released last Thursday, and I wouldn't be surprised if a lot of people suddenly got "too sick" to go to work that day and just spent all their newly allowed free time lazing around in bed and revisiting the awesomeness that was Avengers: Endgame.
Of course, now the question is whether or not we'll get more new footage before the film releases at the end of next month. Most fans at least seem to agree that no more full length trailers are required at this point, especially if Marvel wants to continue to keep as many secrets of the film away from us as possible. And, there's also the fact that many of us now just want to see the damn movie, and can't bear any more teases, rumors, suppositions and the like.
Well, I'm sure everyone who was on board with the super secretive, and long-standing, marketing plan that's driven the publicity behind Avengers: Endgame is officially breathing a sigh of relief that all the withholding worked to help drive up anticipation for the film. Those opening night crowds are going to be ridiculous. Now, if you'll excuse me, I have something I need to watch about 50 more times before April 26.
Your Daily Blend of Entertainment News
Yennefer's apprentice, Gilmore Girl; will Vulcan nerve pinch pretty much anyone if prompted with cheese...Yes, even Jamie Fraser.