6 Great Emma Watson Movies That Prove She's So Much More Than Hermione Granger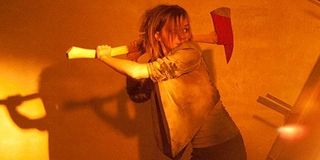 It's been a long time since the star children of Harry Potter played their magical characters, and the actors have done what they can to convince audiences they're more than the heroes of the magical world. Daniel Radcliffe has taken on a series of bizarre roles, Rupert Grint has made the jump to television, and Emma Watson has starred in a bunch of different movies that feature different characters with totally different attributes.
Sure, she may not have portrayed a corpse Swiss army knife, but Emma Watson's movies since Harry Potter have shown there's so much more to her acting ability than what she did as Hermione Granger. For those who may be unaware, or those who recognize this and just need more chances to appreciate that, here are the movies that really drive that point home.
The Perks Of Being A Wallflower
Emma Watson isn't the main star in The Perks Of Being A Wallflower, but she definitely stands out in her co-starring role in the coming-of-age story. Her portrayal of Sam is a perfect compliment to Logan Lerman's Charlie, who has a lot on his plate he can't reconcile. Sam doesn't always understand the magnitude of that, but it all works out for the two of them in the end.
Of all the Emma Watson movies, The Perks Of Being A Wallflower is a great show of her ability to play a teen that is a vast departure from anything Hermione Granger. She's not neurotic, meddlesome, or even the most level-headed character. For those who think Watson doesn't have more to offer the world outside of Harry Potter, this is the movie that will shut most critics up. The movie is definitely different than the book, but still very good.
This Is The End
Emma Watson movies tend to have a serious tone, and one won't be finding a lot of intentional comedy in her works. This Is The End is the exception to this rule, as Watson joins an ensemble cast of actors playing fictitious representations of themselves in an apocalyptic setting. Emma Watson doesn't have as much screen-time as others in the cast, but it's safe to say her scene is one of the movie's more memorable moments.
Part of that is due to the aggression in Emma Watson's This Is The End scene, in which she misunderstands a conversation between the main cast of men. It leads to Watson taking some heavy swings with a fire ax, and uttering a litany of swears one doesn't typically hear the actress say in her movies. It's a nice change of pace, and offers evidence that comedy is something she should pursue more often.
Noah
Darren Aronofsky's Noah is one of the more controversial Emma Watson movies on this list, as the adaptation of the biblical epic was banned in some countries and was considered somewhat polarizing in certain religious circles. For all complaints that were lodged against the movie, it still skews fresh by Rotten Tomatoes' aggregate ranking systems, and is lauded for the performances by its all-star cast that included Russell Crowe, Jennifer Connelly, and Anthony Hopkins in addition to Watson.
Emma Watson plays Ila, who is Noah's daughter-in-law and the wife of his son Shem. She's still in the role of a young adult, but obviously the biblical context makes her more of an adult in many regards. The crowning moment in this Emma Watson movie comes when Ila begs Noah not to sacrifice her children. The raw emotion of Watson and her pleading that they at least die peacefully is a powerful moment, and certainly one of the highlights in the film.
Beauty And The Beast
With The Lion King and Aladdin premiering in 2019, no doubt the year will be a reckoning for Disney's live-action adaptations for animated classics. One of these movies with the largest box office total so far is Emma Watson's Beauty And The Beast, a movie that has some detractors, although there are more critics who are positive on the film than negative.
One thing viewers may notice about Emma Watson movies is that, even when they aren't universally acclaimed, few ever point a finger at her performance. This is the case with Beauty And The Beast, as many enjoyed her portrayal of Belle and instead pointed toward some of the other casting and creative decisions made by the film. For those strictly watching for a great Emma Watson performance, this movie gives us a view into a world where Emma Watson is a princess, thus further diversifying her Hollywood resume.
The Circle
One of the most recent entries on this list is The Circle, an Emma Watson movie that place her character in the world of tech. The Circle explores the increasingly accessibility of technology, and the consequences of using said innovative tech in our everyday lives. The subject matter and insane cast which includes Tom Hanks, John Boyega, Karen Gillan and many others had a real chance to tell a poignant tale about technology, and stun audiences for years to come.
The Circle was viewed as a disappointment from critics, who felt the movie didn't do enough to differentiate itself from other popular tech-based movies and shows of the era, but it still highlights Emma Watson in a totally different role than we've seen her play in the past. Perhaps one day she can tackle another modern-day thriller that gets better reviews.
The Bling Ring
By far one of the most obscure projects in this lineup, The Bling Ring is an Emma Watson movie that film buffs should check out. Watson teamed up with director Sofia Coppola in a movie based on a criminal group the film gets its name from. Watson stars alongside others as part of a group of teens obsessed with fame and yearning for the finer things in life. To achieve this, they attend the parties of celebrities and rob their homes.
The movie didn't exactly stun at the box office, yet it's cool to see Watson play a narcissistic character largely unconcerned with the crimes she's committed or any consequences she may face for them. For those looking for an Emma Watson movie where she portrays a character who is the exact opposite of Hermione Granger, this is it.
Emma Watson fans are encouraged to share their favorite non-Harry Potter roles by the actress, and make a case for why their selection is mandatory viewing. Be sure to stick with CinemaBlend in the meantime for updates on all things related to movies, television, and pop culture.
Mick likes good television, but also reality television. He grew up on Star Wars, DC, Marvel, and pro wrestling and loves to discuss and dissect most of it. He's been writing online for over a decade and never dreamed he'd be in the position he is today.
Your Daily Blend of Entertainment News
Thank you for signing up to CinemaBlend. You will receive a verification email shortly.
There was a problem. Please refresh the page and try again.