Will Netflix Make Murder Mystery 2? The Case For A Sequel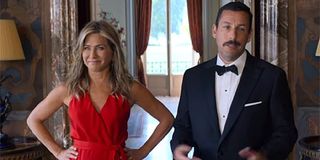 I confess! I didn't hate Netflix's Murder Mystery. I liked it more than I expected to, anyway, since I'm not exactly an Adam Sandler fan. I do love Agatha Christie stories and whodunnit mysteries, though, just like Jennifer Aniston's character. I watched Murder Mystery after Netflix had already touted its own mysterious viewing figures, saying the movie had the biggest opening weekend ever for a Netflix Film.
Sure, most critics didn't care for Murder Mystery, and several viewers felt the same. But I know I'm not the only one who didn't mind spending an hour and a half watching this light summer stream, and many of us would return for a sequel.
Since Murder Mystery was apparently very popular (if Netflix's figures were accurate) and the ending could be viewed as setting up a sequel, I can certainly see a case for Murder Mystery 2. Netflix could even make its own little Poirot-esque franchise out of Adam Sandler's "detective" Nick Spitz. So here's the case for a Murder Mystery sequel.
It's Obvious Where Murder Mystery 2 Could Go Next
The ending of Murder Mystery found Adam Sander's New York City police officer Nick Spitz and Jennifer Aniston's hairdresser Audrey Spitz riding the Orient Express train. They got their tickets courtesy of Dany Boon's Inspector Laurent Delacroix, who appreciated their assistance with (see: completely solving without him) the Monte Carlo murders. Murder on the Orient Express is one of Agatha Christie's most famous novels, following detective Hercule Poirot.
So all Murder Mystery 2 would have to do is come up with another murder (or several) on board the train, and hopefully devise a different ending from both the book and the recent 2017 Kenneth Branagh movie, since most of us already know how that story ends. Both Nick and Audrey Spitz could continue to work together to solve cases, he as an officer with a much better chance of really becoming a detective now, and she with her background as an avid reader of murder mysteries.
This Could Be The Start Of A Whole Series
When movies do well, we tend to hear about sequels. Sometimes a sequel is forced, and just about studios seeing dollar signs, but in this case Murder Mystery could potentially launch a whole series of movies following Nick Spitz, Audrey Spitz, and even Inspector Laurent Delacroix with his perfect smoke rings. Kenneth Branagh has been talking about starting a whole Agatha Christie Cinematic Universe -- and I am all the way down for that -- and it's been shown that there's plenty of room in the murder mystery market for multiple movies and shows.
Series from Father Brown to True Detective, Grantchester, Miss Fisher's Murder Mysteries, Midsomer Murders, and many more have shown the popularity of this genre. Combine that with the mainstream popularity of Jennifer Aniston and Adam Sander and you have the makings of a light, fun, comedic franchise on your hands. It's not going to be Citizen Kane, or even The Thin Man with Nick and Nora, but it could be fun.
Success tends to draw more famous people. Murder Mystery started as a project for Charlize Theron, and at one point names like Colin Firth and Emily Blunt got thrown around. They didn't end up in the final movie, but with numbers like Netflix is touting, A-list celebs may want to stand beside Jennifer Aniston and Adam Sandler in the sequel, with more names following for future projects.
It Would Probably Get Another Big Audience
No one can verify Netflix's mystery figures, but I don't doubt that Murder Mystery had a big audience. I do doubt, however, that Murder Mystery would've made a ton of money in theaters. It belongs on Netflix, and so does a sequel.
According to reports, Murder Mystery was viewed by 30,869,863 accounts in its first 3 days. That would make it the biggest opening weekend ever for a Netflix Film. The figures included 3,374,914 accounts in the U.S. and Canada, and 17,494,949 worldwide. Netflix confirmed the figures, without ever backing them up with any hard data, but added that the streamer only counts views if members finished at least 70% of a film. So that many people (reportedly) finished 70% of the film in the first three days.
I'm not surprised, and I think Murder Mystery 2 would also be a big draw. Both Adam Sandler and Jennifer Aniston have major name recognition and attract their own fans, and a movie on Netflix doesn't require you to do much of anything but press play -- assuming Netflix doesn't just start it for you automatically. Plus, the first movie was only 1 hour 37 minutes long, and a sequel could be similarly brief. Since it's playing at home, or wherever you stream, you don't have to sit through commercials and previews. It's an easy, breezy watch. Perfect for another summer's streaming.
If Netflix Is Already In The Adam Sandler Business, It Might As Well Be In The Murder Mystery Business
Netflix loves Adam Sandler. Apparently he does well for the streamer, so execs keep investing in that relationship. His movies -- from The Ridiculous Six to Sandy Wexler -- are never popular with critics, but they have to be doing well with viewers for Netflix to keep making more. Sandler became the first major movie star to premiere movies on a streaming service like this, and his Happy Madison Productions seems very happy at Netflix.
Netflix reportedly has more than 139 million subscribers worldwide, and counting, so Adam Sandler's projects are reaching a huge audience. With Disney+ on the horizon, Netflix has to be careful to focus on projects that its viewers want to watch. Whether you liked Murder Mystery or not, a lot of people apparently watched at least 70% of it just in its first weekend; if even half of those viewers return for a sequel, that's good news for Netflix.
Jennifer Aniston said Adam Sandler was the only reason she signed on for Murder Mystery, after working with him in the com-com Just Go With It. If Netflix wants more from Sandler, and Aniston is willing to return for more movies with Sandler, then I think a Murder Mystery sequel could be a good use of Sandler's Netflix movie deal. It's better than whatever else he'd be putting out!
If you're curious to see the movie yourself, check out Murder Mystery now on Netflix.
Your Daily Blend of Entertainment News
Gina grew up in Massachusetts and California in her own version of The Parent Trap. She went to three different middle schools, four high schools, and three universities -- including half a year in Perth, Western Australia. She currently lives in a small town in Maine, the kind Stephen King regularly sets terrible things in, so this may be the last you hear from her.