5 Kristen Stewart Movies That Prove She's Perfect For The Charlie's Angels Reboot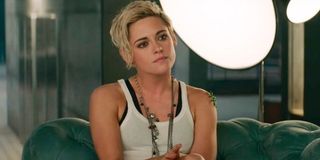 This November, the Angels are back and not how you remember them before. In writer and director Elizabeth Banks' forthcoming reboot, Charlie's Angels will find Kristen Stewart, Aladdin's Naomi Scott and Ella Balinska playing the title crime-fighting detectives. For some folks out there, it might be a bit of a surprise to see Kristen Stewart in this new take on the '70s property. Particularly if their familiarity to the actress is exclusive to her acting in Twilight.
Similar to Robert Pattinson's upcoming turn as The Dark Knight in The Batman, there was a bit of skepticism about Kristen Stewart's involvement in this new reboot. In fact, there were some people out there who couldn't see the actress playing one of the lead Angels. However, much like Pattinson, Stewart has demonstrated a considerable amount of comedic and dramatic range as an actress, and she continues to expand herself with this newest project.
There is very good reason to believe that Kristen Stewart will knock it out of the park when Charlie's Angels enters theaters on November 15th. If you are only familiar with Stewart based on her past work in The Twilight Saga, here are some movies that showcase why she's a great fit for this franchise.
1. American Ultra
Admittedly, American Ultra is an overcooked stoner action-thriller-comedy that's a little too high on its own supply and ends up being a mixed bag effort, except in one aspect. In fact, the one aspect in particular that stands out in American Ultra is Kristen Stewart.
Kristen Stewart gives a really good performance at the center of this burnout romance with Jesse Eisenberg; the emotional range that she commands — comedically and dramatically — at the beginning make it clear that she's a tremendous actress. When it comes time for the movie's over-the-top action beats, Kristen Stewart excels in this regard too, playing well into the movie's goofy tone while still showing that she can stand on her own as an action star, particularly in a comedic fashion. This balance of comedy in action certainly bodes well for how Kristen Stewart should fare in Charlie's Angels.
While American Ultra and Kristen Stewart's role as Phoebe Larson will likely not be remembered as the actress' most beloved movie, it's a wonderful showcase for how Stewart can excel in comedy, drama and, of course, action — particularly all three at the same time. There are few actresses who can really command those genres well, let alone at the same time. Yet, Stewart does it well, and that shows great promise for her work in this new film.
2. Snow White And The Huntsman
Though the movie has sometimes been overshadowed by the controversy surrounding Kristen Stewart's affair with director Rupert Sanders, Snow White And The Huntsman remains an enjoyably bombastic, stylistically intriguing look at the familiar fairytale. With Kristen Stewart playing the lead role, there was an easy chance for producers to market her fame for the Twilight crowd, and there were critics who dismissed Snow White And The Huntsman for this particular reason. While I would be hard-pressed to call it perfect, there is certainly a lot I do admire about the film — including Stewart's involvement.
When it comes to Kristen Stewart's action chops, she displays a sense of leadership and resistance that makes her a good fit for Charlie's Angels. She knows how to stick up for herself and put herself into battle with assurance, and when it comes to the action beats in this upcoming reboot, these skills should hopefully come in handy. It might not be the fairest Snow White adaptation of them all, but when it comes to Stewart, she puts on a good show.
3. The Runaways
When it comes to playing a total badass who does not take any crap from anyone, Kristen Stewart proved she could deliver (and then some) with her portrayal of rocker Joan Jett in 2010's The Runaways. A coming-of-age biopic which also finds Dakota Fanning playing Cherie Currie, The Runaways avoids the pratfalls that come with most biopics by allowing Stewart to wholeheartedly embrace the rebel punk rock attitude of her real-life character.
When it comes to Charlie's Angels, the girls are tough women who don't put up with nonsense from others. Yet, at the same time, they know how to have fun with their job. These are qualities that are found throughout the rock 'n' roll legacy of The Runaways, and Stewart's performance, in particular, really captures that time and edge. She also shows how she can work with an all-woman team, as The Runaways work together through tough times and not to bring rock to the masses. If she were to translate that hard rockin' attitude to the world of Charlie's Angels, she'll really bring it in this reboot.
4. On The Road
Charlie's Angels needs to capture that rebellious attitude. Making sure they don't take gruff from nobody and making sure they kick ass and save the day in their own kick-ass fashion. To capture that rebellious attitude, you sometimes need to go against the conventions of society in order to find your sense of purpose. Kristen Stewart was able to capture that sense of self-discovery and self-actualization in the underrated adaptation of On the Road.
A wide-ranging, free-sprawling movie that nevertheless captures the rambling mood of author Jack Kerouac, if not fully capturing the raw power of his inspiring text, On the Road is another great showcase for the actress Kristen Stewart would become throughout the ongoing decade. Her confidence, her smooth charisma and her natural ease are all present in this film, allowing the road-traveling characters to have the suave, sensuality and spark that is found in the material. The result is a lightning rod of the film that's made all the more palpable and honest by Kristen Stewart's radiant performance.
5. Adventureland
Admittedly, Kristen Stewart has acted in more dramas than comedies, which might make some folks skeptical about what she can bring in the laughs department. Thankfully, when Stewart has made some comedies, she more than holds her own. Case-in-point, the winsome coming-of-age romantic comedy, Adventureland.
While I always wish Kristen Stewart had more to do in the movie than she ultimately does, she produces some nice, easy laughs in this heartfelt charmer of a movie, one that is clearly both personal and nostalgic while also feeling timeless in its sincerity. Her likable chemistry with Eisenberg mixed with the film's comfortable tone suggests she can play to her strengths even when the mood is casual. In fact, she might be even better when it's casual. That bodes well for Charlie's Angels' lighthearted tone.
There are other movies in which Kristen Stewart excels. I'm a big fan of her work in Clouds of Sils Maria, Welcome To The Rileys, Into The Wild and The Messengers. I also thought she was excellent in the adaptation of Billy Lynn's Long Halftime Walk, while Personal Shopper is — in my view — her best performance to date. I also still need to see Lizzie, Certain Women, JT LeRoy, and Panic Room. But these movies, I believe, show what Kristen Stewart can bring to the table when it comes to Charlie's Angels.
Of course, we won't know for sure how she fares in the movie until Charlie's Angels hits theaters on November 14th. Regardless, I'm fully confident that she has what it takes to make the most of this opportunity, while also paying respects to the famous show and popular movies that came before its tenure. Additionally, we'll keep you posted on the latest news in film, television, pop culture and a whole lot more right here at CinemaBlend.
Your Daily Blend of Entertainment News
Will is an entertainment writer based in Pittsburgh, PA. His writing can also be found in The Playlist, Cut Print Film, We Got This Covered, The Young Folks, Slate and other outlets. He also co-hosts the weekly film/TV podcast Cinemaholics with Jon Negroni and he likes to think he's a professional Garfield enthusiast.
Your Daily Blend of Entertainment News
Thank you for signing up to CinemaBlend. You will receive a verification email shortly.
There was a problem. Please refresh the page and try again.