John Turturro's Big Lebowski Spin-Off Finally Has A Release Date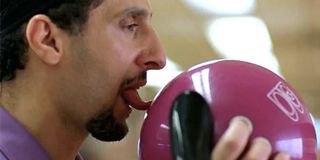 The name Jesus Quintana probably won't mean much to you if you're not a dedicated fan of The Big Lebowski. And why would it? The character, played by John Turturro in the original film, only appeared in a few scenes. He showed up in the bowling alley which served as one of the film's major settings, but it was only for one segment of the story. But if you don't know him, you're about to. The Turturro-led spin-off titled The Jesus Rolls is coming in early 2020 thanks to the company Screen Media coming aboard as a distributor - though no specific date yet has been given yet. Turturro himself wrote, directed and stars in the film - and yeah, he'll definitely bowl.
Jesus Quintana - a seasoned bowler, sex offender, and rival to Jeff Bridges's The Dude (whom Bridges almost didn't play) - stole every scene in which he appeared in The Big Lebowski, and quickly earned himself a reputation as an off-putting but oddly memorable character. I don't know if that warrants a feature-length spin-off, but we'll see how it goes. Meanwhile, The Dude continues to be a cinematic sensation. Bridges even briefly reprised the role to honor co-star John Goodman, who also plays one of the funniest characters in the Coen brothers movie. Sadly, though, we shouldn't expect either of them to be making cameos in The Jesus Rolls.
According to Deadline, indie distributor Screen Media has nabbed the North American rights to the film, and it's a move that is a long time coming. We've been anticipating this release date news for a long time, as the film started production quite a while ago. It was originally titled Going Places after the 1974 Bertrand Blier film of the same name. Instead, Turturro chose to include his character's name in the title, and a bowling reference to boot. That's probably a good idea, mainly because it'll allow fans of The Big Lebowski to identify the connection between the new film and the 1998 classic.
Bobby Cannavale and Audrey Tautou will co-star alongside Turturro, as will Jon Hamm, Pete Davidson, and Susan Sarandon. That cast list alone has me somewhat excited; Davidson is hilarious, and Hamm and Sarandon are amazing. I'm still skeptical about the premise from a macro perspective, but I'm hoping these big-name actors kill it in their roles here.
Now that we have a clearer idea of when to expect the spin-off, what do you think? Will you be seeing it or skipping it? Will the cast convince you to see it even if you hate sexual-deviants-turned-bowlers?
The Big Lebowski is a bona-fide classic, its meandering plot replete with rugs that tie the room together and a hilarious Steve Buscemi death scene. One of its sets even became a museum. It will be interesting to see how The Jesus Rolls stacks up to one of the Coen Brothers' best films. Let us know your thoughts in the comments section below, and stay tuned for more updates about the release.
Your Daily Blend of Entertainment News