There's A Dog In Crawl, Here's How The Creative Team Decided Whether It Would Survive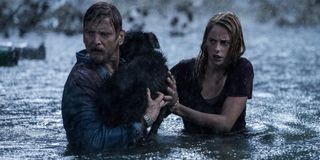 Warning: spoilers for Crawl are in the water! If you haven't seen the film yet, turn back and swim into the open seas until you're ready.
Pet spoilers are something that people seem to be focusing on more and more whenever a movie promotes the presence of a four legged friend. You really can't blame folks for wanting to know if an adorable cat or dog is going to be a safe companion to attach their feelings to, or if death will eventually claim them like it does all mortals.
Just in case you didn't know, this weekend's Crawl does indeed feature a dog character by the name of Sugar, and yes, the dog does live through the film. That being said, there was actually a debate as to whether or not this would be the case throughout the film's production.
I had the chance to speak with the cast and director of Crawl as part of a press day that CinemaBlend attended. During the roundtable discussions that took place at the Long Island Aquarium, there were a lot of details revealed about the process that one of this year's horror-thriller offerings went through to become the lean and mean experience that you'll see in theaters today.
Through all of the changes that saw some of the more personal bits between Kaya Scodelario's Haley and Barry Pepper's Dave excised for pacing, there were numerous fates that could have befallen the scruffy beauty that is Sugar.
Director Alexandre Aja provided a lot of the details as to how Sugar could have left the scene in Crawl, and it's not all horrific, as Aja laid out the following alternate scenarios:
Keep in mind, these remarks are coming from the man who's made such horror films as the remake to The Hills Have Eyes, as well as the comedic satire/gorefest Piranha 3D. Alexandre Aja has ample experience with dangling babies, kids, and domestic pets in front of the face of danger.
It's part of what make his films, especially Crawl, effective exercises in fright and tension, and while Sugar certainly lives through the film's traumatic events, there's no shortage of moments that put the dog's fate into question. Further discussing these scenes, Aja played around with humor and serious discourse when explaining what most interested him about the film's canine-centric moments:
Jokes aside, with the massive internet subculture that loves animals being extremely active on the internet, the safety of fictional pets is something people pay a lot of attention towards.
The simple question "Does the dog die?" has so much attention paid towards whatever that particular answer may be, that there's an entire website that traffics in soothing (or confirming) people's fears about the fate of fictional animals. Even one of the most recent tweets that Crawl has issued on Twitter leads off with the text, "Rule #1: Always Save The Dog."
Someone else who's seen this first hand is one of Crawl's stars, Kaya Scodelario, as she knew about the decision process that saw Sugar's fate debated quite feverishly. Even her social media profiles haven't been safe when it comes to the public's questions as to whether or not the movie would sacrifice the pup for scares.
This was something she'd admitted during that same press day, as Scodelario describes in the below excerpt:
With little competition at the box office this weekend, there's a chance that Crawl could be a surprise summer hit that saves 2019's market. But, those chances could be dampened depending on whether or not the big dog loving audience out there takes a chance on a film that might potentially kill a lovely pupper.
If you're reading this story, and if your friends need to know whether or not Sugar survives, tell them to rest easy. She not only survives, but she's a very good girl, and Crawl is an equally good movie that is waiting to take you, the audience, on a lightning fast ride of terror.
Crawl is currently in theaters now.
Your Daily Blend of Entertainment News
Senior Movies Contributor
CinemaBlend's James Bond (expert). Also versed in Large Scale Aggressors, time travel, and Guillermo del Toro. He fights for The User.