5 Excellent Keanu Reeves Roles Worth Streaming On Netflix And Amazon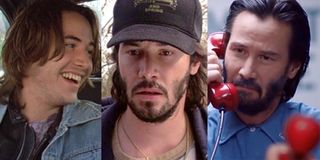 They say 2019 is the year of the Keanussance, but for some of us that has been every year for three decades. There is no spoon, and there is no such thing as too much Keanu Reeves. Here are five (actually seven, 'cause I cheated) non-blockbuster roles worth streaming, with each one showing how Keanu's star power and range have been obvious for more than 30 years now.
My Own Private Idaho
This was a risky project for Keanu Reeves to take on at the start of the '90s, at a key point in his career. The cinema world is better for his open heart and creative boldness. My Own Private Idaho was really a showcase for River Phoenix -- whose death I am still not over, so I can only imagine how Keanu still feels. The deeply introspective Gus Van Sant film was loosely based on Shakespeare's Henry IV and Henry V and has become a cult classic, especially in the LGBT community. Check out the beautiful, touching campfire scene between Keanu's Scott and River's Mike:
My Own Private Idaho came out in the same 1991 that gave us Point Break and Bill & Ted's Bogus Journey. It was like Keanu's own pre-2019 that way -- three very different roles. Keanu, born in 1964, was in his mid-20s during this period. He had already established himself as Ted in Bill & Ted's Excellent Adventure in 1989, and also had major screen time the same year in Parenthood.
You can rent or buy My Own Private Idaho at Amazon Prime Video (opens in new tab), or through iTunes (opens in new tab), Google Play (opens in new tab), or Vudu (opens in new tab).
River's Edge
Playing Matt in River's Edge was one of Keanu Reeves' first film roles, back when he was just 22. This bleak crime drama gave him his first big screen showcase, after he played a goalie with a thick French Canadian accent in the Rob Lowe/Patrick Swayze hockey movie Youngblood. Keanu co-starred in River's Edge with fellow '80s stars Crispin Glover, Ione Skye, and the always riveting (but unhined) Dennis Hopper. River's Edge was another edgy choice, and it became a polarizing film at the time, since it followed a "killer kid" storyline -- following a teen who casually killed his girlfriend, and the friends (like Keanu Reeves' Matt) who had to come to grips with his actions. Salon called it "the darkest teen film of all time" by Salon, adding:
You can stream River's Edge right now on Amazon Prime Video (opens in new tab), or rent/buy at iTunes (opens in new tab).
I Love You To Death
If you ever told me Keanu Reeves and William Hurt would make an iconic comedy team playing stoned hitmen cousins, I'd say you were the one on drugs. But they are hilarious together in this 1990 comedy. This is the movie that convinced me of Keanu's comedic chops. Sure, he's funny as whoa surfer boy Ted, but when Keanu and William Hurt are on screen together in this Lawrence Kasdan movie, it elevates the whole thing. I can't get enough of them. The movie itself has some flaws, but it's a comedy classic to me. It's also quite a different movie for Keanu and River Phoenix, since they are better known for their collaboration in My Own Private Idaho, which came out the next year.
Rent or buy I Love You To Death on Amazon Prime, Vudu, Google Play, Vudu, or YouTube.
The Gift
Keanu Reeves as a violent abusive cheating husband from small-town Georgia? Whoa. Keanu started out famous as teen dim bulb hero Ted, and went on to be a muscled hero in Speed, a sci-fi hero in The Matrix, and a hitman hero in John Wick. But the villain? Still rare. I loved Sam Raimi's 2000 movie The Gift. It showed all of the stars in new lights, from Cate Blanchett to Giovanni Ribisi, Katie Holmes to Greg Kinnear. Reeves played Donnie Barksdale, the abusive husband of Hilary Swank's Valerie. Seeing Swank as meek and vulnerable and Reeves as dominating is certainly not how we see those stars now, and The Gift is, well, a gift in that it reminds us these actors can do a lot more than one archetype.
You can stream The Gift right now on Amazon Prime Video or Hulu, or rent/own via Vudu, iTunes, Google Play, or YouTube.
Always Be My Maybe
To be honest, Netflix needs to step up its Keanu content. There are so many options out there, but most titles are not available today on the streamer. One movie you can watch right now is Exposed, a thriller that came out in 2016 with Keanu Reeves as Detective Scott Galban. I can't say that's a great role or movie for Keanu, though, so I'd rather focus on the Netflix original movie that just came out. Keanu's cameo as a faux version of himself was a highlight of an already wonderful romantic comedy. Ali Wong and Randall Park own the movie, but when Keanu shows up as the Hollywood boyfriend of Wong's Sasha Tran -- and does a bunch of his own riffing -- the movie gets a dose of hilarious adrenaline.
This Keanu Reeves role arrived in 2019 after Keanu's box office bust with Replicas, and massive hit with John Wick: Chapter 3 - Parabellum, and right before his arrival as new Toy Story 4 character Duke Caboom. The heightened tongue-in-cheek version of Keanu is the cherry on top of this Keanussance year.
You can watch both Exposed (opens in new tab) and Always Be My Maybe (opens in new tab) on Netflix.
Bonus: Constantine
I love John Wick, but when are we going to get another John Constantine movie from Keanu Reeves? Keanu brought a welcome sly, sarcastic edge to the role, anchoring a phenomenal cast of scene-stealers. Tilda Swinton deserved her own Gabriel spinoff. And Gavin Rossdale? I didn't know he could be this good at anything. The 2005 Francis Lawrence DC Comics movie was a thriller with tremendous depth. I find myself thinking about it all the time, wondering if we ever really will get that sequel. They keep talking about it.
TV Bonus: Swedish Dicks
When Keanu Reeves likes his co-stars, he can work with them several times. That's the case with River Phoenix and the great Winona Ryder, but also Peter Stormare. Keanu reunited with his Constantine and John Wick: Chapter 2 co-star for this comedy series that aired on Pop in the U.S. Keanu has a relatively small but important role as Tex Johnson across 13 episodes of Swedish Dicks.
You can buy episodes through Amazon Prime, iTunes, Vudu, Google Play. But you can also check out this Keanu highlight reel right now:
Keanu Reeves is turning 55 on September 2, 2019, but he's nowhere near slowing down. What other Keanu Reeves movies have you been streaming out there? If you're looking for any other streaming recommendations, check out 5 Documentary Series To Watch On Netflix and 5 Sci-Fi TV Shows To Watch On Netflix.
Your Daily Blend of Entertainment News
Gina grew up in Massachusetts and California in her own version of The Parent Trap. She went to three different middle schools, four high schools, and three universities -- including half a year in Perth, Western Australia. She currently lives in a small town in Maine, the kind Stephen King regularly sets terrible things in, so this may be the last you hear from her.