Paul Rudd And 10 Other Marvel And DC Stars Who Show 50 Is The New 25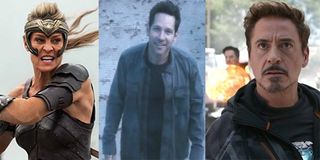 Believe it or not, Paul Rudd is turning 50 this Saturday, April 6. And Robert Downey Jr. is turning 54 on Thursday, April 4. Fifty used to be considered the start of the golden years -- aka getting "old" -- but now it's the start of a golden age for action heroes. Marvel and DC stars are the biggest superheroes in our universe, and many of the lead stars are still saving the world into their 50s and well beyond. Rudd may still look the same age he was when he made Clueless but Marvel's Ant-Man now part of that exclusive 50-plus club.
There are so many amazing active action stars north of 50 -- Tom Cruise, Arnold Schwarzenegger, Jackie Chan, Harrison Ford, Linda Hamilton, Sylvester Stallone, Bruce Willis (plus most of the other Expendables) -- it would take forever to list them all. That's a great problem to have in a world still so obsessed with youth. But this list just focuses on 10 past or present Marvel/DC stars who, like Paul Rudd, make turning 50 look like just the start of a superhero's journey.
Robert Downey Jr., 54, Marvel's Iron Man
In 2019, it doesn't get much cooler than Robert Downey Jr., giving hope to everyone who has yet to reach their mid-50s. RDJ is considered the godfather of the Marvel Cinematic Universe, which started with the 2008 film Iron Man. That was more than 10 years ago, when RDJ was a young lad in his early 40s. Now that he's 54 (well, 53 until tomorrow, 4/4/19), he's still the lead voice of the MCU heading into Avengers: Endgame (open April 26). Tony Stark is one of the heroes who will do "whatever it takes" to change Thanos' Decimation from Avengers: Infinity War. RDJ pulled a career 180 thanks to Marvel, and now he's a very well paid superhero and a fan favorite around the world. Ask the mid-1990s if they ever saw THAT coming.
Halle Berry, 52, Marvel's X-Men, DC's Catwoman
Halle Berry joined Marvel's X-Men in 2000 and she hasn't really aged a day, unless it's to look better now. She returned as Storm in X2, X-Men: The Last Stand, and X-Men: Days of Future Past. Back in 2004, she also ventured into the DC world as Catwoman, which was not a huge success anywhere but the Razzie Awards, but that's OK. Along the way she also picked up an Oscar for Monster's Ball, played Jinx in 007's Die Another Day, and recently joined the Kingsman franchise for The Golden Circle. She is now gearing up for John Wick: Chapter 3 - Parabellum (open May 17) after cold calling director Chad Stahelski and saying she wanted to be in the movie. Gimme a role. So they did, and she not only plays a badass assassin, she has her own two dogs who kick ass as her sidekicks. She showed off her amazing fight training for the role, including training the dogs. As she wrote after wrapping John Wick 3, "This film reinforces that AGE is nothing but an insignificant number!" The main star of that franchise would probably agree (see below).
Josh Brolin, 51, Marvel's Thanos, Marvel's Cable
Josh Brolin was 2018's unexpected sex symbol as Thanos in Avengers: Infinity War. I can't say I get the whole "daddy" thing, but good for Josh Brolin for still getting it into his 50s, even as a giant purple villain. Brolin has two active Marvel roles, and both are muscled-up beasts. He had an intense diet and exercise routine to play Cable in Deadpool 2, which came out last year when he was freshly 50. Thanos is the man to beat in Avengers: Endgame, which is already the biggest movie of 2019. And Brolin is currently filming a different kind of action movie in Dune, posting a shirtless photo to reveal his work as a weapons master. The guy looks like he'd kick your ass with a glance, and it's especially impressive knowing he's also the same guy from The Goonies. He wasn't even 20 when he made that movie -- his first -- in 1985 and he's at least twice that man today.
Robin Wright, 52, DC's Antiope
A lot of us first got to know Robin Wright as the beautiful object of someone else's affections -- as Buttercup in The Princess Bride in 1987 and as the ill-fated Jenny of 1994's Forrest Gump. Now she's best known for playing ruthless leaders, including Amazon Army General Antiope, Diana Prince's aunt, in DC's Wonder Woman. She'll also be back for the sequel Wonder Woman 1984, which comes out in 2020. Antiope trained Wonder Woman and showed herself to be a tough mentor in the 2017 movie. Wright also led the House of Cards cast and crew through the debacle of Kevin Spacey's exit, and the final season was all about her character, Claire Underwood. It's great to see Robin Wright getting strong leadership roles as she enters her 50s -- proving herself not only still beautiful, but also more powerful than ever in the second half of her century.
Will Smith, 50, DC's Deadshot
Will Smith is one of the many action heroes, like Tom Cruise, who have just kept on doing their usual action roles into their 50s. Why not? If it ain't broke (too badly)... Unlike Cruise, though, Smith has embraced the superhero experience. He joined the DCEU as Deadshot for 2016's Suicide Squad, but before that he played vigilante superhero John Hancock in an original story with Hancock. Smith first shot to fame with The Fresh Prince of Bel-Air, but he got his action credentials going with Bad Boys in 1995, followed by Independence Day and Men in Black. Now it's 2019 and he's currently filming Bad Boys for Life, the third film in the franchise, for release in 2020 when he'll be 51 and co-star Martin Lawrence will be 54. Sadly, he won't be returning as Deadshot for The Suicide Squad. Instead, Idris Elba (46) is taking on the role for James Gunn's movie. But Smith has plenty of other films in the works, including Ang Lee's sci-fi film Gemini Man, and of course we'll see him soon as the new Genie in Aladdin.
Samuel L. Jackson, 70, Marvel's Nick Fury
If 50 is the new 25, Sam Jackson is basically 45 at this point. Scratch that, he's 35 -- half his current age. The guy is everywhere! We would all be so lucky to have his stamina at 30, never mind 70. The man never stops. He's currently Nick Fury, de-aged for Captain Marvel, but back to his modern one-eyed self for the end of Avengers: Infinity War and whatever he does in Avengers: Endgame, not to mention his return for Spider-Man: Far From Home. That just for Marvel, he also had Glass earlier this year, as the title supervillain Mr. Glass, plus John Shaft II in Shaft. He'll also be back for the sequel to The Hitman's Bodyguard. He's a hoot on the press tours of his movies, and while you can never quite trust everything he tells you, he always makes it interesting. He is living his best life, and if there's such a thing as #70Goals, it's this badass motherf*cker.
Keanu Reeves, 54, DC's Constantine
Granted, it's been several years since Keanu Reeves played DC's John Constantine in the 2005 film Constantine, but now that he's 54, Keanu is an even more popular action hero than ever. He's had multiple iconic action roles over the years -- from Speed to The Matrix -- and he's still kicking ass as John Wick. His first John Wick film came out in 2014 and Chapter 2 arrived in 2017. John Wick 3 is coming out this May, and it's meant to be the biggest one yet. Keanu even shoots guns while on horseback on the streets of New York City. And, yeah, that's really him on that horse. Keanu is still so youthful in appearance and action, it's a running joke that he might be immortal. He's even reuniting with his Bill & Ted co-star Alex Winter for Bill & Ted 3, like no time has passed since the '80s.
Hugh Jackman, 50, Marvel's Wolverine
Hugh Jackman actually aged himself up to play Wolverine in Logan. He shot to fame as the character in 2000's X-Men, getting and staying famously ripped through X2, X-Men: The Last Stand, X-Men: Origins - Wolverine, X-Men: First Class, The Wolverine, X-Men: Days of Future Past, and X-Men: Apocalypse. Wolverine wasn't big on aging and neither is Hugh Jackman, it seems. Ryan Reynolds is desperate to re-team with Wolverine in a future Deadpool movie, and while that may not pan out, I could definitely see the two starring in another action film together. Jackman seems to just be getting started as an action hero -- while also singing/dancing in The Greatest Showman and earning acclaim as a dramatic lead. I wouldn't be shocked if we see him still kicking ass on screen 10 years from now, not looking very different from today.
Nicole Kidman, 51, DC's Atlanna
Nicole Kidman played Arthur Curry's mother in Aquaman, and while Moms don't always get to have badass action scenes, not all moms are this queen. Atlanna got to save the day in one epic scene that was shot in one take. That wasn't her first DC role -- she played Dr. Chase Meridian in Batman Forever, but her job in that one was mostly to fall in love with the hero and be saved. This time, at age 51, she got to be the superhero who saves. She's another star, like Samuel L. Jackson, who appears to have a dozen projects going at any time. She was in The Upside, Destroyer, Boy Erased, and Aquaman last year, with The Godfinch and the Fox News film Fair and Balanced this year -- plus Big Little Lies Season 2 on HBO. From Emmy-award winning roles to billion dollar superhero films, Kidman makes it look pretty easy.
Patrick Stewart, 78, Marvel's Professor X
Patrick Stewart was already 60 by the time he joined Marvel's X-Men in 2000. He was a thespian with the Royal Shakespeare Company, but later in life he found himself the lead of two major franchises -- Star Trek as Jean-Luc Picard, and X-Men as Charles Xavier. He finished his run as Professor X with Logan, but instead of slowing down, he signed on to return as Picard for his own TV show on CBS All Access. William Shatner recently said he couldn't believe Stewart was doing that, saying a TV series is debilitating enough for a 25-year-old -- since you're working 14-18 hours a day -- but to do it in your late 70s? Stewart himself called it "an unexpected but delightful surprise" to find himself "excited and invigorated" to return to the role. He's ready to engage all over again.
The list of action stars still kicking butt well past 50 goes on and on -- from Vin Diesel to Don Cheadle and Mark Ruffalo, the Marvel list alone could fill books. It's inspiring to think that you can have a rough patch in your 30s but be a superhero in your 50s like Robert Downey Jr., or start as a high school girl's rom-com crush in your 20s and then possibly leap up Thanos' butt in your 50s like Paul Rudd. #LifeGoals
Here's to all of these stars and more still saving the day into their 90s, like Marvel's biggest hero, Stan Lee. Excelsior!
Your Daily Blend of Entertainment News
Gina grew up in Massachusetts and California in her own version of The Parent Trap. She went to three different middle schools, four high schools, and three universities -- including half a year in Perth, Western Australia. She currently lives in a small town in Maine, the kind Stephen King regularly sets terrible things in, so this may be the last you hear from her.