Hobbs And Shaw's Surprising Cameos, Explained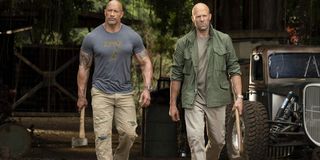 Warning: SPOILERS for Hobbs & Shaw are in play, as we're about to reveal all three big cameos in the film. If you're looking to be spoiler-free, turn around and come back once you're caught up.
Admittedly, we here at CinemaBlend have been dancing around the cameos that appear in Hobbs & Shaw, simply because their magic is contained in the surprises that come from their deployment. Unlike Dwayne Johnson though, a website doesn't have eyebrows to play it cool when asked specific questions about said cameos. Today, however, we're ready to rip the lid off of the secret jar of appearances, as it's the week after the film's release, and now's as good a time as any to discuss them.
This is the last chance for you, the audience, to turn back before learning the secrets involving the three people that popped up as surprising additions to the Hobbs & Shaw universe. And as we've seen in the recent days of the film's press cycle, even Johnson himself is promoting these folks as the next step in the super-spy adventures of this budding series.
Warnings aside, it's time to cross over into the spoiler lands and talk about who surprised the audiences that saw Hobbs & Shaw this weekend.
Ryan Reynolds As Agent Locke
The first surprise guest in the Hobbs & Shaw family variety hour is none other than Deadpool himself, Ryan Reynolds. His character, Agent Locke, is basically the guy that delivers the exposition on the Snowflake Virus to Luke Hobbs, in order to entice him into coming along for the mission.
Locke also appears in a couple of other spots in the film, most notably in the post-credits sequences where he finally proved a person could be stabbed with a brick. Also, Agent Locke did release even more exposition for a potential Hobbs & Shaw follow-up, if his panic over a new virus that melts its victims' outsides is valid. He did get the ending to Game of Thrones right though, so maybe Locke's on the up and up.
Rob Delaney As Agent Loeb
Just as Agent Locke was brought on as an exposition guy that drafts Luke Hobbs into the mission to recover the Snowflake Virus, Agent Loeb is the other governmental player that's tries to form the Hobbs & Shaw team. His part of the equation is to lay down the information on the virus to one Deckard Shaw, played by Jason Statham.
In the role of Agent Loeb is Rob Delaney, best known for his roles on Amazon's original series Catastrophe, as well as the role of Peter the mild-mannered member of the X-Force in Deadpool 2. So having him banter back and forth with Ryan Reynolds' Agent Locke was even funnier to see in action, and we hope he isn't forgotten in the Hobbs & Shaw franchise plans.
Kevin Hart As Air Marshall Dinkley
During their top secret mission to foil the machinations of Eteon's loyal sentinel, Idris Elba's Brixton Lore, Hobbs and Shaw take a flight to their eventual showdown in the Ukraine with Brixton and his super evil cronies. Naturally, the two of them banter on the plane about Shaw's sister and their abilities to complete their mission. Which is exactly where Kevin Hart pops in to run his schtick.
Playing Air Marshall Dinkley, Hart reveals he was also a former SpecOps soldier, much like both Hobbs & Shaw protagonists. Offering his services to help our heroes, Dinkley actually gets to pay up on his promise when he provides some crucial intel from a laptop and a remote connection in a bathroom stall. Should his character return, Dwayne Johnson will have yet another opportunity to make height jokes with his comedy bestie.
What These Cameos Could Mean For A Hobbs And Shaw Sequel
Dwayne Johnson has already said that Hobbs & Shaw's cameos are meant to build out Hobbs' team for future adventures. So Agents Locke and Loeb, as well as Air Marshall Dinkley, are all potentially on deck for when/if the series goes in search of that newer, nastier-sounding virus that Eteon will undoubtedly try to get their hands on.
If you were a fan of the blend of comedy and action that Hobbs & Shaw sold in its first outing, this news pretty much means you'll be getting even more bang for your buck with a sequel. Plus, if the Shaw family grows like it has the potential to, we could see anything from more surprise cameos to a brand new villain showing up into the mix.
Of course, the big prospect that fans of the Fast & Furious adjacent universe should keep in mind is the fact that, quite potentially, any of these characters would be able to cross paths with Vin Diesel's Dom and his family in any Fast movies.
So imagine Kevin Hart running his mouth between Vin Diesel, Dwayne Johnson and possibly even new cast member John Cena, in Fast 9. Do you hear that sound? It's cash registers opening to take all the potential box office gains from that sentence.
It's only the first week of release for Hobbs & Shaw, and already the prospects for the series look pretty bright. With an estimated $180 million in box office revenue, and $60.8 million coming from the domestic picture alone, there's a good market for this sort of action. Bundle that with the killer CinemaScore the film has earned, and you might see a sequel given the green light in the next couple of weeks.
Which means all of these folks better make sure their sequel clauses are in order and their calendars updated from now until the foreseeable future. Who knows? It may not be long before the Hobbs & Shaw team assembles again to open all sorts of whup-ass on the world stage. Stranger things have happened in Hollywood.
Hobbs & Shaw is in theaters now. However, if you're ready for something new, you can take a look at the 2019 release schedule to see if any of the films set to release in the near future raise your interest.
Your Daily Blend of Entertainment News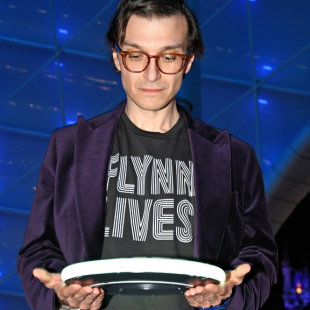 Senior Movies Contributor
CinemaBlend's James Bond (expert). Also versed in Large Scale Aggressors, time travel, and Guillermo del Toro. He fights for The User.