Maybe Sony Doesn't Need Marvel's Help To Make Good Spider-Man Movies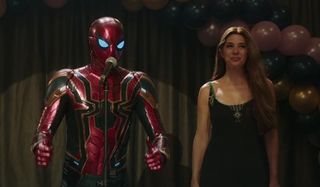 Recent events have made the former Sony and Marvel Studios partnership to produce future Spider-Man movies a more unlikely prospect. While the idea of the franchise's future coming together as a joint effort after this unfortunate happening is growing slimmer, it's time to look ahead to a potential future where Sony will have to go it alone on the all things Spidey.
Frankly, the more I look at the situation, the more I think that maybe Sony doesn't need Marvel to make a good Spider-Man movie. There's enough pieces in play to ensure that Tom Holland's former Avenger will have his hands quite busy without the rest of the MCU's toys at the studio's disposal. Since the man himself is excited to see what happens next, it's easy to follow that positive energy with some unique thoughts on where things could go from this point.
On the back of Tom Holland's enthusiasm for a bigger, better Spider-Man series, let's talk out how his cheering might be proven correct after all. And where better to start than with the foundation of Spider-Man's adventures?
The Spider-Man Series Already Has A Strong Story Foundation
Between Spider-Man: Homecoming and Spider-Man: Far From Home, we've seen Tom Holland's Peter Parker go through his first stumblings into the world of superheroics. With the events of Avengers: Infinity War and Avengers: Endgame both building up Parker's career as Spider-Man to a pretty fair degree, not much more will really be needed to set his character up.
Which means, it's time to start branching off into new and exciting areas with Parker and his life as a costumed vigilante, especially considering how Spider-man: Far From Home left his character outed to the world as Spider-Man. If it were still early days for Spidey to build the foundation of his life and person, this creative divorce may have been even worse news. Yet, with the hard stuff out of the way, and a Sony-only future in the cards, we could see some radical chances taken with the Spider-Man property.
Sony Has A Bunch Of Spider-Man Adjacent Properties To Tap Into
Part of the radical chances that could be taken with the Spider-Man mythos lies in the fact that Sony is in possession of a lot of characters that originate from Spider-Man's universe in the Marvel Comics canon. For years they've tried to make projects like Silver and Black and Sinister Six a reality, but those particular stories have gone untold because of various reasons.
Without Marvel Studios in the picture, Sony will need to really mine the Spider-Man universe for what it's worth. Thanks to the successes of Venom and Spider-Man: Into The Spider-Verse, those in charge of Peter Parker's fate have all the proof they should need that it's time to really explore the self-contained universe of Spider-Man stories spanning across all of the possibilities that the studio has had on its hands this whole time.
A Separate Spider-Man Could Make The Venom Movies Better
Venom was a pretty big win for Sony Pictures, as the current standalone series broke October box office records and raked in $856 million in the process. As Venom 2 is on the fast track to production, with Andy Serkis directing and Tom Hardy taking an active interest in the film's story, it feels like the sometimes-mocked property could become a hell of a comeback kid with its next new adventure.
Do you know what would make an even better Venom universe? If Peter Parker was, once and for all, allowed to play in its sandbox. Even if Venom 2 only loops Peter into the mix with a post-credits sequence, it would make so many fans happy to see Tom Hardy's Eddie Brock jump into the universe he truly belongs in. Also, another fringe benefit of no MCU involvement might be that Venom 2 could finally bring the series into the R-rated ranks, in the name of maximum carnage -- should the studio wish to go that route.
Competition Between Sony And The MCU Could Be A Great Inspiration
With an R-rated sequel, Venom could be another adult-themed success in the world of comic movies. Should DC and Warner Bros' Joker live up to a very similar promise, it would be yet another hit made outside of the hegemony that Marvel Studios and Disney have built so effectively over the last 11 years.
In the light of the merger with Fox, and its reintegration of several Marvel Comics properties, Disney's Marvel Cinematic Universe has few challengers strong enough to take them on in the market. The best chances to keep them from taking over totally are the DCEU and Sony's burgeoning Spider-Man universe. Without the input of Marvel Studios, and Sony's own ideas primed to build onto what's happened in Peter Parker's life story, this could be the shot in the arm the world needs to stay excited about comic book movies.
It's a very uncertain future for Sony and Marvel's involvement with Spider-Man, and there's even a chance that the relationship between both studios could eventually mend and render this line of thought unwarranted. Time will tell whether the status quo will be upheld, or if the divide between the former partners will stick. Both possibilities aren't horrible. No really, all things considered, Tom Holland would still serve as the strong thread that binds Spider-Man films in the near future no matter how this story plays out.
However, looking into the restrictions and the conditions that Marvel Studios imposes on the partnership with Sony, there's a chance that this brave new world could lead to a drastic change in the stories told through Peter Parker, Miles Morales, and any other member of that universe that is present. It would be nice to have Spider-Man ready and able to meet up with The Avengers again, but if it's not to be, then there's still plenty of adventures for Peter Parker to get into.
Adventure can still be had with Peter and his friends, as Spider-Man: Far From Home is currently still in theaters, with its original and extended cuts in circulation. But if you're looking for the home video experience, September 17th marks the Digital HD release, with 4K UHD, Blu-ray, and DVD versions set to drop on October 1st.
Your Daily Blend of Entertainment News
Senior Movies Contributor
CinemaBlend's James Bond (expert). Also versed in Large Scale Aggressors, time travel, and Guillermo del Toro. He fights for The User.
Your Daily Blend of Entertainment News
Thank you for signing up to CinemaBlend. You will receive a verification email shortly.
There was a problem. Please refresh the page and try again.