5 Horror Films From 2019 That Deserve A Halloween Re-Release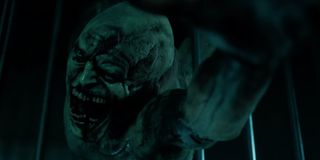 Halloween is almost upon us, and as such it's the perfect time to get caught up in some sort of spooky business at your local theater. But strangely enough, there aren't too many options between now and the big day itself that lend to getting some truly horrific scares into your box office schedule.
At times like this, it's a good idea to bring out some previously released genre fare in the name of making things a little scarier at your local theater. And if anyone out there is listening, we have this list of five great movies that, theoretically, could make for a great run up to the Halloween season.
Here are five films that deserve a seasonal re-release, just in time for the most haunted time of the year.
Scary Stories To Tell In The Dark
With Scary Stories To Tell in The Dark's story starting off in the midst of the Halloween season, that alone should have seen this Guillermo del Toro-produced title getting a prime October slot. But the August timeframe that the adaptation of Alvin Schwartz's chilling literary horror series for children arrived in worked to the film's benefit, making it one of this summer's most surprising hits.
So bringing Scary Stories To Tell In The Dark back to light in honor of the Halloween season feels like a good reason to get everyone back around the campfire that is their local theater. This is especially good for adults that may not have gotten to see the film, as well as teens who want to see something legitimately scary, but can't quite get into IT Chapter Two just yet.
Ready or Not
Despite the killer buzz that Ready or Not built up in its late August release, the film doesn't seem to have caught fire with the public at large. Which is a shame, as not only does this thrill ride have audiences screaming for more, but it's also a film primed to put Samara Weaving on the map, thanks to a sterling performance.
One could only imagine how much buzz this movie could have gotten if it was scheduled for a release closer to the spookiest time of the year. Much like Scary Stories To Tell In The Dark, Ready Or Not could be a hell of a sleeper hit, should theaters start to take on more showtimes in the weeks leading up to Halloween. Not to mention, if you or someone you know is having a fall wedding, this film doubles as a perfect night out before the festivities.
Crawl
Crawl was a movie that definitely felt like a summer release, between the extreme weather theming and the even more extreme alligators that terrorized Kaya Scodelario and Barry Pepper in their flooded basement. Also, the film has done quite well for itself, having legs that have brought it pretty far in its initial wave of release.
Of course, there's always room for more gator panic in the theaters, and the killer buzz that Crawl built up in its first round could lead to even more success if it were to return to theaters in the month of October. While the heat may have died down, that doesn't demean the horror of creatures with jaws so strong they'll end you in a couple of chops. And who doesn't want to watch that over a mug of some apple cider?
Midsommar Director's Cut
There are a couple of factors that some may feel disqualify the Midsommar: Director's Cut for a theatrical re-release. As the standard cut will be on home video in October, and the Director's Cut will be an Apple TV exclusive, that feels like a done deal for folks that want to see director Ari Aster's vision in both of its versions.
While the movie was released as recently as Labor Day weekend, that was only one week for fans to have caught this extended, more fleshed-out cut of Florence Pugh's journey through grief and survival, courtesy of one weird summer festival. With some open theatrical real estate during the next couple of months, this re-issue could be another limited run success story, with the right timing.
IT/IT Chapter Two Double Feature
Just mentioning IT Chapter Two as part of a re-release, with only a week separating the world from its big debut, seems a bit like jumping the gun. However, what we're about to propose isn't just a mere bump in theater count for an existing film. No, this is something much more exciting: a double bill of both IT and IT Chapter Two for the cost of just one ticket.
While box office managers wouldn't be able to schedule that many showings of an almost six hour epic, the double feature of both chapters to director Andy Muschietti's adaptation of Stephen King's legendary book is something that feels right at home during the Halloween season. Also, for those who are wondering whether or not seeing both chapters in one sitting would improve the total story, that morbid curiosity would be rewarded sooner rather than later. It may not be the supercut everyone's looking forward to, but it's a good appetizer to keep the public interested in seeing that ultimate option exercised.
Halloween 2019 could use a boost at the movies, as the closest movies folks will have to enjoy in theaters are the already-running IT Chapter Two, the animated Addams Family remake and, of course, the long-awaited Zombieland: Double Tap. But with more competition, not only could the new films do a little better with more crowds in the cineplex, there would also be more options.
Having as many scary movies as you can showing during October is a way of drawing people back in for another couple of scares in-between pumpkin picking or costume shopping. As such, if there's a horror movie in theaters that you're interested in, be sure to give it a boost when the air starts to chill, and the season of the witch draws near. Be sure to also look through our 2019 release schedule to learn what non-frightening cinematic offerings there are for the rest of the year.
Senior Movies Contributor
CinemaBlend's James Bond (expert). Also versed in Large Scale Aggressors, time travel, and Guillermo del Toro. He fights for The User.
Your Daily Blend of Entertainment News
Thank you for signing up to CinemaBlend. You will receive a verification email shortly.
There was a problem. Please refresh the page and try again.