Wild Star Wars Rumor Links Rey And Palpatine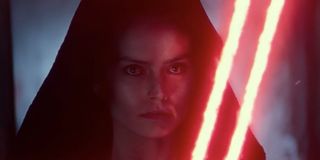 (Image credit: (Lucasfilm))
Spoiler Warning! This article delves into potential major plot details from the third act of Star Wars: The Rise of Skywalker. Proceed at your own risk.
Ever since Daisy Ridley's Rey was first introduced in The Force Awakens, there's been one question on the minds of all Star Wars fans. What's her lineage? Theories have had her among the Skywalker family or as a daughter to Obi-Wan. But all the 'who are Rey's parents?' talk was offset by the events in Last Jedi when Rey revealed her parents were "nobody." But… what if her grandparents were? Cue Palpatine's evil laugh.
That's right, Rey may be the granddaughter of Emperor Palpatine. Now, this would certainly fill in some gaps of the young rebel's strong force powers and tie the all-powerful villain to the end of the saga. Palpatine is definitely coming back for Rise of Skywalker, and if a shocking family reveal isn't made, does it even really count as a Star Wars movie?
The details come from Editor-In-Chief James Ward of Making Star Wars. In his article, he maps out a majority of the final act of Rise of Skywalker, based on sources reportedly close to the film. Why this kind of leak exists is beyond me, and there's no sure way of knowing if it's true. Why spoil a great reveal like this?
At any rate, word is that Kylo Ren is the one to tell Rey of her relationship to Emperor Palpatine. He's somehow alive and well living in a subterranean cave that involves lava flooring around a thorny iron throne. The concept for Palaptine's lair is apparently based on concept art Ralph McQuarrie did for Return of the Jedi. That's pretty sweet! Grandpapa Palpatine likes his power and wants to rule. I won't divulge anymore reveals from the Dark Side, but as you can imagine, Rise of Skywalker may be building to a Rey vs. Palpatine final showdown.
This rumor does bring about some interesting places for Rise of Skywalker to explore. There's this continually fulfilling prophecy within the saga that Rise of Skywalker may continue to explore at its conclusion. Our heroes seem to always be met with family members and loved ones on opposite sides of the force as themselves. Luke with Darth Vader, Obi-Wan with Anakin and Kylo Ren with Han Solo. (Coincidence, solid storytelling… or lazy writing?)
It would be fun for Rise of Skywalker to end its almost 40-year saga with a twist on this iconic and ongoing theme. What if Palpatine doesn't die at the hand of his granddaughter, Rey? We know she will at least don the appearance of crossing to the Dark Side at one point in the film. How will this play into the film, and will it connect with her interactions with Palpatine?
We'll soon find out when The Rise of Skywalker hits theaters on December 20.
Your Daily Blend of Entertainment News
YA genre tribute. Horror May Queen. Word webslinger. All her writing should be read in Sarah Connor's Terminator 2 voice over.
Your Daily Blend of Entertainment News
Thank you for signing up to CinemaBlend. You will receive a verification email shortly.
There was a problem. Please refresh the page and try again.