Why Joker's Box Office Performance Is Both Surprising And Predictable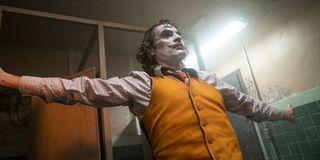 Over this past weekend, the Clown Prince of Crime was crowned king at the box office. Todd Phillips' Joker obliterated expectations, blowing past tracking, knocking down records and laughing all the way to the bank. It's a box office performance that was both surprising and predictable.
The long range tracking had Joker pegged to open between $60-$90 million domestically, but by the time opening weekend rolled around, that tracking had settled in at around $80 million. With $75 million expected overseas, Joker was looking at a worldwide opening weekend of $155 million. Yeah… about that. According to Deadline, Joker wound up opening to an exceptional $96 million domestically and $248.2 million worldwide, nearly $100 million more than forecasted.
Joker crushed Venom and now holds the record for the biggest October opening weekend of all time, both domestically and worldwide. It's also the biggest debut for director Todd Phillips and stars Joaquin Phoenix and Robert De Niro. In addition, Joker now has the fifth-largest domestic opening weekend of 2019, ahead of films like Spider-Man: Far From Home, Aladdin, IT Chapter Two and Hobbs & Shaw.
For a film with so much discussion and controversy swirling around it leading up to the release, this outsized debut came as a shock to some. Even the tracking reports noted how tricky Joker was to forecast given all the variables in play. And for many reasons Joker's fantastic opening is somewhat unexpected, but it in other ways it shouldn't have been. Let's go over why.
Controversy Is A Double-Edged Sword
Since Joker premiered at the Venice Film Festival, and especially once it hit TIFF, it has been dogged by controversy. The film has been called dangerous and irresponsible, and there were fears that it could inspire acts of violence. Allusions were even made to the 2012 Aurora, Colorado shooting, where 12 people were killed in a movie theater during a screening of The Dark Knight Rises. The prevalence and gravity of these concerns resulted in an increased police presence at movie theaters around the country on opening weekend, just in case something happened.
With the conversation surrounding this film revolving around whether or not it is going to inspire a mass shooting, you could totally understand if many audiences decided to stay home and skip opening weekend. It would be reasonable to assume that the controversy could depress turnout. That makes Joker's opening weekend success something of a surprise. But controversy can breed curiosity, which makes Joker's performance somewhat predictable.
There's a saying that there is no such thing as bad publicity, and while we can debate the universality of that maxim, what's clear is that Joker received a lot of publicity because of the controversy surrounding it. While it's possible some people could have been deterred from seeing the movie due to the perceived dangers, all the talk about Joker also brought attention to it and perhaps put it on people's radars when it otherwise wouldn't have.
I imagine there were also some audiences who outright rejected the narrative surrounding Joker and the conjecture that condemned the film before anything had even happened. On the international front, according to Deadline, overseas exhibitors had no concerns about violence at their screenings of the film, so the controversy didn't negatively impact Joker's box office there either. Plus, not everyone reads entertainment news, and it's entirely possible that some general audiences simply didn't know about the controversies.
A Comic Book Movie Like No Other Is Still A Comic Book Movie
One of the things that seemingly made Joker's box office hard to predict is that from the beginning, it has been pitched and described as not being like other comic book movies, and that bore out once people laid eyes on it. This is not the brightly colored, quippy fun of the Marvel Cinematic Universe, nor is it even like Christopher Nolan's Batman movies or blockbuster movies in general. Joker is a slow burning, challenging character study in the vein of the films of the 1970s that has little in the way of action and asks a fair bit of the audience.
Basically, this is not a Transformers movie that allows general audiences to turn their brains off as it delights them with big explosions. It wouldn't be at all surprising if audiences rejected Joker and found it boring. Just remember when people were mad that Drive wasn't an action-packed chase film like The Fast and the Furious. Bad word of mouth could have easily damaged Joker's box office as the weekend progressed and resulted in a lower box office, but that's obviously not what happened.
While the type of story and the way it is told might make Joker's box office performance surprising, the fact that it's a comic book movie makes it entirely predictable. Narratively, aesthetically and thematically, Joker may have more in common with Taxi Driver and King of Comedy than Avengers: Endgame, but at the end of the day it's still a comic book movie, and that immediately gives it the pole position at the box office and grants it a lot of leeway from audiences.
Not only is Joker a comic book movie, it's a movie about arguably the most famous and popular comic book villain in existence. This is a character that audiences really haven't had a lot of since The Dark Knight over 10 years ago, with Suicide Squad under-delivering on the villain. Audiences were bound to care about Joker even if it was different from than other films in the genre, and despite the fact it has no connection to any of the previous or upcoming Batman movies.
The IP is the selling point and that makes audiences more willing to try something different than what they're used to when it comes in the comic book movie packaging they already like. Most fans were sold long ago, and it turns out that audiences actually seemed to like Joker if the Rotten Tomatoes' Audience Score and the CinemaScore are anything to go by.
Hard R Is A Selling Point, Not A Deterrent
Going hand in hand with the controversies surrounding it, and how different Joker is from other comic book movies, is the fact that Todd Phillips' film is R-rated. Whenever a film carries that restricted rating, there is always a question about what its ceiling will be at the box office. The belief is that an R-rated movie can only do so well because you're restricting a portion of the moviegoing public from seeing the film. And that's true to a degree.
Joker isn't just R-rated either. It's been ascribed with that unofficial designation of 'hard R.' The graphic and brutal violence in the film could be off-putting for some. Joker is in no way a feel-good film; you don't walk out feeling light and airy, it could ruin your day. Though the same could be said for Midsommar, and that movie was not a box office smash. As our own Eric Eisenberg said in his review, you'll feel like you need a shower after Joker. But the thing about the R rating is that it isn't a deterrent, at least not a major one, and not for the audiences Joker is aimed at.
As we've seen in recent years, R-rated films, both in the comic book movie genre and outside of it, can be box office hits. Earlier this year, John Wick: Chapter 3 – Parabellum was a rousing success. It has gotten to the point where audiences wanted an R-rated Wolverine movie and are worried about what will happen if Deadpool gets knocked down to PG-13 now that he's under the Disney umbrella. Sure, Joker's violence wasn't paired with comedy like Deadpool or action-packed, and thus fantastical, like Logan, but the hard R rating was a selling point.
The comic book movie fans and adults that Joker was made for were eager to see the agent of chaos unleashed in a no-holds barred film. That's one of the very things that intrigued fans about a Joker movie that was entirely divorced from the rest of the DC films. The R-rating wasn't a bug, it was a feature.
Box office prognostication is an inexact science to say the least, and it sometimes seems more like astrology than astronomy. But the difficulty in predicting Joker's box office is understandable. There were a lot of factors, both internal and external, that make its actual performance surprising. Nevertheless, there were also plenty of reasons to believe that Joker was always going to be a hit, making the fact that it became so rather predictable.
Joker is now playing. Check out what CinemaBlend thought of the movie, and take a look at our 2019 Release Schedule to keep up with everything headed to theaters this year.
Your Daily Blend of Entertainment News
Nick grew up in Maryland has degrees in Film Studies and Communications. His life goal is to walk the earth, meet people and get into adventures. He's also still looking for The Adventures of Pete and Pete season 3 on DVD if anyone has a lead.