8 Movies With 100 Percent Ratings Worth Streaming Before Netflix's The Irishman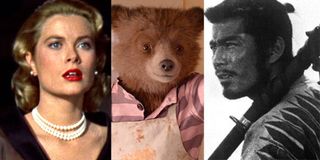 I don't want to jinx it, but Martin Scorsese's The Irishman debuted to a 100 percent rating on Rotten Tomatoes. Maybe that doesn't mean much to you, and it may not last at 100% until the film's November 27 arrival on Netflix, but it's rare to have that much critical agreement. Most movies with 100 percent ratings are classics like Citizen Kane, Laura, The Philadelphia Story, or Modern Times. But sometimes a truly modern movie like The Irishman will manage to impress every posting critic, and I included three of those options among the eight (OK, 10) below.
Some top-rated movies are available for free through streamers like Tubi (which has The Cabinet of Dr. Caligari) or whatever HBO/Starz might have streaming any particular month. Unfortunately, most 100%-ers are not on Netflix right now, and even though they are on Amazon, Vudu, Google Play, iTunes, YouTube, etc., you may have to pay a small fee. But if you make a stink about wanting these titles on Netflix, maybe the streamer will put its back into getting them. After all, with Disney+ debuting November 12, now is the best time to maximize leverage with Netflix to bring in what YOU want to see.
Seven Samurai
Akira Kurosawa is one of the greatest filmmakers of all time, but the Japanese icon only has one movie that's currently 100% certified fresh movie on Rotten Tomatoes. Rashomon, Ran, and Throne of Blood are close -- and Ikiru is 100% but not certified because it has too few reviews. But Seven Samurai (Shichinin no Samurai) has 61 reviews and they are all positive. The 1954 movie is one of the most influential movies ever made, inspiring both the 1960 Western The Magnificent Seven and the 2016 remake, among many other films. Kurosawa's The Hidden Fortress (97% RT from 31 critics) famously inspired George Lucas' Star Wars.
Stream Seven Samurai for $4 to rent/$15 to buy on Amazon, or for $3 on YouTube, $3 on Vudu, $3 on Google Play, or $4 on iTunes.
Leave No Trace
I'm waiting for Debra Granik to become a household name. She co-wrote and directed the Oscar-nominated Winter's Bone with Jennifer Lawrence, and also co-wrote and directed Leave No Trace, which came out in 2018 and is the second most-reviewed movie to have a 100% approval rating on Rotten Tomatoes. (#1 is a bit further down on this list). Ben Foster plays an Iraq War veteran with PTSD who raises his 13-year-old daughter (Thomasin McKenzie) off the grid in a park, until they are forced to enter social services. The film certainly left a trace with 218 critics to date, who all gave it a thumbs-up. The audience score is a slightly lower 81% from 4,496 ratings, but there's no doubt it's a powerful film. That doesn't mean it's destined to be seen as one of the greatest films of all time, since 100% approval doesn't mean A+ grades from everyone, just enough that every single critic was willing to recommended it.
Stream Leave No Trace right now on Amazon Prime Video. You can also see it for $4 from YouTube, Google Play, or Vudu.
Rear Window
I don't buy many movies on disc anymore, but I bought Alfred Hitchcock - The Masterpiece Collection in a swanky box set and it's seriously one of my most prized possessions. Rear Window is not the only Hitchcock movie to earn a 100% certified RT rating -- Rebecca is on the list too -- but the Jimmy Stewart/Grace Kelly movie is one of my favorites for many reasons. I know I'm not alone there, since the film is recognized as one of the greatest of all time. Sixty-five critics gave Rear Window its 100% rating and it has an impressive 95% audience score from 150,518 users.
Stream Rear Window for $4 to rent on Amazon Prime, or YouTube, iTunes, Google Play, or Vudu.
Toy Story & Toy Story 2
Maybe it's cheating to have two movies here, but both the 1995 movie Toy Story and its 1999 sequel Toy Story 2 managed to pull off 100% certified fresh ratings. The first movie got its 100% from 87 critics, with a massive 1,109,209 users giving the movie a 91% audience score. Toy Story 2 has its 100% from 169 critics and a slightly lower 86% audience score from nearly 1 million users. Toy Story 3 has a 98% RT rating with Toy Story 4 at 97%, so this is clearly a franchise that knows how to stick the landing with fans.
Both Toy Story movies are available for streaming on Amazon, YouTube, iTunes, GooglePlay, and Vudu from $3. If you want to wait, I'm sure Disney+ will be getting them soon, since that service debuts November 12 and will offer a lot of new and classic content. You can sign up now for $6.99 a month or $69.99 a year.
12 Angry Men
Henry Fonda's classic courtroom drama is a brilliant psychological experiment, as well as just a compelling and well-written film. There's also a 1997 remake that you can watch for comparison. Reginald Rose wrote the original script for a 1954 live production on CBS. It was rewritten by Rose for the stage and then again for the 1957 movie. Fifty critics decided it was worth its 100% fresh status, with 105,000 users coming close with a 97% RT audience score.
Stream 12 Angry Men for $3 on YouTube or Google Play, or $4 on Amazon, iTunes, or Vudu.
Singin' in the Rain
This movie puts a goofy grin on my face and it stays put all day. If you're lucky, you can catch Singin' in the Rain on TV sometimes, but this is a good movie to be able to play on demand. Because sometimes you just need a "Good Morning" happiness boost, and there's nothing like singing and dancing along with Gene Kelly, Donald O'Connor, and Debbie Reynolds. Singin' in the Rain -- which was co-directed and choreographed by Gene Kelly -- is certainly one of the greatest musicals of all time, according to both critics and fans.
Stream Singin' in the Rain from $4 on YouTube, Amazon Prime, iTunes, Google Play, or Vudu.
Paddington 2
Remember above, when I said Leave No Trace was the second most-reviewed movie to have a 100% approval rating on RT? Paddington 2 is the first. With 235 reviews, Paddington 2 is the best-reviewed movie on the site. That doesn't mean it's rivaling Citizen Kane for the best movie ever made, but it just managed to hard stare past the most cynical critics on its way to a perfect approval rating.
Stream Paddington 2 on HBO right now for free with a subscription. Or you can buy it for $15 on Vudu, YouTube, Amazon, or Google Play.
All About Eve
Fasten your seatbelts, it's going to be a bumpy night! Actually, this classic makes for a deliciously smooth watch. Bette Davis plays iconic aging Broadway actress Margo Channing with Anne Baxter as her young admirer-turned-rival. In 1950, screenwriter/director Joseph L. Mankiewicz's movie -- based on the short story "The Wisdom of Eve" by Mary Orr -- earned a record 14 Oscar nominations. It was the first film to have four female acting nominations. Sixty-six critics approved it to its 100% rating, with 45,000 RT users going for 94%.
Stream All About Eve for $4 to rent/$14 to buy on Amazon, or for $4 on YouTube, Vudu, iTunes, and Google Play.
BONUS: The Godfather
OK, The Godfather is not 100% on Rotten Tomatoes, it's only at 98% -- illustrating one of the flaws of RT! However, The Godfather does have a Metascore of 100 on Metacritic, from 15 critics. It's also #2 on IMDb users' list of top rated movies, which starts with The Shawshank Redemption (90% RT, 80 Metascore) before heading to The Godfather. Not every movie on this RT list got a Metascore of 100 -- although Rear Window did -- and not every movie with a Metascore of 100 got a 100% RT fresh rating. Francis Ford Coppola's mafia classic The Godfather just seemed like a good addition to this list, since we're leading up to another well-received crime movie in The Irishman.
Stream The Godfather from $3 on Google Play, Amazon, and Vudu.
There are so many more classics to choose from, so go ahead and check out Rotten Tomatoes' list of 100% movies and pick a few to stream on Amazon or your preferred streamer. You can also check Metacritic for its list of movies with Metascores of 100. Or you can check out movies that earned A+ CinemaScores from moviegoers polled on opening night.
If you're looking for more streaming recommendations, check out these past features:
• 5 Excellent Keanu Reeves Roles Worth Streaming On Netflix And Amazon
• 5 Sci-Fi TV Shows To Watch On Netflix: Our Streaming Recommendations
• 5 Documentary Series To Watch On Netflix: Our Streaming Recommendations
• 5 British TV Comedies On Netflix You Should Bloody Well Watch: Our Streaming Recommendations
• 3%, Occupied, Harlots, and Other Streaming Recommendations
• 5 Robert Downey Jr. Movies To Love 3000 On Netflix
• 5 Chris Evans Movies Worth Streaming On Netflix And Amazon
• 5 Ryan Reynolds Roles Worth Streaming On Netflix And Amazon
• 5 Will Smith Movies Worth Streaming Right Now On Netflix And Beyond
• 5 Refreshingly Non-Toxic Reality TV Shows Worth Streaming On Netflix
• 5 Joaquin Phoenix Movies Worth Streaming On Netflix And Amazon Ahead Of Joker
• 5 Stripper Movies Worth Streaming In Honor Of Jennifer Lopez's Hustlers
• The 5 Best Space Movies To Stream In Honor Of Brad Pitt's Ad Astra
• 11 Unbelievable True Crime Series Worth Streaming On Netflix
What movies or TV series have you been streaming lately? Also, when you're looking for reactions to a movie, do you tend to check out Rotten Tomatoes, Metacritic, IMDb, CinemaScore, social media, or ... where?
Your Daily Blend of Entertainment News
Gina grew up in Massachusetts and California in her own version of The Parent Trap. She went to three different middle schools, four high schools, and three universities -- including half a year in Perth, Western Australia. She currently lives in a small town in Maine, the kind Stephen King regularly sets terrible things in, so this may be the last you hear from her.