5 Stripper Movies Worth Streaming In Honor Of Jennifer Lopez's Hustlers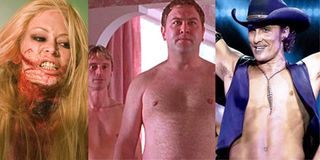 Hustlers pretty much came out of nowhere to become a big box office win. It had a quick filming schedule earlier in 2019 on a production budget of roughly $20 million. It already made a lot more than that in its domestic opening, with Jennifer Lopez earning the best reviews of her career. There's even early Oscar talk? Hot damn. Hustlers is more than a stripper movie, it's a crime drama, but all movies about strippers are about more than just that.
To celebrate the big release of STX Films' most prominent movie to date, I've decided to look at some of the other stripping-centric movies that came before Hustlers. Without further ado, here are a few such films -- some sexy, most silly -- ready and waiting for you to take it all off and stream.
The Full Monty
Like 2003's British comedy Calendar Girls, 1997's The Full Monty gave fans a wonderfully different and irreverent take on taking it all off. Six unemployed men -- not exactly Chippendales types -- decide to start a male striptease act to make money after their local steel mills in Sheffield are shut down. The Full Monty is about a lot more than tittering at grown men taking their clothes off and dancing. The hugely successful movie also has some serious subtext about unemployment, working class culture, body image, fathers' rights, and more. It was considered one of the best British films of the 20th Century and was later adapted into a play.
Stream The Full Monty now on Cinemax Go or from $4 on Amazon Prime, Vudu, iTunes, YouTube, or Google Play.
Showgirls And Striptease
I don't know what to think about the mid-to-late '90s that it was such a big time for stripper movies. Showgirls came out first, starring Elizabeth Berkley, who shocked fans with a BIG departure from Jessie Spano on Saved by the Bell. Showgirls was trashed on impact but became a cult classic. The very next year, Demi Moore starred in Striptease as a former FBI secretary who turned to stripping to afford to appeal a custody agreement to get her daughter back. (So many movie characters have such lofty reasons for stripping.) Striptease managed to get even worse reviews than Showgirls -- with Demi Moore seeming to be in a different more serious movie than everyone around her -- but dammit, at least the Razzie Awards liked it!
Stream Showgirls on Starz or Hulu. You can watch the "uncut" international version of Striptease on Amazon Prime video for $3 to rent or $10 to buy.
Magic Mike And Chocolate City
Channing Tatum showed real star power in Magic Mike, which was loosely based on his own experience as an 18-year-old stripper in Tampa. Like so many stripper movies, it managed to attract a great cast, and these guys looked like they were having the time of their lives -- including Matthew McConaughey as former stripper Dallas, plus Joe Manganiello, Matt Bomer, and Alex Pettyfer. The film was made on a reported production budget of $7 million and made more than $167 million in 2012. It was a phenomenon that launched a sequel. It also inspired the 2015 movie Chocolate City, which got its own sequel on Netflix. Director Jean-Claude La Marre said a lack of people of color was one glaring omission in Magic Mike, and they jumped on it. But Tyson Beckford, who co-starred in the movie, told HIV Plus magazine he didn't like comparisons to Magic Mike because Chocolate City is about a "different kind of experience."
Stream Magic Mike for $3 on Amazon Prime, YouTube, Google Play or Vudu. Or stream Chocolate City on VOD and On Demand, and watch Chocolate City: Vegas Strip on Netflix.
BONUS: Zombie Strippers
Of course it's bad. This campy 2008 B-movie horror comedy is set in a dystopian future with too many wars and too few soldiers, so a virus is developed to bring soldiers back to life. A test subject escapes and heads to a strip club, infecting a stripper and making her a zombie. Turns out, being a zombie makes strippers even more popular (there's a metaphor in there if you look for it) so the club's owner -- played by Robert Englund, because why not -- suggests the other strippers to go zombie too. Jenna Jameson plays the club's star dancer. Because seriously, why not. This is one of those movies you should just go along with, preferably late at night when you wouldn't be doing anything better anyway.
Stream Zombie Strippers ... if you dare, bwahaha ... for $3 on Amazon Prime, or $4 on YouTube, iTunes, or Google Play.
If you'd rather skip the stripping and just watch more Jennifer Lopez after Hustlers, you can stream Lila & Eve, An Unfinished Life, and The Cell on Netflix. You should also re-watch Out of Sight, which is available to stream right now on HBO Go. There are more JLo movies to stream out there, but in most cases you have to pay to rent/buy. Also, if you're looking for more streaming recommendations from other stars and genres, check out these past features:
• 5 Excellent Keanu Reeves Roles Worth Streaming On Netflix And Amazon
• 5 Sci-Fi TV Shows To Watch On Netflix: Our Streaming Recommendations
• 5 Documentary Series To Watch On Netflix: Our Streaming Recommendations
• 5 British TV Comedies On Netflix You Should Bloody Well Watch: Our Streaming Recommendations
• 3%, Occupied, Harlots, and Other Streaming Recommendations
• 5 Robert Downey Jr. Movies To Love 3000 On Netflix
• 5 Chris Evans Movies Worth Streaming On Netflix And Amazon
• 5 Ryan Reynolds Roles Worth Streaming On Netflix And Amazon
• 5 Will Smith Movies Worth Streaming Right Now On Netflix And Beyond
• 5 Refreshingly Non-Toxic Reality TV Shows Worth Streaming On Netflix
• 5 Joaquin Phoenix Movies Worth Streaming On Netflix And Amazon Ahead Of Joker
Keep up with everything still heading to the big screen this year with our 2019 movie release date schedule. And be sure to check out the list of upcoming Netflix originals.
Your Daily Blend of Entertainment News
Gina grew up in Massachusetts and California in her own version of The Parent Trap. She went to three different middle schools, four high schools, and three universities -- including half a year in Perth, Western Australia. She currently lives in a small town in Maine, the kind Stephen King regularly sets terrible things in, so this may be the last you hear from her.