5 Robert Downey Jr. Movies To Love 3000 On Netflix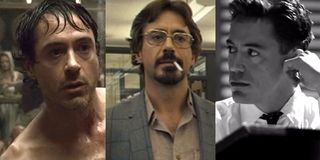 Robert Downey Jr. has nearly 100 acting credits to his name in a career that started in 1970 when he was 5. Today, his name is synonymous with Iron Man, but the actor has taken pains to remind everyone that he is not just Tony Stark. As RDJ tries to distance himself from the MCU, and move forward with movies like The Voyage of Doctor Dolittle, All-Star Weekend, and Sherlock Holmes 3, remind yourself what else he can do by streaming his past movies.
Netflix doesn't have the biggest RDJ selection at the moment, but here are five films you can binge right now to get a decent picture of his impressive range.
Zodiac
It's hard to pick a favorite David Fincher movie, but there is no way to overrate Zodiac. I might be as obsessed with this movie as Jake Gyllenhaal's Robert Graysmith is with the Zodiac killer. Robert Downey Jr. steals every scene as real-life San Francisco Chronicle journalist Paul Avery. The world is now filled with MCU stars, but it tickles me to think of Mysterio, Iron Man, and The Hulk (Mark Ruffalo) working to stop the Zodiac killer. I bought the 2007 movie a long time ago on DVD but the ease of Netflix streaming is handy for me to push maybe two buttons to watch it again. It's 2 hours and 37 minutes of awe, frustration, and appreciation for the master filmmakers at work.
Stream Zodiac here on Netflix (opens in new tab).
Good Night, and Good Luck
Without the star power of George Clooney, I wonder if this black-and-white treasure would ever have been made. Robert Downey Jr. plays another real-life journalist here, this time CBS' Joseph Wershba. Clooney directed, co-wrote, and co-starred in the film, which earned him a Best Director Oscar nomination. The film itself was nominated for Best Picture and David Strathairn was nominated for Best Actor as Edward R. Murrow. The 2005 film came out in the same year RDJ also had Kiss Kiss Bang Bang and Game 6, and certainly qualifies as a different and more prestige picture than his contemporary fare.
Stream Good Night, and Good Luck here on Netflix (opens in new tab).
Gothika
I'm not going to argue Gothika is one of the world's great movies, or even one of RDJ's best, but the psychological horror thriller is available on Netflix and he's in it alongside fellow charismatic stars Halle Berry and Penélope Cruz. Berry stars as psychiatrist Dr. Miranda Grey, with Robert Downey Jr. as her colleague, Dr. Pete Graham. At the very least, Gothika is worth watching for the face-to-face showdown between RDJ and Berry when she tries desperately to convince him that she's not actually a crazy killer.
Stream Gothika here on Netflix (opens in new tab).
Sherlock Holmes
Robert Downey Jr.'s Sherlock Holmes was like a second helping of Tony Stark, whom RDJ introduced on screen the year before in 2008. Here we have another brilliant, arrogant, witty rogue always at least two steps ahead of everyone else. Instead of Happy Hogan, Sherlock had John Watson as his sidekick. There was no guarantee that Guy Ritchie's stylistic take on Sherlock Holmes would be a hit, but thanks to RDJ and Jude Law, the movie led to a 2011 sequel and a third movie in the works. Sherlock Holmes came out in 2009 and, the very next year, Benedict Cumberbatch would become a household name -- even with that name -- thanks to the modern Sherlock TV series. That was also an early taste of his MCU arrival as Doctor Strange -- another brilliant, arrogant rogue usually at least two steps ahead of everyone else.
Stream Sherlock Holmes here on Netflix (opens in new tab).
Avengers: Infinity War
Stream it while you can. With Disney+ on the horizon, and Disney having a majority stake in Hulu, the Marvel shift is moving away from Netflix. In February 2019, Disney CEO Bob Iger said that Captain Marvel would be the first title held back from Netflix and instead held for Disney+. However, Avengers: Infinity War came out last year, and it is currently on Netflix. If you've seen Avengers: Endgame in theaters, you know how it ends for Tony Stark. But it's definitely enlightening to stream Infinity War again for all of the little hints you may have missed. Infinity War isn't the only MCU movie on Netflix at the moment -- you can also see the great Thor: Ragnarok, Black Panther, and Ant-Man and the Wasp -- but if we're talking RDJ, Avengers 3 is your best bet.
Stream Avengers: Infinity War here on Netflix (opens in new tab).
BONUS: Off Camera with Sam Jones
Robert Downey Jr. recently talked to photographer/writer/director Sam Jones for Jones' celebrity interview series. That's when RDJ talked about wanting to distance himself from his role as Iron Man, and get off the teat of Marvel Studios before he feels too much like a trust fund kid. This isn't a movie, but it's worth watching if you're interested in more insight from RDJ on RDJ.
Stream RDJ's whole episode here on Netflix (opens in new tab).
If you're looking for more streaming options, consider checking these out:
• 5 Excellent Keanu Reeves Roles Worth Streaming On Netflix And Amazon
• 5 Sci-Fi TV Shows To Watch On Netflix: Our Streaming Recommendations
• 5 Documentary Series To Watch On Netflix: Our Streaming Recommendations
• 3%, Occupied, Harlots, and Other Streaming Recommendations
What movies or TV shows have you been streaming lately? If you're not into Netflix's selection of Robert Downey Jr. movies, you can always find more at Amazon and Hulu.
Your Daily Blend of Entertainment News
Gina grew up in Massachusetts and California in her own version of The Parent Trap. She went to three different middle schools, four high schools, and three universities -- including half a year in Perth, Western Australia. She currently lives in a small town in Maine, the kind Stephen King regularly sets terrible things in, so this may be the last you hear from her.