Robert Pattinson Explains Why Twilight Is A 'Weird Story'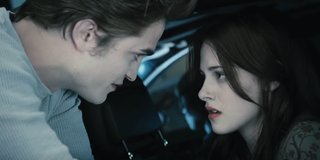 After a relatively small, but important, part in Harry Potter and the Goblet of Fire, Robert Pattinson really came to prominence when he got the part of lead romantic vampire in Twilight. The 2008 film catapulted him and his kind co-star Kristen Stewart to ridiculous heights of fame, as fans of the 2005 Stephenie Meyer novel were very committed to watching the romance between vamp Edward Cullen and regular ol' teen girl Bella Swan come to life right before them. But, it turns out that Pattinson doesn't hold the story in such high esteem.
During Variety's Actors on Actors series, Robert Pattinson spoke to Jennifer Lopez about just how "weird" he thinks the whole premise of the Twilight books are. Hold on to your sparkly vampire fangs, folks, because Pattison's words might be about to crush some of your vamp-love dreams. I'm guessing he didn't need to vomit to film any of the scenes in this movie:
You know what? As someone who has been known to enjoy a bit of romance fiction which leans toward fantastical, these-things-don't-exist-in-real-life tendencies, Robert Pattinson isn't wrong. There! I said it! Just try to sue me! I'll go on the run, I will!
Ahem...what I'm trying to say is that, when you take the story of Twilight at face value, as Robert Pattinson clearly does, you can't help but think it's odd. As he told Jennifer Lopez, sure, on a basic level the idea of wanting someone that you really can't have leads to romantic, swoony notions for lots of people. But, this isn't exactly Romeo and Juliet. Or, it kinda is, except in this story Romeo really wants to taste Juliet, but, you know, not in a normal way.
Basically, the whole relationship, even without all the fighting between vampires and werewolves (and vampires and evil vampires, for that matter) is a series of giant red flags. Blood red flags, in fact. See what I did there?
Robert Pattinson also expressed his confusion over just how much people took to the story. I know, romance and all, but there was also a ton of danger wrapped up in Bella's involvement with Edward. To be honest, though, that element of danger probably plays a large part in why stories with romances between kind-hearted (and hot) creatures of the night and humans capture people's attention. These supernatural dudes have usually been around a long time. They've seen it all, love deeply and completely, and they probably...know things.
Well, all that really matters is that Robert Pattinson was able to embrace the weird romance at the center of Twilight enough to audition, get the part and star in all five of those suckers. (Ha! I did it again!) Otherwise we might not have gotten him in Cosmopolis, Good Time or any number of cool, crazy indie movies. Twilight was the gateway to us having Robert Pattinson as our next Batman, OK? Let's be grateful for that if nothing else.
Robert Pattinson can currently be seen in The King on Netflix (working that French accent to the max) and the massively masturbatory horror movie The Lighthouse, which is in theaters now.
Yennefer's apprentice, Gilmore Girl; will Vulcan nerve pinch pretty much anyone if prompted with cheese...Yes, even Jamie Fraser.
Your Daily Blend of Entertainment News
Thank you for signing up to CinemaBlend. You will receive a verification email shortly.
There was a problem. Please refresh the page and try again.