Avengers: Endgame Included A Secret Easter Egg For Thor Character Beta Ray Bill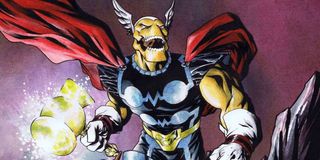 CinemaBlend participates in affiliate programs with various companies. We may earn a commission when you click on or make purchases via links.
While the Marvel Cinematic Universe has introduced a lot of prominent characters in its 11-year lifespan, there are many, many more that have yet to show up in this continually-growing franchise. One of those individuals is Beta Ray Bill, who's been a key supporting character in Thor's world and an important player in Marvel's cosmic realm for nearly four decades. As it turns out though, Avengers: Endgame snuck in a Bill-related Easter egg via the 2014 version of Nebula.
As you'll recall, Nebula's past self was first seen in Avengers: Endgame cutting down some alien warriors as part of a wider assault on their planet. Looking through the Endgame screenplay, which has been made available to the public, it turns out this planet called "the Korbinite homeworld," i.e. Korbin, which is where Beta Ray Bill is from. So it turns out we were watching Nebula, the past Gamora and their army killing off members of Bill's species.
This kind of Easter egg will only appeal to the hardcore Marvel fans, but it's nonetheless good to see that at least some loose groundwork has been laid to ideally bring Beta Ray Bill into the MCU down the line… ideally. People have been on the lookout for Bill as far back as Guardians of the Galaxy, where one fan asked director James Gunn if Bill was in one of The Collector's display cases. Spoiler alert: he wasn't.
There were plans to include Beta Ray Bill in Thor: Ragnarok, but he was cut from the movie because his appearance was so quick, it was decided that wouldn't do the character justice. Bill was also considered for Avengers: Infinity War, but co-director Joe Russo explained that there just wasn't a way to introduce him in the already-incredibly packed movie and ensure that he'd leave an impact.
For those unfamiliar with Beta Ray Bill, he is a physically augmented Korbinite who briefly inherited the power of Thor when he obtained the God of Thunder's hammer, Mjolnir. While Thor Odinson would ultimately get Mjolnir back, Odin had a new hammer made for Bill called Stormbreaker that was equal in power to Mjolnir. Obviously if Beta Ray Bill is ever introduced in the MCU, his weapon would need to be called something different since the Odinson is wielding Stormbreaker… unless, of course, Bill somehow became its new holder.
Beta Ray Bill has appeared in a handful of animated TV shows, video games and the animated direct-to-video movie Planet Hulk, but a theatrical appearance would expand his fanbase significantly, as has been the case with so many previously obscure characters who were eventually brought into the MCU. Thor: Ragnarok VFX supervisor Jake Morrison is especially keen on Bill eventually debuting in live action, and even included a subtle nod to him in the third Thor movie by having him be one of the faces adorning the tower attached to the Sakaar gladiator arena.
For now, there are still no official plans for Beta Ray Bill to appear in the MCU. However, with Thor: Love and Thunder set to come out in late 2021, and Taika Waititi promising that that movie will be even crazier than its predecessor, that could be a great place to bring Bill into the fold. After all, we're already getting two Thors in Love and Thunder, why not throw in Bill to make this a mighty trio?
Avengers: Endgame is available on Blu-ray, DVD and Digital HD, and is also available to stream on Disney+ (which is offering a seven-day free trial). Check out our Marvel movies guide to learn what's being released in Phase 4 and beyond.
Your Daily Blend of Entertainment News
Connoisseur of Marvel, DC, Star Wars, John Wick, MonsterVerse and Doctor Who lore. He's aware he looks like Harry Potter and Clark Kent.
Your Daily Blend of Entertainment News
Thank you for signing up to CinemaBlend. You will receive a verification email shortly.
There was a problem. Please refresh the page and try again.