Is Frozen II Better Than The First Movie? Idina Menzel Thinks So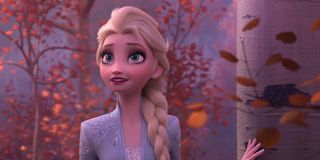 There's no denying that Frozen II has been a global smash hit - at least, from a financial standpoint. Whether or not the film is as good as its predecessor (or even good at all), however, is a topic that has definitely been up for debate. And Idina Menzel has a controversial opinion on that matter -- she believes Frozen sequel is actually better than the original.
The actress and singer, who voices Queen Elsa in both films, recently spoke to Billboard's Pop Shop Podcast about a range of topics. And naturally, the conversation turned to the music in Frozen II. And she shared that for her, the sequel is superior, at least as far as the songs are concerned:
Idina Menzel explained what drew her to the emotional power ballads in Frozen II, and credited the movie's songwriters Robert Lopez and Kristen Anderson-Lopez, with focusing on the right elements when it came time to creating the successor to "Let It Go."
Though some may argue that "Let It Go" is irreplaceable, her arguments in favor of both "Show Yourself" and "Into The Unknown" are persuasive. And at least on this point, most seem to agree with her. Despite some tepid reviews, critics and fans have noted that the soundtrack is one of Frozen II's standout accomplishments.
Which leads me to ask. Did you enjoy 2013's Frozen with its big, bombastic "Let it Go" ballad, or do you prefer the music in Frozen II?
This poll is no longer available.
Your Daily Blend of Entertainment News