What Leonardo DiCaprio Found 'Incredibly Impressive' About Brad Pitt In Once Upon A Time In Hollywood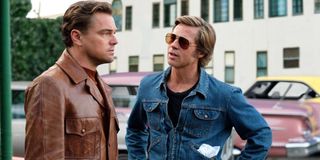 They're two of the biggest actors in the world. But until 2019, Leonardo DiCaprio and Brad Pitt had never starred in a full length movie together (though they were on the same TV show). Luckily, they seem to have hit it off well -- and now, Leonardo DiCaprio is sharing what he found most impressive about his Once Upon A Time in Hollywood costar.
In an interview with Deadline, Leonardo DiCaprio talked at length about what it was like to work with Brad Pitt, who played stuntman Cliff Booth to DiCaprio's actor Rick Dalton. DiCaprio had plenty of positive things to say about his fellow A-lister. And he opened up about how easy it was for them to create that on-screen dynamic from the get go:
Leonardo DiCaprio also talked about how refreshing it was to work alongside Brad Pitt as two equals who each brought a unique perspective to their scenes as Rick and Cliff:
Once Upon A Time in Hollywood is Quentin Tarantino's love letter to the movie industry. And Leonardo DiCaprio shared with Deadline that he was blown away by Brad Pitt's ability to embody a classic Hollywood cool in his performance as Cliff Booth:
Since Leonardo DiCaprio and Brad Pitt worked so well together in Once Upon A Time in Hollywood, we can only hope they'll team up again in the future. But in the meantime, we -- and they -- can enjoy the continued success of their first collaboration. Once Upon A Time in Hollywood is now available on Blu-Ray.
Your Daily Blend of Entertainment News
Thank you for signing up to CinemaBlend. You will receive a verification email shortly.
There was a problem. Please refresh the page and try again.