Fantastic Beasts: J.K. Rowling Spent 3 Hours Revealing Dumbledore's Secrets To Jude Law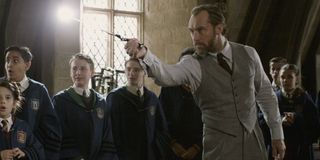 When Jude Law signed on to play Albus Dumbledore in the Fantastic Beasts franchise, he knew he had his work cut out for him. And when it came to perfecting his performance as one of the most iconic literary characters in recent memory, he made sure to get as much information as he could straight from the source. In fact, he got so much intel from J.K. Rowling, he ended up learning many of Albus Dumbledore's secrets.
Jude Law isn't just a part of the Harry Potter franchise -- he's a fan, too. In an interview with Vanity Fair, Jude Law spoke about how important the Harry Potter series is in his own life:
Jude Law definitely took his performance as a young version of Hogwarts' most beloved headmaster seriously. The actor leaned on Harry Potter's author, J.K. Rowling, to get as much insight as possible:
Okay, so it sounds like Jude Law maybe knows some secrets about Dumbledore. It's no surprise that J.K. Rowling still has some stories up her sleeve for the wizard. And it sounds like Jude Law is on board to help:
Jude Law portrayed Albus Dumbledore in Fantastic Beasts: The Crimes of Grindelwald. And he's due to reprise his role in Fantastic Beasts 3, which is expected to focus more on Dumbledore and his time at Hogwarts. After some delays, Fantastic Beasts 3 should be filming soon, with J.K. Rowling getting back-up on the screenplay front this time. There are certainly a lot of Dumbledore family secrets to explore after the second movie, and fans are cautiously optimistic for the promised answers ahead. Fantastic Beasts 3 is currently scheduled for release in November 2021.
Your Daily Blend of Entertainment News
Your Daily Blend of Entertainment News
Thank you for signing up to CinemaBlend. You will receive a verification email shortly.
There was a problem. Please refresh the page and try again.