Anaconda Is Getting A Reboot, But Will It Include Jennifer Lopez?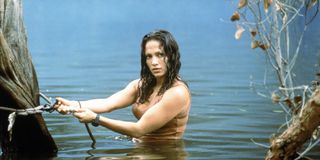 The past few years have been marked by a potent nostalgia for the films we grew up with. So, naturally, Hollywood is churning out reboots. Apparently, next up is a remake of Anaconda. We're not sure anyone asked for this -- but we still can't help but wonder if Jennifer Lopez, the original film's star will be on board for battling another giant snake.
THR reports that Columbia Pictures has greenlit the film, which takes its name and its premise from the 1997 thriller. While the new Anaconda doesn't yet have a producer attached, it appears that Evan Daugherty (Snow White and the Huntsman, Tomb Raider) will write the script. Though the original film ultimately spawned a series of follow-up films, we shouldn't expect the new Anaconda to serve as a sequel or even a reboot, but a reimagining.
And that's probably a smart approach to take. While Anaconda wasn't much of a hit with critics upon its release, it proved to be a surprise success at the box office. It followed a team of documentary filmmakers (J-Lo, Ice Cube, and Owen Wilson among them) as they battled both the killer snake and the hunter trying to capture it. These days, it more or less qualifies as a cult classic, thanks to its, um, creative use of CGI and an over the top performance from Jon Voight as the villainous anaconda hunter. And it's spawned some pretty remarkable sequels, including Anacondas: Trail of Blood and the crossover film Lake Placid vs. Anaconda.
As much as we'd love to see where Columbia Pictures would take the story from there, going back to square one is easily their best bet. And it looks like the studio may take some inspiration from other recent monster hits. According to THR, we can expect the new Anaconda to be less Trail of Blood and more like The Meg, the 2018 thriller about a prehistoric monster shark. Whether that means we can expect the film's villainous killer snake to be even bigger and potentially part-dinosaur remains to be seen.
One thing that may benefit the new Anaconda is the vast improvements in CGI that have come our way since the late '90s. The original film is unintentionally funny, mostly because it's hard to be afraid of a giant snake that is so clearly not actually a giant snake. The crew behind the reimagining has the chance to lean into the more comedic (intentional or otherwise) from the original, but still make this new film actually scary.
Even with the promise of 21st century technology, though, the new Anaconda may be missing one of the key elements that made the first film a success: the J-Lo factor. While there's no question that the A-list actress is capable of pulling off the same bad ass energy she had in 1997, there's also no indication she's tied to the new project. At least, not yet.
Your Daily Blend of Entertainment News
Thank you for signing up to CinemaBlend. You will receive a verification email shortly.
There was a problem. Please refresh the page and try again.