Chris Rock And Samuel L. Jackson's Saw Reboot Has A Weird New Title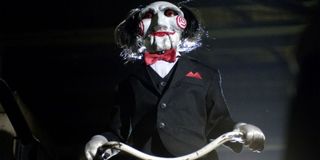 The history of the brand new Saw reboot has already woven a long, strange trail of weirdness to date. With the film starting as a passion project of franchise fan/executive producer Chris Rock, and the casting of co-star Samuel L. Jackson following not too far behind, it's been interesting to say the least. And now, the film has apparently settled on a title that is a crazy cherry on top of this nutty sundae. Get ready for Spiral: From The Book of Saw.
Reports have come out confirming the title as the official branding for this new Saw adventure, after a period of unofficial whispers had crowned the movie with that very title. This confirmation was found on the website of Canadian distributor Mongrel Media, but further confirmed by /Film after they had stumbled upon a leaked teaser trailer that supposedly uses that name.
Strangely enough, this comes on the heels of another suggested title, The Organ Donor, was spotted as the working title for Spiral: From The Book of Saw, and was thought to be the actual handle of the project. Though with this new title in play, there's more than just a mouthful in play. In fact, this could be a signal for where the franchise could be headed next.
That subtitle, From The Book of Saw, sounds positively biblical. In that respect, it could be suggest that rather than kicking off a new franchise of episodic entries, Spiral: From The Book of Saw could be focusing on a more anthology friendly approach. Since another commonly used name for Jigsaw's apprentices has always been "disciples," this new name could be the beginning of loosely connected stories from various apprentices using the Jigsaw legend as their calling card.
This means two big assumptions are in play, the first being that this title removes the need to bring Tobin Bell's John Kramer back from the dead. If you're letting each new Disciple of Jigsaw run the show in their own film, Kramer can remain dead and buried for good. Though even with that caveat, it's probably a good bet that, at the very least, we'll hear his voice on a tape recorded message.
Another interesting possibility that springs from an anthology perspective is that it also plays the American Horror Story card of enticing high end talent to participate in one off entries. So if Samuel L. Jackson doesn't want to do any other Saw movies after this, he won't have to, because hypothetically the next Book of Saw will see another disciple's turn in this mad world. Which, in turn, means a new story and fresh characters being employed in each film, which will naturally mean new and more demented traps to come in the future.
None of this is confirmed, mind you, as the title Spiral: From The Book of Saw could always be debunked with the official arrival of that leaked trailer. But if what we're suggesting is right, this could be the sustainable rebirth the Saw series has been hoping for since Jigsaw.
For now, we know that the film currently known as Spiral: From The Book of Saw will invite one and all to play its game on May 22nd. But as soon as we have any updates on the title, as well as the trailer, for this project, we'll report back as soon as they break.
Senior Movies Contributor
CinemaBlend's James Bond (expert). Also versed in Large Scale Aggressors, time travel, and Guillermo del Toro. He fights for The User.
Your Daily Blend of Entertainment News
Thank you for signing up to CinemaBlend. You will receive a verification email shortly.
There was a problem. Please refresh the page and try again.