San Andreas 2? Alexandra Daddario Still Sounds Game For Sequel With Dwayne Johnson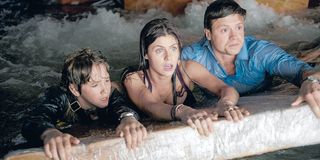 San Andreas was a bit of a surprise hit when it was released in 2015. Though it's been a few years since we watched Dwayne Johnson heroically navigate a post-earthquake Los Angeles, a sequel isn't completely out of the question. At least, according to The Rock's on-screen daughter, Alexandra Daddario.
Alexandra Daddario played Blake Gaines, who spends much of the movie trying to reunite with her parents following a devastating Los Angeles earthquake. San Andreas was one of the first movies that really put the actress on the map. In the years since, she's kept up a steady stream of film and TV projects, including reuniting with her San Andreas dad in Baywatch. But when asked if she thinks she'll ever get a chance to reprise that fictional familial bond in a San Andreas sequel, Alexandra Daddario said this to ComingSoon.net:
In terms of box office success, Alexandra Daddario is right. San Andreas made $115 million in the United States, and nearly $474 million worldwide. Following its success, there were rumors of a sequel, but nothing concrete has surfaced since. The closest we've gotten to a hint that San Andreas 2 could happen was back in 2018, when the film's director, Brad Peyton, mentioned he'd be on board.
If San Andreas 2 does ever come to fruition, it sounds like it will be pretty sweet. The rumored plot centers around Ray Gaines, Dwayne Johnson's LAFD rescue pilot, as he attempts to maneuver his way through the Ring of Fire.
The question, of course, is how feasible it would be for San Andreas 2 to come together in the near future. Dwayne Johnson is, as always, an incredibly busy man. Though production for his Netflix film, Red Notice, is currently on hold due to coronavirus, he and the rest of the crew are still expected to complete the film.
Then, there's Black Adam, which was slated to begin production this summer, though that's obviously up in the air at the moment. He'll also have promotional duties to fulfill for both those films as well as Jungle Cruise 2, which Disney has pushed back to 2021. In other words, it's gonna be a while before he has a gap in his schedule.
What do you think - would you show up to see San Andreas 2? Let us know in the comments, and be sure to check out our 2020 guide for the latest information about this year's movie releases.
Your Daily Blend of Entertainment News
Your Daily Blend of Entertainment News
Thank you for signing up to CinemaBlend. You will receive a verification email shortly.
There was a problem. Please refresh the page and try again.