Weeks In, And Disney+'s Frozen II Is Still Testing Parents' Sanity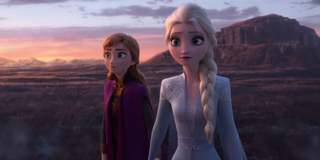 Twitter is home to countless subsets of people who gather together on the social media platform to share their interests, their opinions and their struggles. There's Politics Twitter, and Film Twitter and Stan Twitter. Now that Frozen II has been on Disney+ for a few weeks, there's a new subset that's desperately grasping onto their sanity together -- "I Hate Frozen II" Parent Twitter.
Disney released Frozen II on its streaming platform about three months early, seemingly throwing a bone to families around the world who were self-quarantining. It's not the only new release on Disney+ (opens in new tab) -- the studio also added Onward and the somewhat less kid-friendly Star Wars: The Rise of Skywalker early.
But Frozen II does seem to be the movie that's capturing kids' attention most. Around-the-clock access to the most successful animated film of all time has definitely made kids' lives a little bit more tolerable. Parents' lives? Well, just check out the tweet below:
Many parents have momentarily escaped their non-stop "Into The Unknown" sing-alongs to find solidarity in their suffering on Twitter. The conversation surrounding the movie has run the gamut. Some parents are sending out an SOS so they can feed their kids' Frozen II obsession:
Others have seen the film so many times, they can easily debate the finer points of its soundtrack (which they've listened to, like, 30 times already, please send help):
It's not that all parents think Frozen II is a bad movie. It's just that any movie watched on repeat can start to feel like a bad movie. So, it's getting to the point where some parents are trying to incorporate other movies into their kids' streaming queues -- unfortunately without much luck:
Other parents are trying to integrate a little bit of Disney history into the mix -- like, who doesn't love The Lion King, right? But even the classics seem to be falling on deaf ears, though:
So, parents are getting a little bit desperate -- to the point where they're well aware the Frozen II discourse in their homes may lead to some long-lasting psychological issues:
But despite all of the frustration, some parents have found a way to look on the bright side. Especially those who've been thrust into the challenge of homeschooling and working at home simultaneously. Yes, Frozen II can be annoying -- but it can also be educational:
What do you think, parents? Have your kids found other movies to enjoy while you're self-quarantining? If so, please, please leave them in the comments below. And for those who have yet to see it, Frozen II (along with a plethora of other titles) is still streaming on Disney+.
Your Daily Blend of Entertainment News
Thank you for signing up to CinemaBlend. You will receive a verification email shortly.
There was a problem. Please refresh the page and try again.